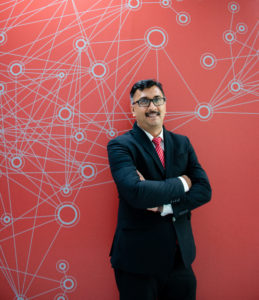 Over 25 -27 September 2019, ASM participated at the Productronica trade show in New Delhi. Focusing on the key central workflows in the Integrated Smart SMT Factory, ASM presented visitors on the integrated hardware and software systems that electronic manufacturers can rely on and achieve improvements in their productions. At the booth Electronics Maker interacted with Mr. Vasanth Kumar, General Manager, India, ASM Assembly Systems to know more about their solutions.
Please details the products you have displayed at productronica India?



Technology leader, ASM showcased its key central workflows in the Integrated Smart SMT Factory during productronica India 2019 show together with its powerful, integrated hardware and software solutions. The SMT line with the new SIPLACE TX high-end placement module was presented together with the new DEK TQ, high-end printer.
In a footprint of only 1 by 2.33 meters, the new SIPLACE TX with its two newly developed SIPLACE SpeedStar heads places up to 96,000 components per hour, and it combines its exceptional performance with enormous flexibility. For example, its component size spectrum ranges from 0.12 by 0.12 mm to 200 by 125 mm, and its dual transport, long board and flexible feeder options enable a broad range of applications.
Extensive connectivity options ensure the easy integration of the compact SIPLACE TX modules into smart factory concepts and enable integrated processes with IPC-Hermes-9852, ASM OIB and IPC-CFX.
The new DEK TQ marks a breakthrough in minimizing the number, duration and costs of manual assists with eight to ten hours between them on average, the length of an average shift. With a footprint of only 1.3 x 1.0 meters and a cycle time of merely 5 seconds, the new printer platform also sets a new industry benchmark in floorspace performance.
Precise linear drives, off-belt printing, innovative transport and clamping systems make for an extremely stable printing process, even for metric 0201 components and further.
The DEK TQ is also future-proof and open in terms of its connectivity. Via its standard interfaces like IPC-HERMES-9852, closed-loop-to-SPI, ASM OIB and IPC CFX, the new printer platform can be integrated into the smart SMT factory quickly and easily.
What do you mean by Smart SMT factory for Electronics Manufacturing?
Electronics manufacturers today expects concrete solutions for Industry 4.0 and Smart SMT Factory. The Industry 4.0 initiative has driven manufacturing in transforming from conventional human dependence to a SMART approach through automation & digitization.
As a leading equipment supplier to the SMT manufacturing industry, technology leader ASM has been the first that is able to offer a consistent spectrum of open interfaces, standardized protocols and integrated platforms for all factory level, i.e. from machine to the line to the entire plant & connecting to the cyber-physical network.
With our concept of the Smart # 1 SMT Factory, we established an ambitious roadmap with four innovation drivers at a very early stage, which forms the basis for our worldwide development efforts. Together with our customers, we use them to implement the intelligent factory step by step. Our requirement: every step, every solution and every component must generate countless benefits in our customers' production and bring competitive advantages.
ASM solutions such as the SIPLACE placement systems and DEK printing systems support the networking, automation and optimization of central workflows with hardware, software and services that enable electronics manufacturers to transition to the smart SMT factory in stages and enjoy dramatic improvements in productivity, flexibility and quality.
Tell us about your E-solutions line?
ASM's E-Solutions Line is the next generation midspeed solutions. Particularly impressive is the new line's integrated software concept, which many visitors examined in detail. ASM's E-Solutions now use the same programming, planning, control and monitoring tools that ASM successfully employs in its high-end equipment and its integrated workflow solutions.
On the hardware side, the new ASM E-Solutions Line stands out with more improvements and enhanced flexibility. The component spectrum of the E by SIPLACE covers sizes ranging from 0.4 x 0.2 mm to 200 x 110 mm that can be placed with placement forces from as low as 0.5 N or even "touchlessly" onto circuit boards that are up to 1,200 mm long.
Features of the ASM E-Solutions Line:
Best-in-class equipment – everything perfectly coordinated
State-of-the-art software – our premium software makes the difference
Integrated workflows – for maximized line efficiency
Investment protection – ready for the future with IPC Hermes 9852 and ADAMOS
With the smart ASM E-Solutions Line our customers raise their SMT production to a new level of flexibility, efficiency and quality.