Celebra

ting 50 Years of service to Global Electronics Industry.
For 50 years, the global electronics industry has been meeting at electronica to show what will influence society in the future. Thanks to a new campaign, now electronica is getting its own planet. Planet e does more than just give the industry a visual home. It also takes exhibitors and visitors on a journey into the world of tomorrow – from November 11 – 14, 2014 in Munich.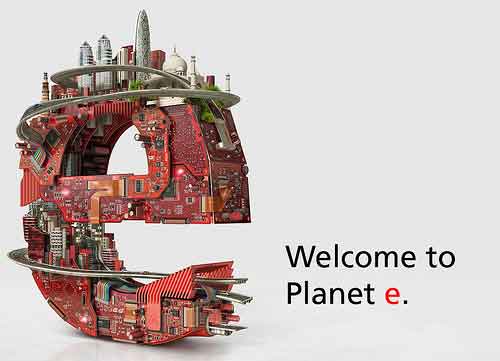 electronica is becoming its own planet, and the fair's visitors and exhibitors will be its inhabitants. The new campaign does a visually impressive job of depicting what moves our world. PCBs, semiconductors, sensors, plug connectors and displays – they all make up the core of Planet e and shape its landscapes, cities and streets. Anke Odouli, Exhibition Director of electronica, explains: "Our exhibitors and visitors recognize themselves in Planet e – whether in the components or their applications. We have created a fictitious place where the industry can get together at any time. A place where we can solve tomorrow's challenges today." The fair revolves around the topics of automotive, embedded and security. It also focuses on energy-efficient solutions and the latest developments in medical electronics.
Conference and forum events in 2014
The main themes of the electronica automotive conference are Connectivity, Lighting and Sensor Fusion. The conference takes place on the Monday before the fair begins (November 10). That way, participants have plenty of time to attend the fair the next day and gather additional information about the conference topics in the automotive Forum.
The embedded platforms conference got off to a successful start last year. This year's conference has been optimized with the addition of two parallel lecture series. Visitors can also get an overview of the latest solutions and collect application-oriented information in the embedded Forum.
The fair's portfolio will be rounded out by the Wireless Congress, the electronica Forum, the exhibitor Forum and the PCB & Components Marketplace.
50 years of electronica
The international trade fair is celebrating its 50th anniversary in 2014. electronica has been presenting electronics trends of the future and giving visitors a comprehensive overview of the international electronics industry since 1964. A look back at 50 years of electronica shows what moved the world back then.

Follow electronica:
https://twitter.com/electronicafair