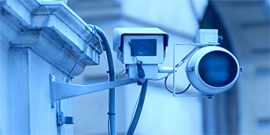 Electronic Security System Market deals with the advanced technological development of security systems.  As the technology is being advanced the security systems are becoming smarter and more reliable. Electronic security system refers to any electronic equipment that could perform security operations like surveillance, access control or alarming.
Based on the area that is to be protected and its threats, the type of the security system can be determined. Most popular security systems are home security systems, camera security systems, security alarm etc. CCTVs are prominently and broadly used which gives an additional significance. The electronic security systems are used widely used in corporate work places, commercial places, railway stations, public places, shopping centers etc. The demand, for the security systems either at the home or office to feel comfort and secure, is driving the high growth for the Electronic Security System Market.
Scope & Regional Forecast of the Electronic Security System Market
The rising incidents of security concerns are the driving factors of the Electronic Security System Market. The improvement in network infrastructure, broadband and Internet are the key growth drivers of the market. In addition, the wireless and  technologically advanced products are highly acceptable by the consumers that results in promoting the growth of the market.
Make an Inquiry @ http://industryarc.com/inquiry-before-buying.php?id=15690
In some cases, the security system cost is the main restraint to the growth of the Electronic Security System Market. Still, the need and demand for the various security systems in various kinds of places for safety and security purpose is driving the fast growth for the market.
Asia-Pacific is dominating the Electronic Security System Market due to increased surveillance and is also projected to have the fastest growth during the forecast period. The spendings for electronic security systems are very high in North America. Europe is also expected to register the high growth in the near future due to the demand for security systems.
Segmentations & Key Players Involved in theElectronic Security System Market
According to IndustryARC findings, the Electronic Security System Market can be broken down into various segmentations on the basis of –
Types: Closed Circuit Television, Access Control and Intruder Alarms.
Application: Commercial Offices, Retail, Public Sector, Infrastructure and Residential.
Regions: Europe, Asia-Pacific, North America and Rest of the World (RoW).
Some of the key players involved in the Electronic Security System Market according to IndustryARC are as follows:
ASSA Abloy AB.
AMAG Technology, Inc.
Honeywell Security Group
Crossmatch Technologies, Inc
Identiv, Inc.
Request For Table Of Content @ http://industryarc.com/pdfdownload.php?id=15690