Electromechanical Relay (EMR) market is projected to witness a CAGR of 4.10% during the forecast period to reach a total market size of US$8.537 billion by 2023.
The electromechanical relay is a remote controlled switch capable of switching many circuits, either in sequence or individually. Electromechanical relays have high quality performance and attractive design features such as longer switching operation life, lower power consumption for reduced power demand and higher reliability over product life.
Although they've been superseded in some applications by newer technologies such as solid state relays (SSRs), electromechanical relays (EMRs) still have a lot to offer. Of all the relay types, they are probably the best general-purpose solution, meeting the needs of many diverse applications from automotive to automated test equipment. Many, many different specialist types of EMRs exist for everything from signal transmission to power electronics applications. These days, they are often specified purely for cost reasons, but they do have some redeeming features.
EMRs are mechanical devices that physically open and close electrical contacts when they are switched on and off. This means they have a very low contact resistance – in the tens of milliohms – which is important for applications that require a minimal on-state voltage drop. They also offer very high open resistance – typically greater than 100 GΩ. Contact capacitance is also less than what's offered by SSRs, which means they can offer the linear response that's required to minimise distortion of high frequency signals, and they have high bandwidth characteristics (>100MHz).
Electromechanical relay market can be segmented based on type. Reed relays, heavy duty and high voltage relays and aerospace relays are some of the types of electromechanical relays. Reed relays dominate the global Electromechanical Relay owing to its features such as positioned inside a ceramic or glass tube for protection from corrosion is used in for electrical circuit control, particularly in the communications field. Heavy duty & high voltage relays market will boom by used for machine control, control starters and other components which are made of durable, long-lasting materials. Aerospace relays market will drive by growing its applications in aerospace and defense applications.
Electromechanical Relay (EMR) market is projected to witness a CAGR of 4.10% during the forecast period to reach a total market size of US$8.537 billion by 2023, increasing from US$6.708 billion in 2017.
Electromechanical relays are switches that control high power electrical devices by using a small amount of power. Rising global energy prices is driving the demand for advanced electromechanical relays to reduce power consumption. Rising number of renewable energy projects is also fuelling the demand for high capacity electromechanical relays, thus positively impacting the growth of global EMR market. However, advancements in semiconductor fabrication and manufacturing technology has led to the emergence of solid-state relays (SSRs) which hamstrings the growth of EMR market during the projected period.
Here are some industry veterans will give you a few insights on electromechanical relay industry, technical progress and their offerings.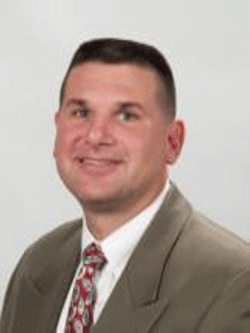 Chris Zimmerman, Industry Marketing Managers for Industrial, TE Connectivity
Growth drivers
Demand for small, quiet, and long-life switching technology for building and factory automation
Increasing number of devices that are connected, driving embedded intelligence into switching systems
EV charging infrastructure driven by zero-emission car directives (China, UK, France, Norway)
Key Opportunities
Switching solutions in the form of Force Guided Relays used in safety-critical applications (Safety Module, Industrial Controls, Elevator, and PLC)
Adjacent applications (Automotive, Medical, 5G) demanding small, energy efficient switching solutions in the form of IM Signal Relays
Applications where a customer need to drive productivity in their assembly processes demanding thru-hole reflow compatible relays that enable OEMs, EMS customers to consolidate soldering processes when loaded PCBs
Environmental regulations on flammable refrigerants driving new product requirements for hazardous location ratings on relays
Technological Advances
Advanced in technology are similar to connectors with solutions demanding smaller size, higher temperature ratings, and less precious metal consumption overall for cost-effective solutions
TE's products, solutions, and capabilities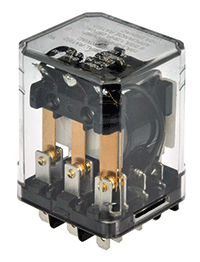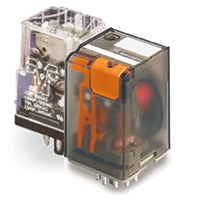 TE Connectivity (TE) has extensive capabilities in the design and manufacture of relays and a broad portfolio of switching solutions for demanding, high performance applications.
Complying with standardized PCB footprints, TE offers a wide range of inrush current capabilities and addresses the complete spectrum of requirements for production lines, robotics, elevators, control panels, CNC machines, motion control systems, lighting, building systems, solar, HVAC, and an array of safety-critical applications. Through agency approved test labs, we ensure that our relays are tested to meet the expectations of the industry. Whether you are designing for harsh or indoor applications, TE delivers high quality relays from state-of-the-art production lines.
TE has over 200 years of experience and application expertise in relay development, production, testing, and certification.    Globally recognized brand names, such as Schrack, Potter & Brumfield, and OEG offer a wide range of panel plug in relays from Dry to 30Amp applications.   With manufacturing capabilities in more than 12 plants around the world along with a global distribution infrastructure means you and your customers have availability of product when and where the demand is required.   If you have specific application needs which are outside of the TE standard product offering, we have highly capable design and prototyping teams located around the world to assist you with a customized product to meet your specific needs.   For greater convenience and speed to market, Americas customers have the added benefit of TE's UL Certified Electromechanical test lab in Winston Salem, NC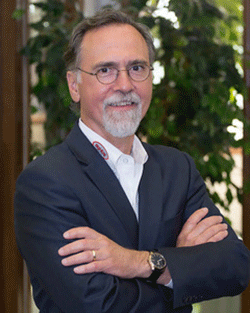 Randall Restle, Vice President – Applications Engineering, Digi-Key Electronics
Industry Overview
The electromechanical relay was invented by Joseph Henry in 1835. That relay still survives today but is greatly improved. Henry's name is still used to measure the units that quantify an inductor's value.
A relay's fundamental function is to toggle the state of switch contacts (i.e.: a switch) to either open or close an electrical connection while also galvanically isolating the switched circuit from the switching (or controlling) circuit. Simply put, a relay enables a lower voltage, low power circuit to turn off and on another circuit that can accommodate a much higher voltage and power. Relays were supposedly used in early versions of calculators and computers.
Today, Digi-Key lists over 50,000 part numbers that have "relay" in their description.  Here are the five categories sporting the most devices as of 10 June 2019:
Power relays (over 2 amps): 16,506 part numbers
Solid state relays: 9,274 part numbers
Signal relays (up to 2 amps): 5,625 part numbers
Time delay relays: 3,933 part numbers
Reed relays: 1,488 part numbers
Checking the "In Stock" flag on Digi-Key's part search page reveals 15,149 of these devices are in stock and ready for immediate shipment.
Growth Drivers
Digi-Key remains dedicated to one goal: getting our customers the products they need as quickly as possible. Because this remains our focus, we do not have firm numbers on what the key opportunities and drivers are in this industry. Instead, we see our main mission as supporting our suppliers and customers as they innovate. Our suppliers recognize us as the distributor with low product stock thresholds and who can serve a worldwide market efficiently and quickly. Digi-Key caters to one of the most diverse customer bases in the industry, stocking parts from all industries and serving design and development people in every market from medical to industrial.
Technological advancements
Miniaturization – the trend to manufacture even smaller technologies, devices and products – continues to grow in nearly every industry we serve.
Digi-Key products and solutions
Since Digi-Key is a distributor, we do not manufacture any products. Digi-Key stocks tens of thousands of products for every market our suppliers serve. We currently have more than 800 suppliers and the list continues to grow. We are proud to continue distributing products from the world's most innovative and reliable suppliers.
In addition to offering an increasing number of suppliers, we are also serving a growing number of customers. Those customers are changing, and Digi-Key is ever-evolving to meet their needs. For example, we're finding customers with technology questions increasingly want to find the answers themselves. While we do offer one-to-one technical support, we've noticed more of our customers prefer to go to our Digi-Key TechForum for answers. To serve this changing customer, we've invested time into analyzing the most popular questions we receive and ensuring the answers are easy to find in our forum. Digi-Key's applications engineering department receives notice anytime someone posts in these forums and responds back to inquiries as quickly as possible. As a result, tens of thousands of customers have come to rely on our TechForum and the number grows every month.
Manoj Kodakkatery, Manager – Business Development, Omron Electronic & Mechanical Components Division
Industry overview
With the advent of technology and the ever-dynamic requirements of the customers and the industry, it was expected the solid state and MOSFET relays would soon become a good substitute for the EM relays, however the EM relays still continue to rule the roost and continue to play major roles in the electronic industry.
Some of the notable reasons for their successful dominance and growth are cost and the mechanical reliability. As industry is taking bigger steps in the arena of AI and IoT, the EM relays are finding many more avenues and vast requirements . The industry, in India, as of now seems to hold a potential of almost 80M USD.
Omron, known for its highly dependable relays, has set the ultimate standard for reliability and compatibility. Our EM relays find a place in a variety of applications ranging from building automation to factory automation to home appliances, automotive, medical, energy &telecom market segments to name just a few.
Growth Drivers
Market segments like building automation, energy, smart home appliances & telecom are some of the key markets driving the growth of EM relays based solutions. In India, the penetration level is yet to match up with the level of potential the market has in store.
Technological advancements
One of the most visible and useful innovations in the technological makeup of relays is their size. Makers are getting inclined towards compact relays to cater to keep up with the trend of miniaturization of the end products. There has been a significant change in the frequency limits too. Now, there are hi-frequency relays  addressing to the new technology changes especially in the telecom sector like 5G. Energy optimization being the key mantra, makers are demanding for low power consumption relays for power saving applications and low heat emission for high current applications. Environment being a universal concern, the makers are coming up with relays made with environmental-friendly materials complying with ROHS2 & ROHS3 standards. Last but not the least, there are hybrid relays which are a combination of EM and other technologies for scoring high on efficiency.
Omron products and solutions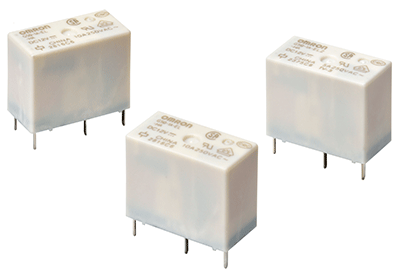 Omron's portfolio of electromechanical relays comprises of signal relays, PCB Relays, Hi Power relays, DC power relays & Latching relays. The entire portfolio suits applications ranging from 1A to 200A. We are evolving the range by working towards more advanced designs in terms of higher capacity, compact form factor, lower power consumption, etc.
Dr. R A GOTUR, Director Indian Operations, Xiamen Hongfa Electroacoustic Co, Ltd. 
Industry overview
A relay is an electromechanical device having electrical, magnetic and mechanical components. The relays control the electric circuit by opening or closing the contacts of that circuit.  An electromechanical relay consists of three terminals namely common (COM), normally closed (NC) and normally opened (NO) contacts. These can either get opened or closed when the relay is in operation. These relays can work on both AC and DC supply sources.
The industry mainly caters to Telecom & Communication , Power Electronics, Automotive,  Aerospace & Defense, HVAC,Consumer Electronics & Medical Electronics  etc.  Though there are several brands in the market but Hongfa is the Global No.1 leader in the relay segment.
Rising global energy prices is driving the demand for advanced electromechanical relays to reduce power consumption. Rising number of renewable energy projects is also fueling the demand for high capacity electromechanical relays, thus positively impacting the growth of global EMR market.
Opportunities and major drivers
The existing opportunities in the Power, Consumer, automotive Electronics Segment/market, Smart meter, telecommunication, Lighting  & instrumentation etc are growing and left with more potential to cater in the coming years.  However, we foresee, consumer electronics, mainly "Home appliance electronics" as a major trend changer in the coming time.  The population growth, demands for advanced technologies in various utensils for compact, deliverance and time saving in the nucleus living style.    The major driving factors are low cost, dependability, less power, consumption, and easy maintenance are the factors to accelerate the growth of the market in the future.
Technological advancements 
The EMR industry is highly focused in R&D. The aim to bring out application specific @ affordable, meeting the needs of both "cut edge technology and matured technology"  
Hongfa products and solutions 
Hongfa, has relays which are available for almost all applications.  With our continuous R&D, we keep introducing new technologically advanced relays to each and every industry.  Our website www.hongfa.com gives detailed product information, selection and application guidelines.
William Neo, Sales Director, Heilind Asia Pacific
The increasing global demand for electromechanical relay is good and will remain strong, as the market is moving towards high speed communications and intelligent electronic devices.
Electromechanical relay segment accounted for the largest share of the global relay market. In general, electromechanical relay market are segmented based on reed relays, heavy duty and high voltage relays, aerospace/mil-spec relays. The market sees a significant growth in consumer electronics, automotive, industrial automation and aerospace sector which drives strong growth for us globally.
From our customer base, we see most users in electromechanical relay market choose to work with existing technology rather than redesigning to incorporate new digital technology.
Globally, we represent some of the leading players in the Electromechanical Relay market space. We also stock up some of the common parts across our strategic distribution centers. Most importantly, our Field Application Engineers are technically trained to support any engineering requirements from our potential customers.