Electrolube, the global market leader in electro-chemical solutions, recently launched to great acclaim, a new range of cutting-edge thermal management, encapsulation resin and UV conformal coating products at Productronica Munich. The new products garnered a high level of interest due to their impressive impact upon increasing throughput and reliability for manufacturers.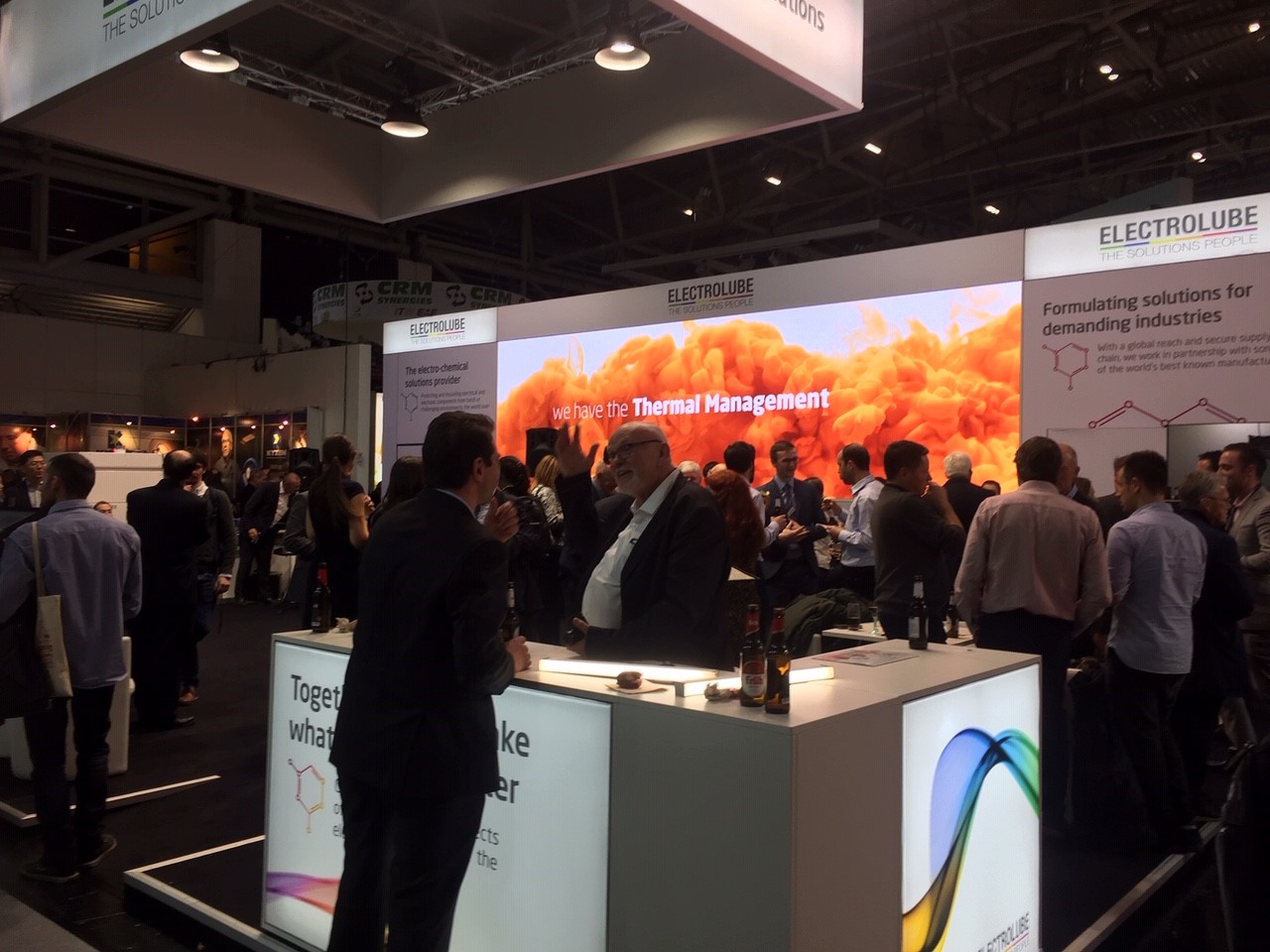 One of the key product groups to generate vast interest during the event was the new range of UV cure coatings, which rapidly speed up production and increase reliability and lifetime of end products. Electrolube conducted live demos and displayed six new rapid curing UV conformal coatings, one of the most eagerly anticipated new range of coating products to come to market. Electrolube's new UV cure series of coatings enables immediate board-handling with full cure guaranteed within an impressive 6-12 hours due to the chemical secondary cure mechanism. One of the biggest advantages of the new range is the vast reduction to production time.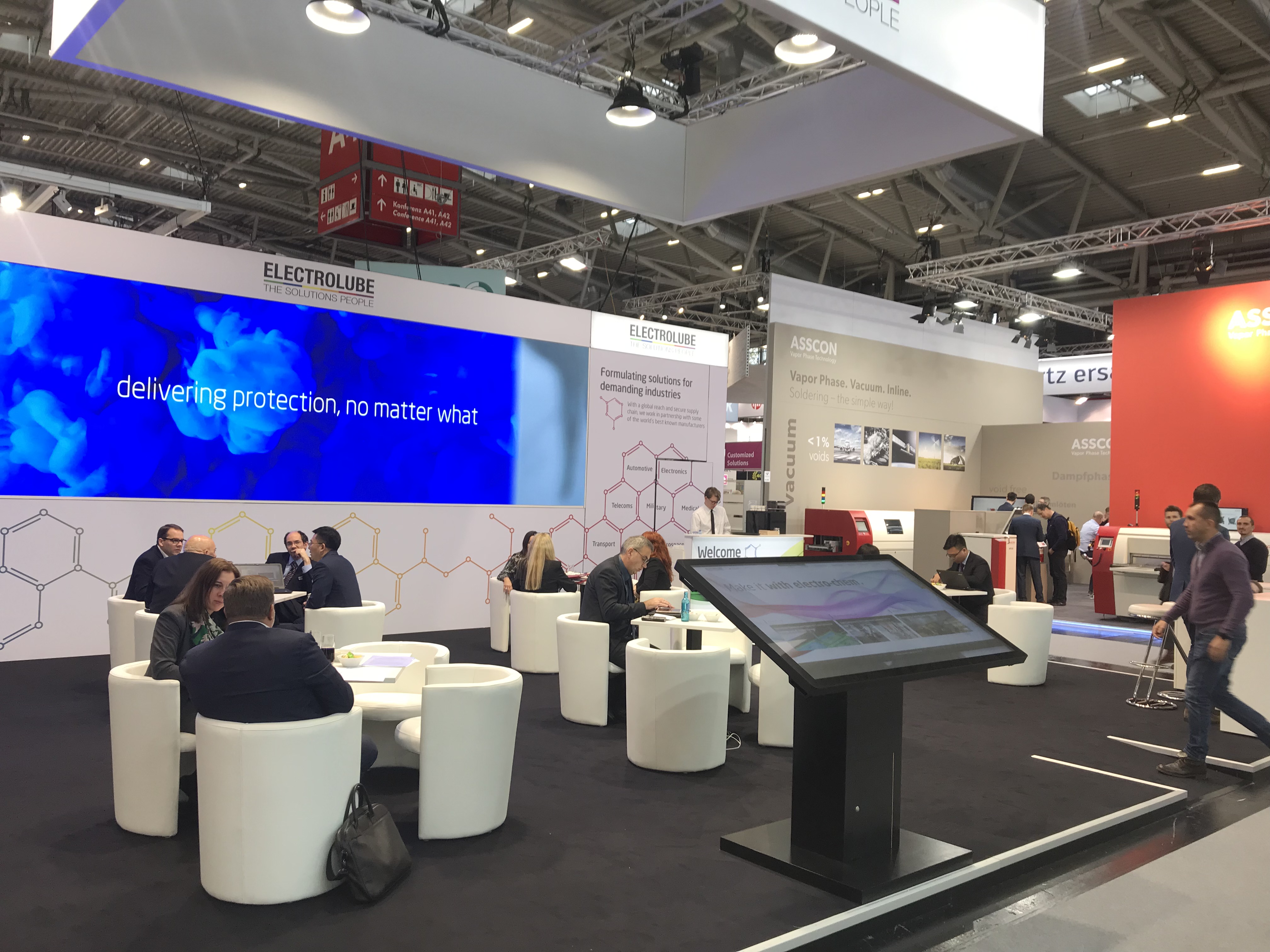 Two new encapsulation resins from Electrolube also created a strong talking point with visitors. The new polyurethane and epoxy resins are available in user-friendly kit sizes to meet every need, from prototyping and product development to full production. The new polyurethane resin, UR5645 is a tough, two-part encapsulation system developed for protection of electrical components and is ideal for a wide range of applications including automotive and marine environments. This brand new resin is suitable for applications requiring continuous immersion in water at elevated temperatures and depth, and exhibits excellent chemical resistance to acids, alkalis and fuels, making it highly suitable for the harshest environmental conditions, such as those found in typical automotive applications.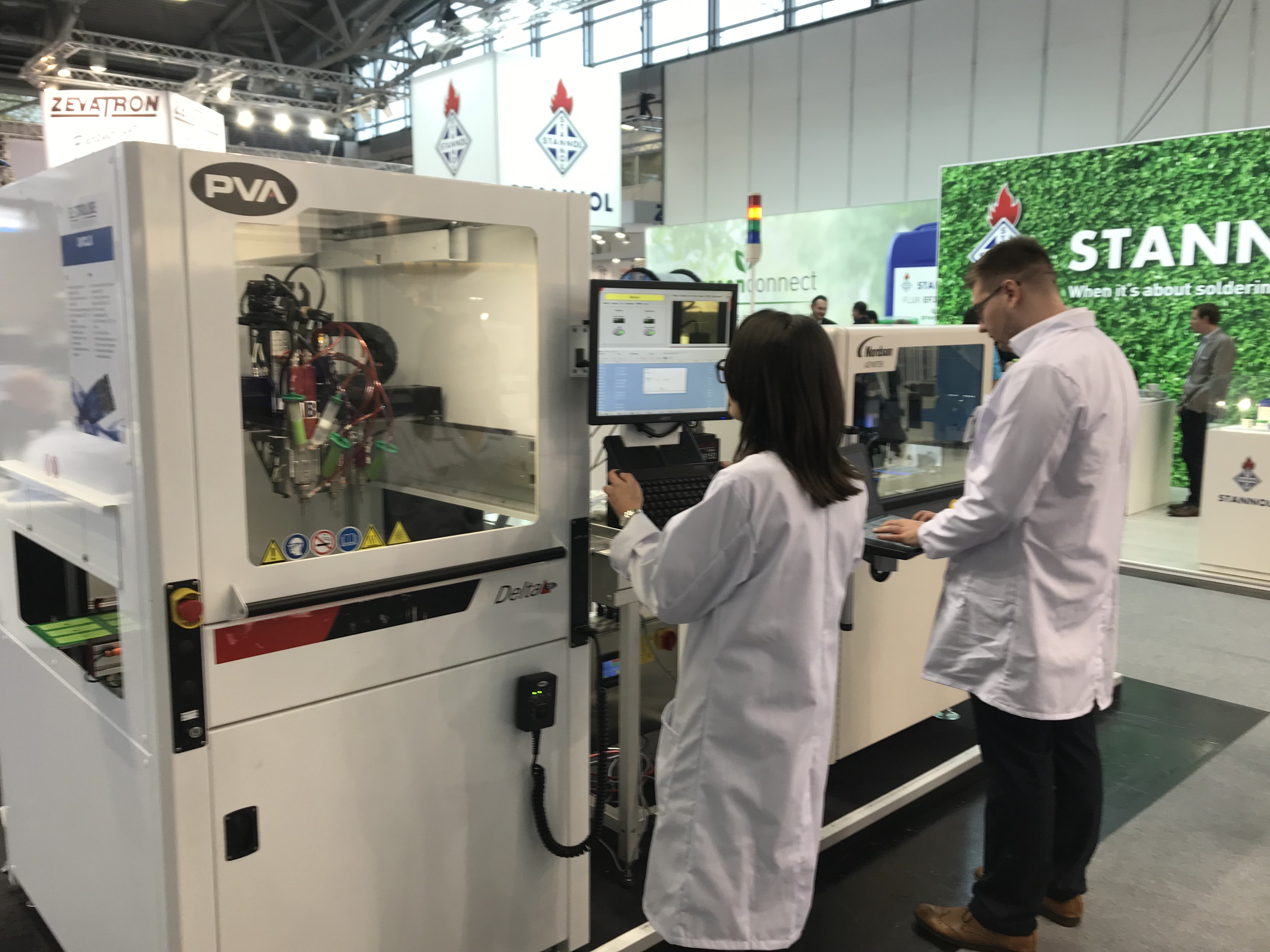 The new ER6010 epoxy resin system features X-ray shielding properties allowing complete protection of the circuit board, components and design. Protection of design technology is becoming ever more prevalent and this is a truly specialist solution developed to meet increasing customer demand. This innovative solution from Electrolube is thermally conductive, 0.53 W/m.K and exhibits good flow characteristics, even with the most complex and challenging geometries.
Electrolube also launched a versatile new range of gap-filling products with excellent thermal performance. Thermal gap fillers are widely used across numerous applications from printed circuit board assembly and housing electronic components discretely to automotive electronics, including HEV and NEV batteries, power electronics, LEDs and fiber optic telecoms equipment. GF400 can be cured at room temperature or accelerated with heat and is a two part, liquid silicone-based gap filler, which can either be cured at room temperature or accelerated with heat. Following cure, GF400 forms a low modulus elastomer that prevents the 'pump-out phenomenon', ensuring minimal degradation of effective heat dissipation. It is soft and compliant, making it ideal for low stress applications, and provides a wide operating temperature range between -50 to +200°C. GF400 is also low viscosity, enabling easier dispensing, and provides high thermal conductivity of 4.0 W/m.K.
Ron Jakeman, Electrolube's Managing Director comments, "We have exhibited at Productronica for many years and have always enjoyed the positive feedback and high levels of interest from visitors. This year, the level of interest from visitors was unprecedented in 2019. Our UV cure coatings were the highlight of our new offerings to the market, but the gap filling products and new resin systems also created lots of interest. We have recently launched our new website offering more application-based content and unveiled our vast, newly designed stand at Productronica. This was our largest stand ever, highlighting our escalating global growth and strong global position as a complete solutions provider of electro-chemicals. We have been delighted with the feedback from the German market and look forward to introducing our new products to the US market at IPC APEX EXPO in February."
As a complete solutions provider, Electrolube offers a wide range of electro-chemical solutions, which include thermal management products, encapsulation resins, conformal coatings, contact lubricants, service and maintenance aids and cleaning solutions.
For further information, please visit http://www.electrolube.com.