One of the main difficulties with modern electronic devices is how to provide enough energy for the electronics to run over a reasonable amount of time without making the battery too large or the device bulky. As EH replaces need of batteries in sensors and thus, using EH sensors could be best option to be integrated by IoT to facilate real-time applications, smart cities, M2M, environment monitoring and remote patient monitoring.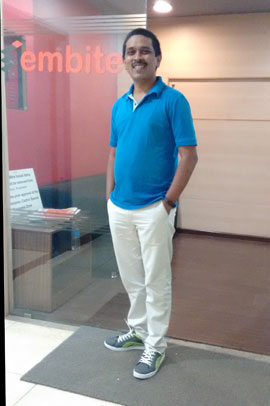 In order to understand the impact of EH technology on IoT ecosystem, we got in touch with Vidyasagar from Embitel Technologies, Bangalore. Embitel has been innovating in the IoT space for quite some time now.
Vidyasagar is Head of Automation Product Engineering Services (PES) at Embitel. He brings with him an industry experience of 15 years in the areas of Automation, Telecommunications & Consumer Electronics. Vidyasagar is a M.Sc (Tech) in Instrumentation from NIT, Warangal (formerly REC, Warangal). Before joining Embitel, he has worked with Philips Software Center, Wipro Technologies and Cute Solutions. At Embitel, he has been working with our clients and partners in Europe & USA. He has played a pivotal role as Technical Manager, Competency Manager & Head of Automation group. Vidyasagar has also been leading various teams working on different IoT initiatives and projects within Embitel
Sagar, is EH technology complementing IoT ecosystem, what are your views on that?
Energy harvesting MEMS technology has the true potential of being one of the significant driving factors for widespread adoption of IoT. EH based wireless sensors/switches with robust energy conversion ratios that are good enough to replace batteries, has been a design challenge for companies. However, this journey has been exciting and to the credit of all the market players, both the EH and IoT ecosystem have been innovating at break-neck speed. This includes the EH sensor designs, IoT infrastructure (gateway, cloud and other hardware) and IoT applications (software, UI and analytics).
We, the IoT ecosystem participants, have been innovating to develop solutions and frameworks for industry applications like Smart Cities, Predictive Healthcare, Smart Home Automation, Factory Automation/Industry 4.0, Omni-channel Retail, and Connected Cars. In this context, the value-add that EH technology offers has potential to reduce total cost of ownership for businesses migrating to IoT framework. Battery-less equipments powered by off-grid renewable energy and reduced maintenance costs not only translate into significant dollar savings for stakeholders, but also helps to transform more and more devices into an IoT node.
Thanks Sagar, this really shows the significance of EH for IoT applications. Also, we would like to hear from you about maturity of EH market and Embitel's innovations in EH and IoT
As far as EH market maturity is concerned, the largest addressable market lies in the range of one watt to 10 kW, which is suitable for IoT applications. However, innovators are working on EH designs that will power Vehicles and Building structures as well!
At Embitel Technologies, our teams have been innovating in this space with great success. We are part of EnOcean Alliance, a consortium of companies, who are at the forefront of innovations in energy efficient technology solutions for building automation (residential, commercial and industrial buildings)
Embitel Technologies has been relentlessly working towards one of the significant goals of the EnOcean Alliance, which is to 'establish energy harvesting wireless technology as the wireless standard for sustainable buildings'. In this context, we are also pleased to share with you that Embitel Technologies has designed and developed an IoT solution for Home Automation based on "EnOcean's energy harvesting sensors and gateway hardware"
This solution is also a demonstration of Edge to Edge Communication in IoT. For this we designed a Sensor network comprising of various wireless devices operating under EnOcean standards. Energy harvesting based sensors communicates with a Gateway, which consolidates and forwards data to a backend Cloud Framework. Inter Protocol communication has been facilitated using custom built Gateway.
Mobile and Web Applications consume this data and facilitate bi-directional communications. Controlling and Monitoring of all devices in the network is made possible via cloud and there notifications built into the system. MQTT based communication is used in this setup. Additionally Data Analytics and Machine Learning concepts have been implemented.
Thank you Sagar for sharing your valuable thoughts. We wish your team at Embitel Technologies, all the success with their IoT innovations. Like you, even we are very excited for what's in store for the future!
Video – IoT overview and Embitel's Home Automation IoT demo

For more details please visit: Embitel IoT services page – http://www.embitel.com/product-engineering/mobility-iot/iot-services