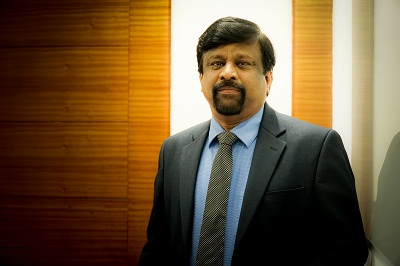 Remote working has turned out to be a revolutionary change observed in the past year and it has led to the complete remodeling of work models in organizations. The world is already preparing for a completely digital work environment and this is making remote working the next normal. Organisations are providing their employees with sophisticated form of power protection solutions like battery backup, or UPS system, which can be used to protect electronics at home office, such as a desktop computer or networking device. Owing to this, Eaton's online UPS segment saw a decent double-digit jump. Mr. Syed Sajjadh Ali, Managing Director – Electrical Sector, Eaton India talks here more about UPS role in WFH environment and Eaton UPS segment growth in recent years.
How UPS system helps the organization during remote working?
Employee productivity is function of tools, processes, and culture. In today's digitized world, tools such as MS Office, Conferencing applications play a key role in ensuring employee productivity. For the tools to function; reliable, safe and efficient power supply is essential. A home UPS ensures that the investments made by the company in WFH tools are safe even under the varied operating conditions of remote working.
Also, every organization wants their employee & their families to be safe. During the pandemic, many housing societies would not allow any installation engineers at home. At such times, innovative Plug & Play UPS's which offer long back times and are child safe are required.
What was the original share of UPS segment and how pandemic has shaped up the segment?
The Indian UPS market is estimated at INR 3000 crore excluding batteries, with about 2 million units sold annually. As a country, our consumption patterns and industry capabilities are rapidly upgrading to adopt digital and clean energy technologies. This results in an increased demand for UPS in e-governance, e-Commerce/retail, manufacturing, and, ofcourse in Datacenters. According to various studies, India is one of the fastest-growing data center markets worldwide, growing at a compound annual growth rate (CAGR) between 7% and 8%. The growing data center infrastructure in the country, which requires 100% uptime, has created the need for UPS suppliers to offer innovative power backup solutions.
The COVID pandemic led to a small disruption in the supply chain. However, given the move towards digitization and business criticality, we expect the market to grow faster than earlier.
What improvements in purchasing behavior have you seen recently? How has it evolved over time?
Indian customers are highly tech savvy and value seekers. It is a mis-conception that Indian customers seek low prices. The truth is that any product that offers high value to the customer has very good chances of being successful in India.
We have to see the evolution of purchasing behavior across three dimensions: 1) Buying process 2) Technology adoption and 3) Value generation
Today's consumer is well-versed in various means to gain information and insights about a product or a solution before deciding to purchase it. In the UPS category also we have observed changes to this effect. Most of the customers are aware of the latest UPS technology and demand those features. UPS buying is a significant CAPEXevent and customers do take support from independent Electrical consultants to get it right. Apart from that, the channel partners in the UPS trade are key to sales as they have a much deeper reach within geography and have a strong customer base.
Customer today also appreciate the value monitoring &renewable integration brings to optimizing energy consumption. We are seeing UPS vendors incorporating latest digital technologies in their offerings as well as customers willing to pay for those services. We welcome such trends.
The adoption of new age technology such as automation and artificial intelligence (AI) is on the rise. Do you think this is another important factor driving the UPS market in India?
AI and Robotic Process Automation (RPA) adoption encourages the use of IT assets (servers, storage, switches, etc.), thereby resulting in the increased usage of UPS to provide clean continuous power to such critical assets.
Another interesting point here is that with the use of AI and automation, the UPS is itself becoming more 'Aware' and 'Smart'. For example, the Eaton Energy Aware UPS allows the customer to intelligently feed power back to the grid thereby accelerating the return on investment. Eaton has made these features possible by the adopting the latest digital and electronic hardware technologies in our UPS.
What is Eaton's focus in FY 2021-2022?
Eaton is in the middle of a massive transformation that will see us emerge as an intelligent power management company. In this regard, we have also made a few large strategic acquisitions recently. Our focus is primarily on Energy Transition (a shift from energy consumers to energy prosumers), e-mobility solutions, and Digitalization.
In 2021 we will be introducing new UPS & Power distribution products with the latest technologies which would improve efficiencies, reliability and modularity further. We will also be introducing digital solutions in the form of software suites and other digital services for our customers which would help them to monitor and manage their assets and sites remotely. There is also a large focus in 2021 to transform the capabilities of our employees and channel partners to embrace the new technology and social normal.