A programme to transform India into a digitally empowered society and knowledge economy.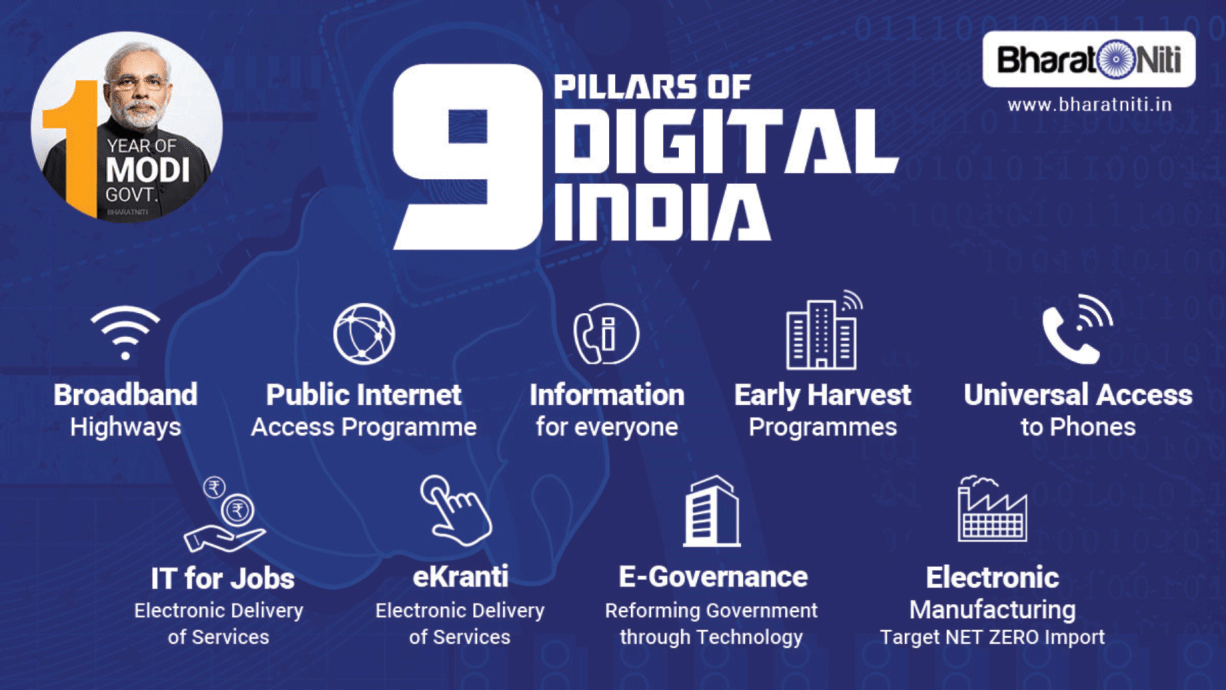 Even though India is known as a powerhouse of software, the availability of electronic government services to citizens is still comparatively low. The National e-Governance Plan approved in 2006 has made a steady progress through Mission Mode Projects and Core ICT Infrastructure, but greater thrust is required to ensure effective progress in electronics manufacturing and e-Governance in the country.   The Digital India vision provides the intensified impetus for further momentum and progress for this initiative and this would promote inclusive growth that covers electronic services, products, devices, manufacturing and job opportunities. India in the 21st Century must strive to meet the aspirations of its citizens where government and its services reach the doorsteps of citizens and contribute towards a long-lasting positive impact. The Digital India Program aims to transform India into a digitally empowered society and knowledge economy by leveraging IT as a growth engine of new India. Digital India, is recently been approved by Cabinet chaired by PM, Shre Narendra Modi, This programme has been envisaged by Department of Electronics and Information Technology (DeitY). The vision of Digital India aims to transform the country into a digitally empowered society and knowledge economy.  The programme will be implemented in phases from the current year till 2018.  The Digital India is transformational in nature and would ensure that Government services are available to citizens electronically.  It would also bring in public accountability through mandated delivery of government's services electronically; a Unique ID and e-Pramaan based on authentic and standard based interoperable and integrated government applications and data basis. The source of funding for most of the e-Governance projects at present is through budgetary provisions of respective Ministries/ Departments in the Central or State governments. Requirements of funds for individual project(s) for Digital India will be worked out by respective Nodal Ministries/ Departments.
Vision of Digital India
Infrastructure as Utility to Every Citizen
High speed internet as a core utility shall be made available in all Gram Panchayats
Cradle to grave digital identity – unique, lifelong, online and authenticable
Mobile phone and Bank account would enable participation in digital and financial space at individual level
Easy access to a Common Service Centre within their locality
Shareable private space on a public Cloud
Safe and secure Cyber-space in the country
Governance and Services on Demand
Seamlessly integrated across departments or jurisdictions to provide easy and a single window access to all persons
Government services available in real time from online and mobile platforms
All citizen entitlements to be available on the Cloud to ensure easy access
Government services digitally transformed for improving Ease of Doing Business
Making financial transactions above a threshold, electronic and cashless
Leveraging GIS for decision support systems and development
Digital Empowerment of Citizens
Universal digital literacy
All digital resources universally accessible
All Government documents/ certificates to be available on the Cloud
Availability of digital resources / services in Indian languages
Collaborative digital platforms for participative governance
Portability of all entitlements for individuals through the Cloud
Scope of Digital India
The overall scope of this programme is:
To prepare India for a knowledge future.
On being transformative that is to realize IT(Indian Talent)+ IT(Information Technology) = IT(India Tomorrow)
Making technology central to enabling change.
On being an Umbrella Program – covering many departments.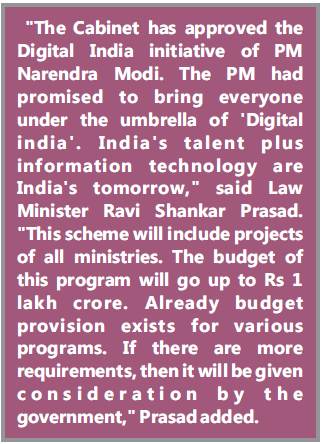 The program weaves together a large number of ideas and thoughts into a single, comprehensive vision, so that each of them is seen as part of a larger goal. Each individual element stands on its own, but is also part of the larger picture. The weaving together makes the Mission transformative in totality. The Digital India Program will pull together many existing schemes which would be restructured and re-focused and implemented in a synchronized manner.  The common branding of the programs as Digital India highlights their transformative impact. Digital India aims to provide the much needed thrust to the nine pillars of growth areas, namely
Broadband Highways,
Universal Access to Mobile Connectivity,
Public Internet Access Programme,
e-Governance: Reforming Government through Technology,
e-Kranti – Electronic Delivery of Services,
Information for All,
Electronics Manufacturing,
IT for Jobs
Early Harvest Programmes.
Program Management Structure:
A programme management structure would be established for monitoring implementation. Key components of the management structure would consist of the Cabinet Committee on Economic Affairs (CCEA) for according approval to projects, a Monitoring Committee headed by the Prime Minister, a Digital India Advisory Group chaired by the Minister of Communications and IT, an Apex Committee chaired by the Cabinet Secretary and the Expenditure Finance Committee (EFC) / Committee on Non Plan Expenditure (CNE).
Budget & Structure
The Union Cabinet has approved the Digital India project, which is Prime Minister Narendra Modi's ambitious e-governance initiative. The project, which has a total overlay of Rs 1 lakh crore, aims to ensure that government services are available to citizens electronically and help people gain benefits from the latest information and communication technology. The project also aims to ensure that all villages in India have high speed Internet. Sources say that Prime Minister Narendra Modi will head the monitoring group of the project and will aim to complete the project by 2019.
A Digital India Advisory Group will be formed and will be chaired by the Minister of Communications and IT. There will be an Apex Committee which will be chaired by the Cabinet Secretary and the Expenditure Finance Committee (EFC) or Committee on Non Plan Expenditure (CNE). The Digital India program is a transformed version of the already running National e-Governance Plan. Under the Digital India program, all central government ministries and departments will come up with their individual projects that can be delivered to public using ICT like health services, education, judicial services etc. Government will prefer to adopt Public Private Partnerships (PPP) wherever feasible for rolling out Digital India program. Apart for existing e-governance projects, government will restructure National Informatics Centre which facilitates roll out of IT projects in government departments. Government will create positions of Chief Information Officers (CIO) in at least 10 key ministries so that various e-Governance projects could be designed, developed and implemented faster. Besides, the Department of Electronics and IT (DeitY) would create necessary senior positions within the department for managing the program.
Among the multiple projects that come under the Digital India initiative, the national broadband plan will cost the most. The plan aims to connect 250,000 village councils at a cost of Rs.27,000 crore, to be completed by December 2016. The national information infrastructure will piggyback on this to be able to provide all necessary e-governance services at a cost of Rs.15,686 crore and be ready by March 2017. The plan will also ensure universal access to mobile phones to 42,311 villages in the country that are still unconnected by June 2015 at a cost ofRs.16,000 crore. At the end of June, total teledensity in India was 75.8%, with urban teledensity at 146.24% and rural teledensity lagging behind at 44.5%. The plan also envisages a net-zero electronics import target by 2020 through the Digital India initiative, through a number of moves to incentivize, promote and develop manufacturing in the country. The incentives include a modified special incentive package scheme, tax rationalization and preferential market access, costing a total of aroundRs.24,000 crore. The plan also talks of creating five new electronic manufacturing clusters in the next five years, with the government footing Rs.500 crore of the Rs.1,500 crore estimated cost. An electronic development fund will also be set up to create Indian intellectual property for electronic goods. The setting up of semiconductor fabrication facilities in the country has been a priority for some time. As part of the plan, the government expects to create two facilities, at a cost of Rs.12,419 crore, Rs.23,347 crore andRs.1,400, respectively, during the 12th, 13th and 14th Plan periods. The plan will also create skill development centers to produce a workforce of 400,000 for the electronics sector in the next five years at a cost of Rs.575 core. As part of the e-governance aspect of the plan, the government plans to bring all departments across the country online, including government services and necessary storage of certificates among others, in the next three years. The electronic delivery of services, including health, education, security, justice, financial inclusion and information to farmers has been labeled e-kranti. This aims to provide broadband connectivity to 250,000 schools, including free WiFi and also massive online open courses. E-healthcare will ensure access to online medical consultations, records, supplies and even pan-India patient information. Farmers will have real-time access to price information and financial help as well as mobile banking. The plan will also include a geographic information system-based social network for citizens called MyGov.
Government to ensure that every Indian has smartphone by 2019
The Digital India project that aims to offer a one-stop shop for government services would use the mobile phone as the backbone of its delivery mechanism. The government hopes the Rs 1.13-lakh crore initiative that seeks to transform India into a connected economy to also attract investment in electronics manufacturing, create millions of jobs and support trade.
In an interview with ET, telecom minister Ravi Shankar Prasad said the government of Prime Minister Narendra Modi wants to ensure a smartphone in the hands of every citizen by 2019. Currently, nearly 74% of the population has mobile phones, most of which though is in the hands of urban India. "We want to ensure that all the services can be provided through a mobile handset, especially, health, education, various government services and retail," Prasad said. "We want it (handset) to be used as a tool for empowerment. We will need to incentivise its usage in order to promote the social and the economic objectives of the government."
In order to use the mobile phone to help achieve financial inclusion, the government will need to structure the delivery of financial services in a manner that encourages a villager to go for mobile banking, the minister said. For instance, the Pradhan Mantri Jan Dhan Yojana, a financial inclusion plan the Prime Minister announced on August 15, can be effectively rolled out through mobile handsets. The program seeks to give every household in rural India access to bank account, along with a RuPay debit card and insurance cover of Rs 1 lakh. At present, nearly 60% of the nation's population doesn't have access to financial services. Digital India promises to transform India into a connected knowledge economy offering world-class services at the click of a mouse and will be implemented in a phased manner, according to information released by the government last week.
Conclusion
'Digital India" expects to give a communication kranti to the country. Govt. has taken significant initiatives to lead the program to success but there are several stages and challenges to be encountered and Govt sectors product & solutions providers have to came up to together to link the program to success.