THIEF RIVER FALLS, Minnesota, USA –Digi-Key Electronics, a global electronic components distributor, was named Reader's Choice Most Favorite Electronics Component Distributor at the 2nd edition of the EM (Electronics Maker) Best of Industry Awards 2016 at the Bangalore International Exhibition Centre.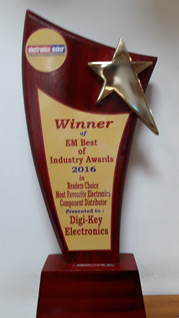 "Digi-Key Electronics is honored to receive this award as we are striving to be the first distributor in a customer's mind for the largest selection of electronic components," said Chris Beeson, Executive VP of Sales and Supplier Development. "To be named the Reader's Choice for Most Favorite Electronics Component Distributor means we are achieving our goal. Digi-Key hopes to be the Most Favorite in years to come and continue enabling your innovation in India."
The 2016 Awards included key electronics categories including IoT, Semiconductor, LED and Lighting, Solar and Power, Test and Measurement, Electronics Component, Automation, SMT, PCB, and EMS and honors the winners for their innovations, excellence and industry-leading performance. The Electronics Maker Awards generate a lot of interest, recognizing leaders in technology, efficiency, environmental benefits and quality for the Indian Electronics industry. 

About Digi-Key Electronics
Digi-Key Electronics, based in Thief River Falls, Minn., is a global, full-service distributor of both prototype/design and production quantities of electronic components, offering more than five million products from over 650 quality name-brand manufacturers. With over 1.3 million products in stock and an impressive selection of online resources, Digi-Key is committed to stocking the broadest range of electronic components in the industry and providing the best service possible to its customers. Additional information and access to Digi-Key's broad product offering is available at www.digikey.com.