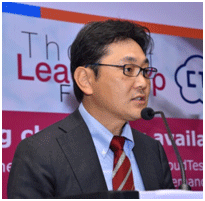 Interview with Manabu Kimura, President, Cloud Testing Service Inc.
Please introduce CTS and its operations in India
CloudTesting™ Service (CTS) leverages recent advances in cloud computing. Applying this paradigm to semiconductor test, a new business model was developed that expands customer access to testers by delivering test IP directly to their personal computers. This revolutionary concept of having a tester in every lab defines the new shape of testing.
Please elaborate recent forays that you have made in India.
Since last year we have several Western and Japanese chip makers utilize CTS in India for their offshore works.TLF workshop on Jun 29th was the great opportunity to communicate directly to Indian companies. We clearly saw the demand to chip testing for the quality which will be needed for coming "make in India."
What kind of opportunities you can visualize in the Indian Semicon industry?
The India market is now going to make physical chip which require testing, characterization and qualification. In India there is long history already on chip design. Now the sector is going to add more value on top of it. Not only giant chip makers but also Indian origin chip design houses and chip IP providers will need it to differentiate from others, and to contribute to the upcoming chip manufacturing in India.
 "Cloud Testing? Service (CTS)" is a new concept in Indian market. How do you define opportunities and business prospects in this segment?
CTS can start chip test with minimum cost and risk and in a relatively short amount of time.Variety of testing capability and the small footprint of equipment CTS provides is best fit to designed chip qualification and characterization which the segment in India is going to need recent today.
What are the different sectors CTS caters?
Not only commercial sector, but also education and academic are suited to CTS. To understand the electronics and chip theory CTS is the one of best product to learn it and develop the talent and skill sets for the ESDM industry.
What are your views towards Indian market and what future prospects can you predict. What will be your roadmap for Indian market in coming years?
India has a few hundreds of IC design related companies. In addition, it also has some of the world high ranking institutes, labs, colleges which provide highly skill educated people to the sector every year. Now the sector is going to touch the real silicon IC (chip) under "Make In India." When you make something you need to know its quality and character for your customer and for further improvement and development. Test and measurement technologies can provide those. CTS and Advantest will keep continue to work with the sector in India to support regarding test and measurement.
What are your views on Theme of this event "Making chip test available for everyone"
IOT era is coming very soon. IOT made by system and device, those made by chip. So everything is going involve chip development.Variety of chip and volume of chip will be exploded. Varity of chip design will be exploded too. Those have to be qualified, tested.
Today's chip testing involve high cost equipment and experienced engineer. CTS overcome this problem by providing different business model and product for the people who is now caring about quality and who is going to do test for IOT, to make anyone able to access and do chip testing