(Tokyo, Japan) June 18, 2014 – Reed Exhibitions Japan will be opening the doors to Asia's leading comprehensive trade show for the content industry – CONTENTS TOKYO 2014 http://www.contents-tokyo.jp/en/ from July 2 to July 4 at Tokyo Big Sight Japan.
The show is split into 4 independent exhibitions, all specialising in different stages of content creation. Altogether CONTENTS TOKYO 2014 will be gathering 1,530 exhibitors and 53,000 professional visitors throughout the 3-day show duration.
Below are the highlights of each of the 4 exhibitions held under the scope of Contents Tokyo 2014:
700 individual creators will gather at Creators' Expo
The exhibition floor of Creators' Expo will be split into 10 zones, featuring creators of different categories;
Art, Author/Writer, Calligrapher, Designer, Illustrator, Manga/Comic Artist, Music/Sound Creator, Photographer, Picture Book Writer and Video/Anime/Game Creator.
The exhibition floor will be filled by 700 creators from across Japan who are all individual creators, looking to appeal their ideas and creative skills to publishers, advertising companies, PR/marketing product planning divisions of firms and other professionals willing to utilise their creation.
With the impressive range and quality of the creators gathered at CREATORS' EXPO, participants are sure to discover a creator to fulfill their needs.
Each year, the show serves as a business match-making platform giving birth to new-comers in the professional field (For example; Manga artists, international illustrators, game character designers)
Search creators online at: http://www.creator-expo.jp/en/eguide/
Various characters, brands from Japan and the world at LICENSING JAPAN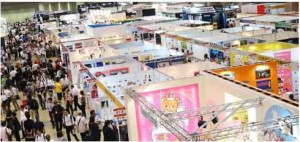 Various license holders and licensing agents for manga, anime (Bandai Visual – License holder of Gundam, Ghost in the shell, Doraemon, Yomiuri-TV Enterprise – License holder of Detective Conan, Inuyasha, Space Bros), TOUHOKUSHINSHA – License holder of Shaun the sheep, Thunderbird, Felix the Cat), characters (RILAKKUMA, LINE FRIENDS etc.), a wide variety of brands (anan, JEEP, Lamborghini, Nissan, PERSON'S, Paul Frank etc.), Publishers (Shogakukan-Shueisha Productions, MAGAZINE HOUSE, KODANSHA, Discover 21 etc.) will gather from all over Japan and the world.
Search exhibitors and their exhibits online at: http://www.licensing-japan.jp/en/eguide/
Concurrently held events during the show include conference sessions conducted by the International Licensing Industry Merchandisers' Association (LIMA JAPAN), various licensors sharing their know-hows, introductory sessions and market sessions.
There will also be an awards ceremony for "License of the Year" presenting the winners of each award category (Grand-prix, Character license, Brand license, Product license, Licensing agency, Promotion licensee, Retail, New face and a special award chosen by the committee members of CHARACTER DATABANK, on the first day. The winner's product will be showcased throughout the duration of the show at a special showcase area within the exhibition hall.
The powers of Japanese production companies demonstrated at Production Companies Expo
Production Companies Expo is a place to directly meet and make connections with Japanese content production companies of various genres (Film/Video, Animation, game, music, books/magazines, advertisement, webpage, apps…etc.)
As well as major firms such as IMAGICA and AMANA, a vast range of powerful and unique production companies will gather from all over the country to showcase their technical strengths.
For instance, KOO-KI – the firm that produced Tokyo's PR video in the 2020 Olympic Host City Election and SHIKUMI DESIGN – grand prize winner at Intel Perceptual Computing Challenge will be exhibiting within the FUKUOKA RUBY AND SOFTWARE INDUSTRY PROMOTION COMMITTEE booth.
HAND – the firm involved in the production of "BOMBERMAN" (also known as Dynablaster in Europe) and BANDAI's "DATA CARDDASS AIKATSU!" (a very popular card game in Japan for young girls) will be exhibit their strengths in planning/development of video games and content production for animation and toys.
The firm who produced the computer graphics for the "ULTRAMAN" (a popular action hero in Japan) film series and "TIGER AND BUNNY" (a popular animation in Japan) – Hayashi Digital Construction, will be present to seek new partners in Japan and with professionals from overseas.
Search other high tech, high quality production companies exhibiting at the show online at: http://www.production-expo.jp/en/eguide/
With the freedom of content creation expanding in recent years, as well as the area of specialty, many exhibitors will be willing to discuss and reach out to other areas of content production.
Thus, participants may be able to discover various, unanticipated business opportunities on-site.
Various innovative technologies for content production/distribution at Content Solutions Expo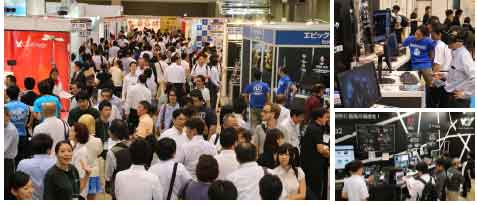 To keep up with the growth of the digital content market, Content Solutions Expo allows participants to find a backbone technology and solutions to create, distribute and manage content.
The show is mainly split into 2 exhibit zones:
The Production/Editing Technology Zone will be showcasing the latest content production technologies and solutions. Here participants will be able to find new and cutting edge technologies, some yet to be launched into the market, post show. Major exhibitors include EPIC GAMES, UNITY TECHNOLOGIES, PANASONIC AVC NETWORKS COMPANY etc.
From the latest cameras, video editing systems, game engines, Virtual/augmented reality technology, mixers to web authoring tools, participants will be able to see, learn and source a great range of content production and editing technologies.
The Management/Distribution Zone will provide technologies and solutions required to deliver and manage content. Whether you want to efficiently promote or sell content via social media, find new and improved ways to protect content, discover new ways to reach and find target customers , manage video, music web and a variety of content in one medium…
exhibitors in this zone will provide the solutions. Exhibitors in this zone include; AKAMAI TECHNOLOGIES, LIMELIGHT NETWORKS, EMC JAPAN, ITOCHU TECHNO-SOLUTIONS, INTERNET INITIATIVE JAPAN, SKILLUP VIDEOTECHNOLOGIES, J-STREAM, BRIGHTCOVE, HITACHI SOLUTIONS, SAMURAIZ CORPORATION…and more.
For details of the exhibitors and their exhibits, search the online show directory at: http://www.contes.jp/en/eguide/
For further information, or inquiries about participating at CONTENTS TOKYO 2014, visit the official show webpage: http://www.contents-tokyo.jp/en/ or contact Show Management:
Email: contes-eng@reedexpo.co.jp / Tel: +81-3-3349-8519