Since currency bills carry a risk of virus transmission, contactless digital payments, either in the form of cards or e-wallets will become the norm so as to avoid the spread of Covid-19.
Social distancing and minimizing human contact are topics that are on everyone's mind these days, and for good reason. Consumers and businesses alike are leveraging strategies to limit any possible exposure to outside germs – and one of those strategies is contactless payments.
Contactless payments – or processing transactions via the tap of a credit/debit card, smartphone, or smart watch – are undoubtedly an effective way to keep business flowing while keeping your employees and your customers safe. But an added bonus is that contactless payments are growing in popularity around the world and are sure to serve you well into the future.
Contactless payment is a secure method for consumers to purchase products or services using a debit, credit, or smartcard—also known as a chip card—by using RFID technology or near-field communication (NFC).
To make a contactless payment, tap your card near a point-of-sale terminal that is equipped with the contactless payment technology. Since contactless payments do not require a signature or a personal identification number (PIN), transaction sizes on cards are limited. The allowable amount for a contactless transaction varies by country and by the bank.
Contactless payment is also referred to as tap-and-go by some banks and retailers. Examples of non-credit or debit card contactless payments include transit cards, Apple Pay, Android Pay, and Google Wallet.
While these payments may seem like a recent trend, the technology has been in existence since the 1990s – however, at that time, only a small number of merchants used this payment method.


According to Bjoern Scharfen, Head of the Product Line Payment & Ticketing Solutions, Infineon Technologies, "Contactless payment technology emerged from the wish to have a convenient, contact-free and fast way to pay in retail outlets. It is particularly useful to replace cash payments of small amounts and reduces cash handling costs, long lines at the cashier and physical contact with cash. Especially the last benefit has attracted more attention with the emergence of the COVID-19 pandemic.
Starting with contactless payment cards, it is already state-of-the art to integrate contactless payment technology in all kind of electronic devices like smartphones or smart watches. However, even devices and accessories with no electronics can easily be upgraded with passive, non-powered contactless payment technologies. The form factors range from key fobs, rings, watches, wristbands and jewelry to coffee cups or bottles for events and promotional purpose.
The main benefit of contactless payment is that it is really independent from the original card form factor that had to have a certain size and placement of the contact point to fit into the payment reader slot.
The underlying contactless technology for the cards and readers is specified in the ISO/IEC 14443 standards and are using a 13.56MHz frequency. This wireless technology is designed to operate securely over very short distances (proximity) to enable a wide range of applications. On tops this technology is also compliant with the Near-Field Communication standard, or NFC. Those specifications created by NFC Forum allow its devices to use different communication protocols. As a result, NFC Forum Devices are able to communicate with various readers, cards and other devices hence providing a maximum of interoperability".
Benefits of Contactless Payments
Hygienic: Contactless payments are a cleaner alternative to paying with cash or using a pin pad on a credit/debit card terminal. Simply put, there's less opportunity for contamination.
Fast: A major benefit of contactless payments is how speedy they are because no PIN is required, and your employees don't need to manage cash transactions. By speeding up transactions, you can successfully line-bust and keep your customers happy.
Improved customer experience: Like we just mentioned, contactless payments create a streamlined, easy, and quick experience – something consumers are sure to love.
Secure: While some people are under the impression that contactless payments are not as secure as a chip card transaction, contactless payments provide the same EMV security provided by chip cards.
Three sectors that will drive contactless payments:
1. Online shopping: As more and more consumers will prefer to shop online rather than physically visiting stores, e-commerce is expected to be a major driver behind the rise in digital payments.
2. Transportation and movement of people and goods: The Indian Government has been encouraging RFID-enabled FASTags that ensure seamless and contactless movement of vehicles and goods. Once the lockdown is lifted, we are going to see even greater adoption of contactless payments on our highways as well. Besides, transport modes like metros & railways are also preparing for the new normal which would be driven by contactless payments. In fact, NXP is enabling over 95% of transport ticketing implementations in India through our NFC compliant Mifare technology platform.
3. Bills & utilities: As people tend to stay more at home, the industry has been witnessing a spike in digital payments for bills and utilities. In fact, utilities/bill payments saw a growth of 73% during lockdown, as per a recent report by Razorpay.
Impact of COVID-19 Outbreak on Contactless Payments
The COVID-19 pandemic has ushered in a wave of new-normal behavior, from mask-wearing to social distancing. In a shift likely to have a long-lasting impact, contactless payments are gaining traction as consumers get comfortable with the technology, drawn in by its safety and sanitary advantages.
Major payment networks, including Visa and Mastercard, are looking to aid in the pandemic by increasing contactless card spending limits. Many national and local authorities and governments, as well as merchants, are encouraging digital payments over cash, using the digital transaction method to limit contact with items and objects that are communal and used by multiple people—in this instance, point-of-sale terminals.
Biometric payment cards are well positioned as a solution that offers a contactless payment card experience without limits. The use of multi-factor contactless transaction authentication will become a key theme post-COVID-19, extending security previously reserved for high computer-powered devices such as smartphones and mirroring the experience and security features onto the passive payment card form-factor.
The message is clear that contactless payments have a critical role to play in the fight against COVID-19, from a hygiene, health, and safety perspective.
According to Bjoern Scharfen, Head of the Product Line Payment & Ticketing Solutions, Infineon Technologies, "COVID-19 has not only made aware many people of the contactless functionality of their payment cards, but also a lot of merchants discovered the convenience and speed of contactless card acceptance. This boosts the familiarization with contactless payments among people and improves the setup of contactless payment acceptance points at the merchants. While in the past, customers had to hand-over a card or payment devices to the merchant because the contactless terminal was placed behind the desk, nowadays the contactless payment terminal is presented conveniently in front of the cash desk and allows touch-less transactions.
At this time of global concern for people's health, a similar trend can be seen in smart buildings where business or public institutions are looking for contactless or biometric access solutions or automated lighting solutions based on radar technologies that help to avoid touching doorknobs or light switches".
NFC Technology in Contactless Payments

Near Field Communication, or NFC, is short-range wireless technology that allows smartphones and similar devices to communicate when they're within a few inches of each other. This contactless technology has been around for years and has many applications that people use on a daily basis, including synching their smartphones to their cars and paying fares on public transportation.
NFC is also used for mobile contactless payments at both attended point-of-sale (POS) locations like stores, and unattended locations like vending machines, that use the existing merchant payments infrastructure.
According to Bjoern Scharfen, Head of the Product Line Payment & Ticketing Solutions, Infineon Technologies, "NFC, in contrast to other payment technologies like pure mobile wallets or merchant-specific payment apps, still has this physical component of an active "tap" to the payment reader that shows the "intent to pay".
In many countries, people are reluctant to processes that are not transparent to them, which they don't understand or which run entirely in the cloud. This is especially true when it comes to money and other values. The physical tap in combination with the receipt gives them an assurance that is easy to understand, that only the amount displayed on the terminal will be payed from their account.
Another advantage of NFC is the already very high acceptance all over the world for payment, access and ticketing. Speed and convenience for both low- and high-value transactions have convinced the market to migrate towards contactless in many regions, picking up steam with the COVID-19 pandemic. For example, Mastercard reports over 40 percent growth in contactless transactions worldwide in the first quarter 2020 and expects more than half of new tappers to continue to use contactless technologies once the Corona pandemic is over.
Finally, NFC technology, like no other technology can be easily integrated in both battery-powered devices like smartphones and wearables but also into battery-less, passive devices like smart cards and small "payment accessories" like rings, key fobs or wristbands".
He adds, "NFC technology is designed for an operation distance of a few centimeters (proximity), this makes it more difficult for attackers to record the communication between an NFC Card and an NFC Reader compared to other wireless technologies which have a working distance of several meters.
The data transmitted are signed by the chip. The cardholder name is usually not transmitted and many chips use tokenized data today that cannot be used to make e.g. fraudulent e-commerce payments.
The biggest advantage of a security chip to combat security breaches and identity theft is that it is extremely hard to clone so that no one can just record a transaction and use that data anywhere else. The required cryptogram for each payment transaction is generated with exactly the one chip in your payment card.
For security sensitive actions like all contactless or mobile payment transactions, payment networks have defined mechanisms to add encryption to data to be exchanged between a contactless card or a NFC device, allowing the eco system to verify that the data being exchanged was generated by a trustworthy source and has not been compromised. The chip on an EMV Payment card or in a wearable payment device is tamper-resistant and certified by independent labs to provide a proven security level".
NFC at the POS
NFC transactions are quick and convenient, which helps to keep the customer satisfied and makes it possible for merchants to process sales efficiently. NFC is also compatible with coupon and special offer redemptions that draw in customers and sales.
Perhaps most importantly, NFC transactions are considered to be more secure than those involving traditional magnetic stripe credit cards, which can be stolen or cloned and used for unauthorized purchases.
An NFC-enabled smartphone or other mobile device is set up with a payment app and payment account information, typically a credit or debit card. Shoppers simply wave or tap the device — or an EMV® chip card — in front of an NFC receiver at checkout. They may also be required to scan a fingertip or provide a passcode to approve the transaction.
The receiver reads the signal and the transaction is validated by the internal Secure Element (SE), where personal and financial information is stored. Once validation is complete and the transaction is authorized by the processor, the transaction is charged to the shopper's designated credit card and a sales receipt is issued.
Wearables and Other Emerging Payment Methods
The amount of connected devices on the market is rapidly increasing, and everything from your coffeemaker to your watch has the potential for connected capabilities. This opens up significant opportunities for payments, many of which are just starting to be explored. Wearables have made the most headway, with many smartwatches being able to initiate transactions, and even smart jewelry, like Visa's payment ring. In particular, as the leader in the smartwatch category, the Apple Watch has made strides in getting consumers more comfortable using non-traditional smart objects to pay for things.
New innovations in payment methods are making it easier for consumers to pay for goods and services. While there are still some minor barriers to adoption for mobile wallets, adding the ability to integrate with value-added services and other technological advancements will ultimately make it easier and more desirable for consumers to make the switch.
Infineon Contactless Payment Solutions
Infineon has been part of the definition and evolvement of contactless technology from the beginning. Today, more than 40 percent of payment cards worldwide have an Infineon chip inside, with our market share in contactless payment cards being even higher.
To continuously advance contactless technologies, we have a contactless competence centre with a dedicated laboratory based in Graz, Austria. This team does not only constantly review the contactless infrastructure worldwide to provide maximum interoperability with Infineon's contactless chips. They also make the chips more and more efficient and help customers to configure and tune them in the right way, so that they can even be used with smaller, special antennas or with special materials like metal cards.
As for our products, Infineon's SECORA Pay solutions combine state-of-the-art chip technology with the operating software, latest Payment applets including off-the-shelf system approvals and reference designs. They are easy-to integrate and turn everything, from a smart card to a fashion accessory, into a contactless payment device for save and seamless payment, transit & access transactions following open industry standards.
Besides security and contactless transaction quality, Infineon is also innovating in chip packaging:it's inductive coupling solution called Coil-on-Module avoids a fragile connection between the chip module and the antenna and makes payment cards more resistant to inoperability due to frequent bending, environmental influences and aging.
Overall, we are committed to enable consumers a secure and convenient payment experience: Our turnkey solutions will also drive biometric innovations in the smart card industry. Moreover, we help making digital transactions easier and safer while offering security solutions optimized for ultra-low power consumption tailored for smart wearables and IoT devices.
ST and Fingerprint Cards Cooperate to Develop Advanced Biometric Payment Card
STMicroelectronics has teamed with world-leading biometric company Fingerprint Cards AB (Fingerprints) to develop an advanced Biometric System-on-Card (BSoC) solution based on fingerprint-recognition technology, addressing the market demand to enhance contactless payment-card security and convenience.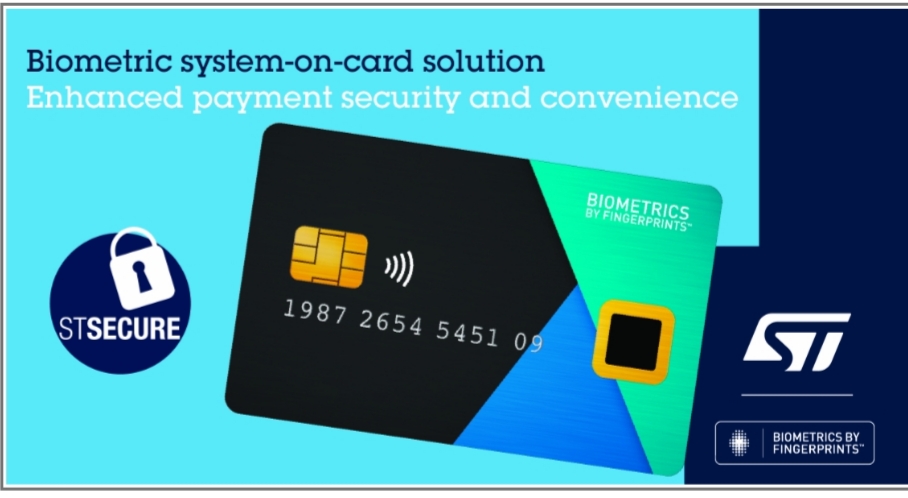 The BSoC integration combines ST's latest-generation secure-payment technology based on the ST31/STPay chipset and STM32 general-purpose microcontrollers with Fingerprints' next-generation T-shape sensor module to provide a turnkey battery-less secure solution for the banking market.
The contactless payment card will be the first target under the agreement, with the intention to extend to other markets such as identification, health, access, and transportation cards.
Running on ST's flexible Java Card™ / Global Platform® Operating Systems (OS), ST's STPay secure-payment products ensure support for multiple international and regional payment schemes, with proven security features built-in. STPay solutions benefit from EMVCo and CC EAL 6+ hardware certifications, software certifications up to OS and application level, and ST's secure pre-personalization services that create an inherently trusted supply chain.