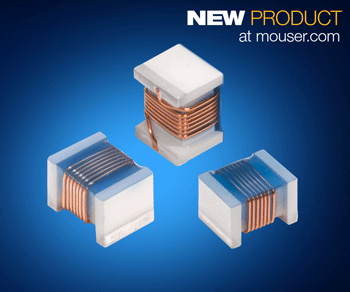 February 4, 2019 – Mouser Electronics, Inc., the industry's leading New Product Introduction (NPI) distributor with the widest selection of semiconductors and electronic components, is now stocking 0805HP and 0805HQ Series ceramic wirewound power inductors from Coilcraft. Offering the industry's highest Q factors in an 0805 size at frequencies up to 3 GHz, the devices are available in 32 inductance values ranging from 2.5 to 820 nH, with 2-percent tolerance available for most values.
Coilcraft's 0805HP and 0805HQ Series inductors, available from Mouser Electronics, provide industry-leading Q factors with excellent current handling and DC resistance ratings down to 15 milliohms. The AEC-Q200-qualified 0805HQ series offers the highest possible self-resonance, up to 10.3 GHz, while the 0805HP series boasts higher Q factors, with self-resonance up to 9.5 GHz. Both series feature RoHS compliance and reflow heat resistance up to 260 degrees Celsius.
For more information, visit www.mouser.com/coilcraft-highest-q-wirewound-inductors.
With its broad product line and unsurpassed customer service, Mouser strives to empower innovation among design engineers and buyers by delivering advanced technologies. Mouser stocks the world's widest selection of the latest semiconductors and electronic components for the newest design projects. Mouser Electronics' website is continually updated and offers advanced search methods to help customers quickly locate inventory. Mouser.com also houses data sheets, supplier-specific reference designs, application notes, technical design information, and engineering tools.