Universal Robots, the Danish company founded in 2005 develops and manufactures collaborative robots with the goal of making automation accessible to everybody. With its easy to program, flexible and cost-effective robot arms UR3, UR5 and UR10, the company has revolutionized robot technology and made automation a reality above all for small and medium-sized businesses. In an interview with Mr Pradeep David, General Manager, South Asia, Universal Robots shares his thoughts on Robotics industry advancements, and its growing use in different application.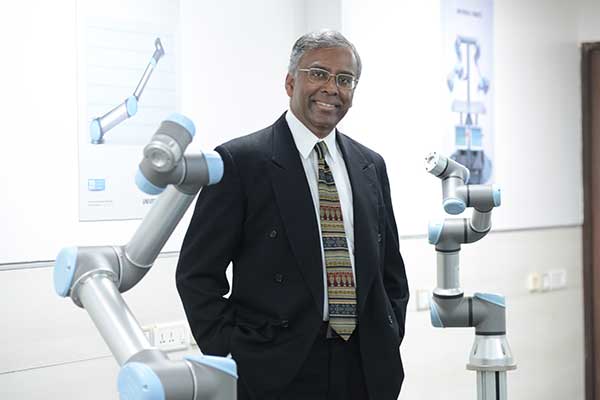 How the Robotics in Industry has evolved over the years?
The evolution might have begun at the moment of the invention of robots; however, it has now reached a point where the definition of evolution has changed entirely. Robots have been used in manufacturing for decades to speed production, enhance accuracy, and replace human labour. Yet, not all activities in a production line can be automated with robots, and production lines with caged off 'workers' performing the same task multiple times over aren't always the best use of factory space.
Cobots, on the other hand, are freeing robots from their cages and enabling humans to work alongside robot counterparts in a diverse range of applications. A portmanteau for the term "collaborative robot,'' cobots are designed to collaborate with human workers in a shared physical environment, and enhance worker capabilities, rather than replace them.
The idea is for humans and robots to be inter-dependent and achieve what each of them does best. There are a few things that must be done manually, whereas the accuracy, precision and mass production at higher efficiency is taken care of by the robots.
Universal Robots makes robot technology accessible for companies of all sizes with the aim that the end-user gains twice the value creation from cobots. UR's vision is to empower automation of enterprises around the world by giving back the control of factory automation into the hands of operators by being user-friendly through easy reprogramming while remaining affordable.
When one talks about future forward endeavours and technological advancements– cobots seem to be the present and future of the evolution of robotics.
What are the key drivers making Robotics vital in Industry?
Cobots make automation affordable and are a realistic choice especially for small and medium-sized enterprises as cobots are helping them compete more effectively.
Small footprint, low energy consumption, easy programming, allows SMEs to have the flexibility of automating different production lines at different times for customised batch productions. With none of the traditional costs associated with expert robotic programming, set-up and fenced off work areas, the average payback of cobots have, in some cases, been less than six months, but on an average about 2 years.
Over the past few decades automation has become a necessity in the manufacturing industry due to increasing global competition. This has helped in streamlining manufacturing processes and also in mass-production of goods. Automation today has become inevitable globally in the manufacturing industry today. The application of robotics and automation has been successfully achieved in a wide range of industries dealing with well-defined processes and products like the manufacturing industry, FMCG, automotive industry, the healthcare industry, etc.
Universal Robots has in fact had some phenomenal success stories where cobots created skilled jobs and made many small businesses competitive. Take Shruti Engineers, Pune, a metal and machining MSME; their production was limited. They deployed a UR10 recently and have seen a 75% increase in their daily production enabling them to take more orders and expand their production. During the past years, smaller manufacturers had a growing interest in our cobots as they are mobile and compact and don't require Annual Maintenance Contracts.
Cobots can be redeployed time and time again in different roles to meet customers' increasing demand for new products, making them a useful long-term investment and vital in the industry.
Which are the key applications where you see maximum robotics use?
The collaborative technology manifested in the market as robot arms are now being made cost-efficient for all the enterprises, including SMEs. Cobots support influenced automation by empowering and encouraging the human-cobot relationship to escalate overall efficiency. Introducing cobots in the firm has not only been a compatible, cost-friendly option but also offered ROI at a much faster pace.
Universal Robots debuted in India in February 2016, taking the businesses by a storm and making collaborative technology accessible to manufacturers across sectors such as automotive, pharmaceutical & chemistry, F&B, FMCG and furniture & equipment.
The utility of collaborative arms ranges from machine tending to pick & place, palletising, inspection, polishing, glue dispensing, screw driving etc. Almost any and every sector essentially could deploy cobots for higher productivity, and there are numerous companies around the globe that are using cobots in R&D that are doing just that – using cobots for all kinds of unique applications to enhance product development.
The automotive sector has conventionally utilised robots for various tasks like painting, welding, metal trimming & cutting, loading/unloading CNC machines, assembling, screwing in the places which are not accessible to human efforts, glass glazing, transfer of components etc. The application of cobots is increasing exponentially with the progression in technology and industries.
A real-life example of the application of cobots in India is spray painting by Sri Sai Markers and Engravers, Gurgaon. The SME self-deployed their first cobot from Universal Robots and observed an enormous hike in productivity in two months. Cobots enabled the enterprise to spray paint from various angles, even if it meant to paint in confined spaces, from the base or hanging panels etc. Cobots prevented waste of material, reduction in the need for reworks, and raised the bar for secure and safe methods to paint. The SME did not even have to let go of any staff – rather, the staff who once used to work with toxic paint fumes now simply control the cobots to do the work instead.
Please explain Collaborative Robotics technology and how it is different from Robots?
The term cobot is a result of the allegiance of two individual words referring to "collaborative" and "robot", self-defining their purpose of introducing the concept of humans sharing a physical workspace without requiring any protection or hefty fencing, an effort that is attained by the incorporation of external sensory technology in the cobot. A ''protective stop'' is activated in cobots when they come in contact with an object that obstructs its path of movement, unlike conventional industrial robots which are known to injure, and even kill humans in extreme situations.
Cobots are light, compatible, mobile, power-efficient and re-deployed and reassigned to varied sections without provoking any modifications or alterations to the production layout. Cobots can be set to work within a short time after reaching the site. One does not require any expertise in programming for installing cobots, unlike conventional robots which take days on end to start the operations with.
With easily programmable, adaptable, and cost-efficient robot arms, namely, UR3, UR5, and UR10, along with the three variants of the newer e-Series range, UR3e, UR5e, and UR10e (offering enhanced collaborative features) –the firm has remodelled robot technology and made mechanisation and self-regulation an essential reality for small and medium-sized businesses.
How do Cobots work in manufacturing?
Cobots, the technology which is rapidly evolving (at a rate of 60% CAGR), is gradually becoming the favourable preference amongst manufacturers as they intend to increase their productivity via focusing on automation and future-forward advancements.
The technology is easy to install, along with providing hassle-free redeployment. It teams up with employees to bring out their best and to catalyse the technological progression along with a hike in quality and productivity. For manufacturing companies, cobots are the new, feasible and budgetary alternative to pricey, conventional industrial robots. They've made self-regulation and automation cost-efficient and therefore making an ideal choice for small and medium-sized enterprises, providing new possibilities for workers, along with offering them improved levels of safety.
The concept and approach of human-robot collaboration are alluring to the manufacturing industry in India, specifically the SMEs in the nation as the arduous conditions and cobots together can assist the Indian Market in achieving the best of its potential. The base in India is gradually culminating and has started acknowledging the essentiality of the embodiment of cobots as a part of manufacturing.
Businesses, notably SMEs, are enthusiastic about embracing the technology because they can operate in association with the employees in confined spaces, assembly lines without requiring any fencing and therefore saving expenses on the area. Cobots are cost-efficient technology with a faster return of investment in the initial years of their deployment. Unlike conventional robots, they can be assigned and reassigned for different applications, along with being relocated and easily programmed. Enterprises of all sizes are stationing cobots in their business to witness a hike in their productivity levels. Their footprint is just 190mm dia, and they can be floor mounted, machine mounted or overhead mounted (supporting clutter-free shop floors) with ease.
Collaborative robots make technology cost-friendly and seem to be an ideal preference for small and medium-sized businesses, as it assists them in competing productively. For occurrence, Craft and Technik Industries, Pune (a precision components manufacturer), was handling concerns which were mostly about obtaining manual labour and underwent plenty of rejections of their elements. After they used cobots for auxiliary operations and auto inspection, their performance has improved. They have seen a 15 – 20% rise in production, with no customer rejections or defects due to 100% automated inspection.
What are the special advantages you would like to mention for Cobots?
Universal Robots' cobots are enabling India's manufacturing sector growth as its entrepreneurs take steps towards Industry 4.0 to meet the need for automation due to increased global competition. Universal Robots aims to deliver an automated solution for customisation, quality, quick manufacturing and low product quality that brings in the human touch.
The collaborative robot product range includes the UR3, UR5, and UR10, each named after their respective payloads of 3, 5, and 10 kilograms. These three variants are also available in a newer e-Series range (UR3e, UR5e, and UR10e), which offers even more collaborative features. All the cobots are easily integrated into the existing production environment and made automation a reality for small and medium-sized businesses. With six articulation points and a wide scope of flexibility, the collaborative robot arms are designed to mimic the range of motion of the human arm. It easily operates in confined spaces and moves 360-degree rotation on all axes.
Other than the cobots themselves, Universal Robots main mission is to empower people by lowering the automation barrier. A testament to this is Universal Robots+, a premier product platform that takes the concept of automating anything to the next level. Operating much like an Apple or Android app store, UR+ is a one-stop-shop which lists everything from vision systems, grippers, software, and other accessories, all tested and certified to work seamlessly with cobots. This makes finding the right solution for a multitude of applications hassle-free.
Universal Robots Academy is another testament to UR's mission to make the advantages of cobots accessible to all, no matter what their background or experience in robotics is. With 9 hands-on modules available in 8 languages, UR Academy offers free, certified online training that enables anyone to become a cobot-programmer within just a couple hours.
This ensures that Small and Medium Enterprises will also be able to maximize the potential of their cobots through complex applications in automation that raise production quality while increasing productivity with minimal additional cost and manpower requirements.
Can you give any of your customer examples you have set for Cobots?
Universal Robots has some unique success narratives of its own to tell. The successful projects of UR primarily talk of the proficient work opportunities and jobs created by cobots and the way it made firms competitive.
L'Oreal, for instance, has managed to completely eradicate a level 4 ergonomic risk to its workers by using cobots. The cobots handle palletizing, a physically strenuous tasks, the workforce is now in control of much safer, essential tasks at hand, reducing ergonomic risks in the company.
Another example would be of Bajaj Auto Ltd., which not only benefitted in technology but also empowered women as it adopted collaborative robots. The firm presently has 50% female workforce, which earlier had to carry out strenuous physical tasks but since now the cobots handle the labour-intensive functions, the women have moved to supervise cobots and tackle other tasks like quality checks etc.
Aurolab, an NGO in Madurai strives to make high-quality ophthalmic products affordable and accessible. The firm used to import intraocular lenses (vital in vision restoration), which made the cost extremely high. Now the NGO uses cobots for the manufacturing locally instead, and it has resulted in a significant drop in their prices, from Rs. 3000 to Rs. 270! Along with technological support, Aurolab empowers the human workforce and supports women workforce better with cobots lending a hand.
MSMEs have started supporting the growth of self-regulation/ automation in the country. Across India, a lot of MSMEs have adopted the use of this technology, assigning cobots in their firms, which escalated the production significantly. Cobots are enabling 24×7 manufacturing & up-skilling of labour, aiding enterprises and setting examples every day!
In India, how do you see the evolution of Cobots in manufacturing?
Collaborative robots are ''the great equalizer'' that allows even small-scale manufacturers to evolve and produce world-class products in an increasingly competitive world. This is especially amidst hurdles and challenges to hire and engage intensive labour and work in confined or compact areas, preventing hefty expenses related to land worth. The technology could be redeployed and moulded into various roles and applications to satisfy the needs of the customers, making them a wise investment for the long term.
The platform in India is eventually evolving, and it further acknowledges the significance as it implements the technology in various MSMEs, including SMEW Textile Machinery Pvt. Ltd and MNCs like Carl Zeiss etc. Bajaj Auto Ltd. in Pune stands to be one of the loyal customers of Universal Robots, with client-company history ranging back to 2012. The company has installed over 100 cobots since its association with UR and cobots handle several processes of the brand such as material handling and machine tending, etc. Bajaj Auto Ltd. employees now have the advanced tools to carry out repetitive tasks with faultless precision, being one of the driving forces of the company and its growth!
Universal Robots intends to make technology conveniently available for any and all sizes of businesses, in order to let the end-user profit doubly from the creation of collaborative robots. UR focuses on enabling automation for firms across the globe, yielding the power/ administration of company automation to the operators by being easy-to-use, customer-friendly and via smooth reprogramming of the cobots, while being cost-efficient.
A plethora of industries are profiting from the introduction of the technology in the firms; production and manufacturing businesses are profiting from the deployment already. Even MSMEs have been able to deploy cobots in their efforts to take a step towards Industry 4.0, with some even managing to achieve ROIs of less than a year.
What are your plans to expand the use of Cobots in India?
If one tracks the success rate of Universal Robots, they'll witness that it has grown drastically over the last ten years as it paved the path to advanced technology, making it accessible to all. Over 300 partners have installed over 37,000 cobots. The revenue of the pioneers in cobots knocked the mark of USD 234 million in 2018. Even though some of the customers were served with the technology ever since 2011 by Universal Robots A/S, Denmark, thefull-fledged operations in India started in 2016.
Empowering companies of all sizesis what UR envisions for the country. Universal Robots persists in funding in Channel Partners that can provide domain-specific solutions to End Users. UR has a well-established channel partner network of over 300 distributors around the world, with over 15 channel partners across South Asia (primarily India, Sri Lanka, and Bangladesh), each with their own strengths, in order to cater to the wide array of application requirements that cobots enable and customers require.
We are planning to develop the network via the medium of education as well. The Universal Robots Academy serves as a digital platform which enables people to self-coach themselves online. The platform also allows people to indulge in hands-on practical experiences, simulations and interactive robot animations. These further assist in procuring skills and abilities to operate a UR cobot without external assistance, where the tutorials and digital assistance is accessible 24*7 for enabling education anywhere, anytime allowing an individual to can grasp the concepts at their own pace. UR also conducts monthly hands-on workshops and webinars across the country.
UR+ is another expansion of collaborative technology, one can also refer to it as the developer platform of collaborative robots. UR+ is a platform of products ranging from end-effectors to software, which are tested and certified to work with the cobots. UR+ has two significant products in India until the moment, and the brand intends to encourage more of them as they put in efforts to enable automation for a multitude of needs. It was introduced as a premier product platform which enables one to automate their applications, making their tasks and routine process hassle-free. Offering solutions in accessories, sector of vision-based applications and others, UR+ is evolving and branching with time.
What will be the effect of use of Cobots on job opportunities?
Unlike the misconception and rumours, cobots are not designed to replace the human workforce, but to take over strenuous dangerous tasks – the keyword, after all, is "collaborative.'' As a result, employees can use their creativity to turn to more complex projects. For instance, when robots take over minor assembly tasks, employees can move on to more nuanced assignments that require human ingenuity.
Collaborative technology is devised to associate with humans and support them with diversified tasks to regulate monotonous and conceivable risky/ unsafe methods to heighten the parameters of the safety of the work atmosphere. It also permits them to steer their skills in the direction where they can be more productive, for instance, in critical thinking and strategic work to intensify work proficiency. A study in MIT represented that human-robot collaboration will enhance the overall efficiency by 85%, as it revitalises the productivity of employees as well as the cobots, complimenting both of theirs capacities and encouraging the concept of co-dependency.
Stationing cobots in an enterprise always serves to be of great significance as the net job creations take a hike, and the human workforce is deployed to other valuable tasks at hand.
For instance, New Engineering Works, Jamshedpur wanted a helping hand in their operations of CNC machine tending and therefore deployed their first collaborative robot in 2016. The workers found it easy to learn how to operate the cobots, without any prior training and observed the collaboration a hassle-free process. The company further installed 6 more cobots in 18 months and observed a raise in growth-rate by 40%. The cobots have been increasing the overall proficiency along with working side-by-side with employees of New Engineering Works and are aiding in cost reduction from years now, catalysing and contributing to the company's success.
According to you, how the next 5 years will reshape Robotics industry?
Collaborative robots, as the name itself suggests, are supposed to collaborate with human workforce and take control of the arduous, dangerous/ unsafe tasks, in order to proffer safety for the employees. As a productive consequence of the same, employees can utilise their innovation and skillset in more valued, strategic tasks. For instance, when robots take over minor assembly tasks, employees can move on to more nuanced assignments that require human ingenuity.
Cobots can be replaced and considered as an extension of the human arm, preventing human employees from undergoing unsafe or dangerous tasks. Collaborative technology can be consolidated in all manufacturing processes.
The introduction to cobots has led workers to consolidate a customised tint to the products that feature the unambiguous imprint of creative human involvement, for which there is a shooting demand in the market as well as across all industries. With the enhancement in technology, customers desire to bond with the human facet of the brands, which is something firms are able to deliver now as the employees are finally liberated from the monotonous, repetitive tasks, credit to cobots!
The enterprises which have stationed cobots in their premises are observed to have a higher output rate, hiking their success and overall growth rate in the market, along with better quality. Companies with this technology are able to intensify their proficiency as the repetitive and potentially dangerous tasks are assigned to cobots and employees are made to handle positions with higher job satisfaction and compensation.
Many SMEs and MSMEs in India are now looking forward to investing in cobots as they are proving to be an affordable automation solution for them.