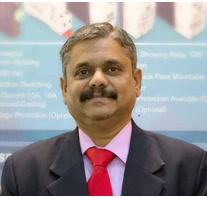 Karnataka, a shining star in India's technological landscape, has earned international acclaim for its thriving electronics and IT sectors. Fuelled by a legacy of innovation and a welcoming business ecosystem, Karnataka has firmly established itself as a global electronics hub. With an array of cutting-edge manufacturing units, spanning semiconductors, electronic components, consumer electronics, and industrial equipment, Karnataka's electronics prowess is undeniable.
In this interview with Mr. Madhav R. Badsheshi, President of the Consortium of Electronic Industries of Karnataka (CLIK) discusses the consortium's various initiatives and ambitious growth plans.
CLIK has certainly achieved some remarkable milestones in promoting the electronics industry in Karnataka. Can you tell us more about some of these key achievements, particularly in terms of trade delegations with government subsidies and advocacy?
Absolutely, it's a pleasure to be here. CLIK has a rich history of achievements. Firstly, during the early 80s, we played a crucial role in streamlining the imports of electronic goods needed by small industries. We worked closely with government agencies, particularly customs, to facilitate timely production activities.
Additionally, we set up a Calibration Centre to assist our member companies in calibrating their instruments at a very nominal cost, which has been a significant benefit to them. For policy advocacy, we collaborated with government institutions such as MSME, KCTU, KIADB, and KUMs. This collaboration helped our member companies gain a better understanding of policies affecting the industry.
We are also actively involved in the advisory boards of various departments and agencies for certification, representing specific issues and playing a major role during pre-budget sessions. Furthermore, CLIK organizes exhibitions in the domestic market under the brand 'CLIKTRONIKA' once every two years, providing a platform for our member companies to showcase their products.
We also participate in domestic shows like electronica, IOT shows, and others, representing our members in a CLIK Pavilion. We often play a role in identifying the right shows for our members, thus facilitating their participation in sending list in advance to VTPC and MSME, also delegations to TAITRONICS, NEPCON, Embedded World Show, electronica Munich show etc.
That's quite an impressive array of initiatives and achievements. Can you give us an idea of the current size and engagement level of CLIK's membership? And could you share some examples of how these members actively participate in the consortium's initiatives?
Certainly. CLIK currently boasts more than 300 members, with about 150 actively participating in our various activities, depending on their interests and needs. Our members actively engage in seminars, workshops, training programs, and delegations. We've been particularly successful in quality systems, soldering, and offering training programs in basic management and advanced Excel skills. These initiatives have helped our members enhance their skills and competitiveness.
It's great to hear that CLIK is actively involved in skill development and training. How does CLIK foster collaboration among its members within the electronics industry? Are there specific platforms or mechanisms in place for members to work together on research, innovation, or business development?
Collaboration is essential in our industry, and we encourage it through various means. For instance, we have a WhatsApp group called 'CLIK Biz,' which serves as a platform for members to support each other and collaborate. There are numerous examples of successful collaborations among our members, such as ERI working with Uniq Power Controls on product development and manufacturing.
We also organize networking meetings once a month, inviting industry leaders and faculty to speak on topics of interest to our members. These meetings facilitate the exchange of business ideas and promote cooperation. Additionally, we are part of the IDEA group, which further expands our collaborative efforts.
Collaboration is undoubtedly crucial for industry growth. Moving on, could you tell us about CLIK's Corporate Social Responsibility (CSR) activities and how they align with the consortium's mission and values?
CSR activities are an important aspect of our responsibility towards the community and society at large. While we are yet to embark on specific CSR activities, we have plans to initiate them in the coming months. These activities will be aligned with our mission and values, focusing on areas where we can make a positive impact and contribute to the betterment of society.
It's great to hear that CLIK is committed to giving back to the community. Can you elaborate on the support CLIK has received from the Government of Karnataka in terms of policies, incentives, or infrastructure for the electronics industry? Are there any ongoing collaborations or partnerships between CLIK and government agencies in Karnataka?
The Government of Karnataka has been supportive of the electronics industry, and CLIK has played a vital role in facilitating collaboration between the industry and government. We've received support in various forms, including favourable policies, incentives, and infrastructure development.
As an example, CLIK is instrumental in establishing an Electronics System Design and Manufacturing (ESDM) cluster with 50 members. This initiative led to the allocation of 11.5 acres of land at KIADB for our members to construct their own factories. Under this scheme, CLIK has been allocated half an acre to develop a Centre of Excellence for its members, which will be a significant asset for the industry.
That's a commendable partnership between CLIK and the government. For companies interested in entering the electronics industry in Karnataka, how can they approach CLIK for support and guidance? What specific resources or assistance does CLIK offer to help new entrants establish themselves in the region?
Companies looking to enter the electronics industry in Karnataka can easily approach CLIK. We offer membership that provides access to all our activities throughout the year, including networking meetings, training programs, and access to valuable industry insights. CLIK can provide guidance on government policies, B2B activities, and other aspects critical to establishing a presence in the region.
We also have a track record of successful international collaborations that have benefited electronic industries in Karnataka. These collaborations have helped companies tap into global markets and technologies, fostering growth and innovation.
It's good to know that CLIK is open to new entrants and offers valuable support. Are there any special provisions or support provided by the Karnataka government to CLIK members to facilitate ease of doing business in the electronics sector? Can you highlight any recent policy changes or incentives that benefit CLIK members?
While there are no specific provisions exclusive to CLIK members, the Karnataka government has been proactive in creating a conducive environment for businesses in the electronics sector. This includes policies and incentives that benefit all industry players, including our members. Recent policy changes and incentives have aimed to promote ease of doing business, attract investments, and spur growth in the electronics sector in Karnataka.
That's certainly encouraging for businesses in the electronics sector. Shifting focus, does CLIK have any initiatives or programs aimed at assisting engineering colleges and universities in Karnataka? How does CLIK contribute to the development of skilled talent in the electronics industry?
CLIK recognizes the importance of skilled talent in the electronics industry. While I don't have specific information on initiatives related to engineering colleges and universities, I can share that we have signed agreements with engineering colleges in the recent past. These agreements encompass development activities, internships, participation in shows to showcase innovative products, and training programs. Our aim is to contribute to the development of skilled talent by collaborating with educational institutions.
That's a promising approach to nurturing talent in the industry. Finally, can you provide a glimpse of any upcoming or planned initiatives that CLIK intends to roll out soon? How does CLIK envision the future of the electronics industry in Karnataka, and what strategies are in place to continue fostering its growth and innovation?
Absolutely. We have some exciting plans on the horizon. One notable initiative is the construction of a state-of-the-art Calibration Centre along with a Plug & Play facility for start-ups and international component distributors at Mutthugada Halli near Yelahanka. This facility aims to support innovation and R&D.