Perfect tablet for tough challenges – powerful mobile data device for use in wet, harsh and dirty environments
San Diego, CA – March 13, 2018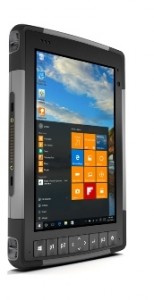 Built in the USA, Chassis Plans' new ultra-rugged MTB-7 tablet is designed for use by mobile workers in harsh environments. In a sleek package with the highest-rated protection against water, dirt, smoke and dust (IP68 and Mil-STD 810G), this new Rugged Tablet provides optimum ruggedness to support a wide range of challenging military and industrial applications like oil & gas, agriculture, construction, public safety, factory automation, etc.
With the option of either running Windows 10 or Android, the new MTB-7 provides powerful functionality for mobile data collection, with a large, 7-inch, extra-bright PCAP touchscreen display for easily viewing maps or images, and all-day battery power for up to 15 hours of on-the-go use.
With a full Windows operating system, the entire data collection process can be carried out from start to finish. Capture a photo or record a video, input field notes using a stylus or a keyboard, or capture a GNSS location, and then analyze the data you just collected using the Rugged Tablet. Or, quickly transfer your data to another computer or network using the optional docking station. The system includes options for 4G LTE Modem, bar code reader, RFID, cameras and GPS.
"The MTB-7's fast processor and lightweight, ergonomic design ensures maximum efficiency with minimal fatigue," according to Michael McCormack, CEO of Chassis Plans. "With all the functionality of a desktop computer packed into one ultra-tough tablet, the MTB-7 will truly become your office, anywhere. It includes the unmatched ruggedness that Chassis Plans is known for and is backed by our 2-year warranty."
For more details regarding the new Chassis Plans MTB-7, please visit http://www.chassis-plans.com/7-inch-rugged-tablets/  or download the data sheet athttp://www.chassis-plans.com/PDF/MTB-7-Datasheet.pdf