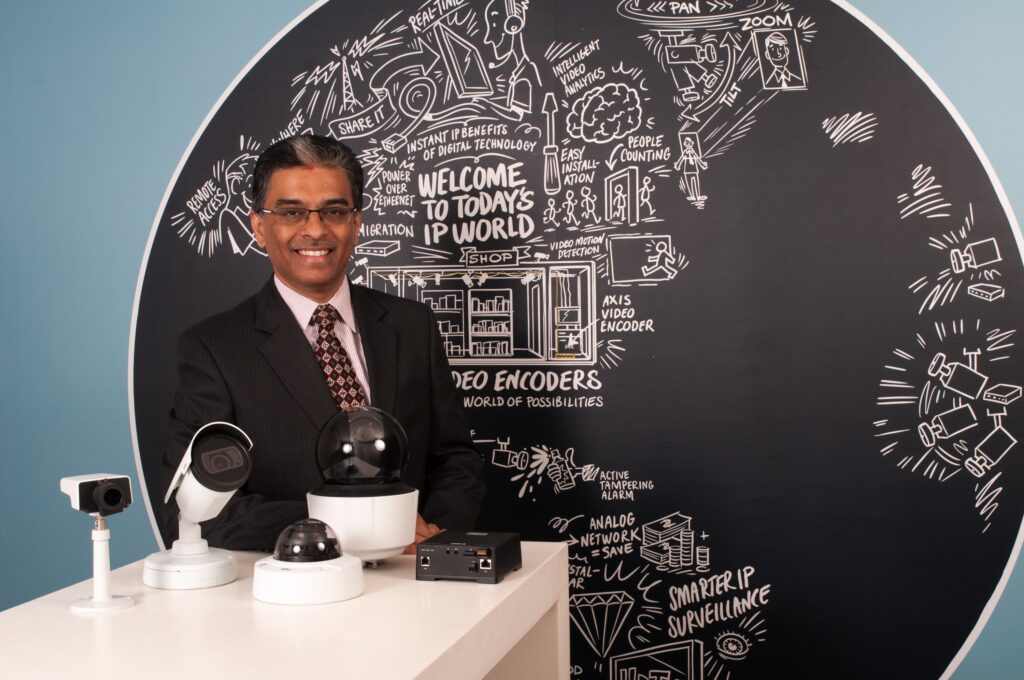 In these uncertain and unprecedented times, one thing that has gained the maximum prominence, is the way CCTVs have helped the nation with its irreplaceable quality of supporting all sphere of city surveillance, manufacturing and commercial establishments. The technology has touched upon all works of lives – public, personal and commercial, as the long-standing confidante, securing millions of individuals. Although typically used as a crime prevention tool, it has widened its scope all through the way to expanding arms to city authorities for proper management of cities to business leaders for fulfilling goals and taking care of their employees.

In the recent interaction with Mr. Sudhindra Holla, Director, Axis Communications India & SAARC spoke more about this technology, its uses and new advancements.
How are CCTVs helping government authorities in monitoring and managing cities in the times of new normal?
The contribution of CCTV, as generally perceived by people as the crime prevention tool, has substantially evolved over the years. It has proven to be a critical technology partner helping government authorities in delivering difficult task of monitoring the city and traffic while adhering to the social distancing norms. We are witnessing an increased demand in surveillance solutions by government authorities over the recent months with sophisticated technology solutions to help safeguard citizens.
In today's world, advanced technology solutions integrated  with CCTVS like cloud-based storage, thermal cameras, wireless technology aids in not just preventing crime but also acts as a constructive weapon for the government authorities to better withstand the pandemic and ensure that all citizens are abiding the government issues directive on crowd gathering, mask compliance among others. We are closely collaborating with various city authorities like Kolkata Police, Hyderabad, Junagadh, Kolhapur, Nanded to name a few to support them with top-notch solutions to keep law and order under check in the present scenario. Our solutions are highly catered to address the current concerns with regards to an expandable storage system, protecting the systems from any potential cybersecurity threats and aiding in a stricter traffic management system.
We have recently announced our partnership with Kolkata Police with whom we have been closely associated in terms of deploying 800+ fixed and PTZ cameras across the city. These installations aid them in tracking vehicles, search for loopholes in the traffic management system round-the-clock surveillance besides managing the crowd and identifying violators with regards to the ongoing pandemic guidelines and miscreants in public rallies and demonstrations. Additionally, our solution- Axis Zipstream Technology has helped to optimize and expand the bandwidth and storage requirements of the mass video being produced at all times thus aiding them in better tracking, monitoring and analyzing the video feed to detect violations, road congestion, and criminal activities even in the darkest condition
How is CCTV helping different industry leaders in business resilience – education, retail, manufacturing, critical infrastructure, IT, and healthcare?
The COVID-19 pandemic has significantly transformed business operations, immobilizing the global workforce at their houses and  has thrown a major challenge to all business leaders in terms of business resilience and being the caretaker of the employees.
With the announcement of Unlock 4.0, India is resuming economic activities and as employees are starting to get back to work, the biggest concern for all the companies to provide optimum employee safety.  Companies across sectors are increasingly leveraging technology to ensure social distancing in the offices. Covid-19 has made mask compliance, crowding checks and temperature screening mandatory for all individuals, and companies are installing high-end technology solutions to avoid long queues outside their campuses.
We at Axis Communications, together with our system integrators, have come up with solutions to support our customers and cater to the ultimate need of the hour:
People Counting: Our People Counting solution has been specifically curated for measuring and taking faster action to avoid congestion or a queue and maintain social distancing norms which is so crucial for the healthcare, education, and retail sectors. It gives analytics and valuable insights such as – how many employees are in an area like a playground, cafeterias, lift lobbies, shop, or sites at the same time, how they move, where they congregate, and periods of peak occupancy. These insights further enable the management to plan accordingly and take immediate action to make social distancing normal while improving service, operational efficiency and profitability.
AXIS Occupancy Estimator: AXIS Occupancy Estimator offers a cost-efficient way to accurately estimate occupancy levels on office and sites as well as schools, malls, and hospitals to comprehend visitor patterns better and how the space is used. It provides real-time data on how many people are present in the premises or in a certain area at a certain time. This valuable data helps in increasing operational efficiency to maintain the premises and avoid crowding, optimize workforce planning and opening hours and take necessary measures to adhere to the social distancing guidelines.
Alongside, we have collaborated with Application Development Partners (ADP) to provide solutions such as Social Distancing solutions, Touch Free solutions, Body Temperature Monitoring solutions, Mask Detection solutions and Touch Free Attendance systems with facial recognition capabilities to offer top-notch solutions to create a secure working environment for all employees, customers, and students.
Audio solutions and Public Announcement solutions are becoming important too, in the current context of the pandemic, to better manage and monitor employees, customers and students so that they follow and adhere to the social distancing norms better.
With the increasing sentiments on Chinese products how can CCTV with no back door policy can help regulate India's data privacy?
With the increasing dependency on technology to ensure seamless business continuity, cybersecurity has become critical in today's world. We, at Axis Communications firmly believe in our No Back-Door Policy.  As a Swedish based company, we have strictly maintained a No Backdoor Policy in all our solutions. Considering the current situation, we are affirmative of the fact that CCTV with no back-door policy has an edge in terms of a strong competitive advantage as we are one of the few manufacturers to have our very own system-on-chip – ARTPEC Chip which directly complies with India's data privacy policy. This implies that we have absolute control over each and every transistor in our solutions bringing in trust and a higher level of cybersecurity for our clients. Thus, the customer's sensitive data, recorded by the camera, does not permit any 3rd party for exploitation. Additionally, it also helps in implementing these installations for national security as Axis' solutions guarantee that other countries and foreign law enforcement (FBI, CIA, KIG) cannot surveil Indian citizens by hacking into the systems.
How is the surveillance industry extending support to the business leaders while they have become the caretaker of the workers and the workplace?
As India is resuming economic activities and employees are starting to get back to work, the biggest concern for all the companies is to offer optimum employee safety.  Companies are increasingly utilizing technology to ensure social distancing in the offices. Covid-19 has made mask compliance, crowd checks and temperature screening mandatory for all employees, and companies are investing in high-tech solutions to avoid long queues outside their campuses or any situations that might put their employees' health in jeopardy.
We at Axis Communications, together with our system integrators, we have solutions that can be tailored to suit the requirements of businesses – be it small, medium or large. We can increase efficiency, reduce total cost of ownership, remove system vulnerabilities and increase situational awareness in geographically dispersed sites.
Please throw light on the India surveillance market and key sectors/regions where implementations are going up?
India is a price-sensitive market. However, the security and surveillance industry will continue to be a priority for public and private holdings. However, dismayed, COVID has opened up opportunities for security companies like us with avenues to offer the most trusted solutions to our customers. While we saw a slower sales push, in sectors such as retail, aviation, travel and tourism, we are beginning to see the demand rising as the country has lifted lockdown and began economic activities. Technologies such as People Counting, Occupancy Estimator, and Social Distancing solutions, Touch Free solutions, Body Temperature monitoring solutions, Mask Detection Solutions, Touch Free Attendance systems with Facial Recognition Capabilities, and Thermal cameras, etc. are high in demand and as a cutting edge solution provider, we are extremely happy to offer unified robust solutions to our customers to meet the goal of a safety-first organization.
In terms of verticals, we continue to see a boom in the education, manufacturing, critical infrastructure segments, data centre, healthcare, IT/ITes for the need of cameras with integrated cost-effective solutions for better and faster management. Government and city surveillance projects are in the rise and the demand for advanced technological solutions in CCTV have seen exponential growth for supporting the city authorities in managing crowd while maintaining social distancing guidelines.
At Axis Communications, we have collaborated with Kalinga Institute of Medical Sciences, Bhubaneswar, a medical college under KiiT university, which is a super specialty hospital with 2000 beds for monitoring and securing their premises and optimizing better healthcare management. The deployment is using Zipstream technology to optimize bandwidth and installed on an open platform using third party VMS. In addition, it uses Axis Lightfinder technology that delivers high-resolution, full colour video with a minimum of motion blur even in near darkness. Axis Lightfinder makes dark areas in a scene visible and captures great detail in very low light. The result is excellent image quality without the need for external light sources proved to be the largest surveillance system deployment in any healthcare facility in India.
We have also partnered with Emami Group in Kolkata and installed about 200 + Fixed and Dome cameras for ensuring the safety of the staff and facility and premises of the manufacturing unit to protect their products, employees and to check the safety of the processes.
What about things like facial recognition? How are they being addressed?
Applications that are in high demand are touchless solutions. Thus, CCTV with facial recognition capabilities are gaining importance across industries. We have solutions like Touch Free Attendance Systems with in-built facial recognition capabilities that recognize the person's face instead of somebody using an access card or punching machine to avoid any kind of contact. These set of applications are increasingly gaining prominence among the public and private conglomerates whose ultimate goal is to take the best care of the employees.
The second-in-demand industry for the facial recognition solutions is the airports for hassle-free, simpler passenger management starting from entry to safe boarding to exist so as to minimize physical contact during security verification while maintaining social distancing norms. This solutions not only monitor whether a person is wearing a mask but also improves business efficiency by screening things automatically, and makes the process simpler that captures the face of the passengers and tag it along with the boarding card to avoid multiple verifications.
What about the volumes of data that go through CCTVs? How are they processed and analyzed in real-time? What are the tools?
CCTV cameras store vast amount of data regularly which takes up to 30–120 days to process data for most applications in an organization setting. However, server-based analytics and Edge analytics have gained a lot of importance to fast forward the process The View Monitor Record is evolving past the earlier version of being a deterrent and significantly progressing towards application and becoming more proactive now. Another element of the revolution is the advent of smartphone technologies that send automated real-time alerts and notifications to the right person while eliminating all the false alarm. With this robust analytics mechanism, customers now has the luxury to view incidents across devices – desktop, smartphone and tablet, etc.
What about the integration of IoT devices with CCTVs
The surveillance cameras, which were just a sensor earlier, are getting more proactive with all the elements and equipment infusing together on a single IP network, interacting with each other, to form a unified robust solution. For instance, a camera system integrated with audio, analytics, radar systems with different light sensors, magnetic field sensor, or a bollard security that is being utilized for perimeter monitoring of a commercial holding all integrated together to form standalone solutions. These integrations with IoT sensors, coordinate together to send real-time response to the customer for effective maintenance.