Smart cards, digital security, ID, secure transactions and contactless technology were on the agenda this year in Asia Pacific with 2,766 visitors attending CARTES Asia and co-located E-Commerce Asia trade show which were organised at AsiaWorld-Expo in Hong Kong on 27th & 28th March 2013. Over 100 exhibitors showcased their latest technology and innovations and about 75 speakers participated at confereneces organized at the show to share their expertise and know how. 56 countries were represented, including China, Hong Kong, Korea, Singapore, Taiwan and Indonesia.  The first day of the trade show saw Asian SESAMES Awards including different category awards like HID Global, Crane Currency and Vision Box and more, rewarding the most innovative product or application developed for the Asia Pacific market.
Comexposium, the or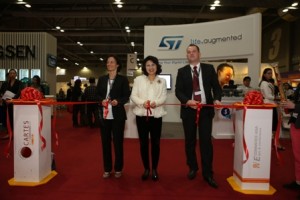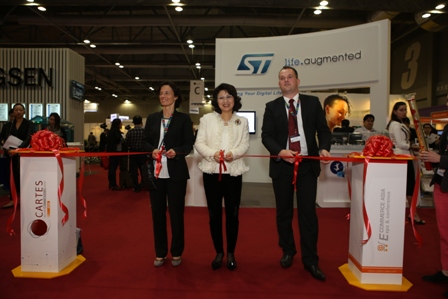 ganisers behind the fourth edition of CARTES Asia welcomed new companies, especially in mobile payment such as mPowa (UK), Softspace (Malaysia) and Swish (Hong Kong) to the exhibition who joined long-term exhibitors such as Datacard, Emperor technology, HID Global, STmicroelectronics and Zebra Technologies.  Alongside the exhibition, this year's conference saw experts from global businesses and associations such as China Financial Certification Agency (China), KB Card (Korea), Gemalto (Singapore), GS1 (Hong Kong), Oberthur technologies (France), Sony (Japan) and Watchdata (China) present on a range of innovative subjects  including Contactless technologies out of payment, Mobile & IT security / Cloud, and Prepaid / Loyalty programs.
The co-located E-Commerce Asia conference featured seminars from bpost International, Brandtology, Dairy Farm International, Direct Marketing Association of Singapore, emarsys, Hewlett-Packard Asia, Lee Kee Group, Mindshare, OgilvyOne and was well attended by Asia Pacific's marketing industry.
Isabelle Alfano, Director of CARTES events, Comexposium, said: "Once again we were delighted to hold CARTES Asia in Hong Kong. The exhibition and the Asian SESAMES had some of the best technology on show and participants saw great value in the conference which featured more international and regional experts than ever before. There were many networking opportunities at these events with workshops, seminars, awards ceremony as well as a networking cocktail evening and a breakfast sponsored by the Hong Kong Tourism Board.
"Next year we hope to attract even more quality visitors when we move the show and conference to a more central location – the Hong Kong Convention & Exhibition Centre. Until then we look forward to greeting exhibitors and visitors at CARTES America end of this month and CARTES in Paris later this year."  added Alfano.