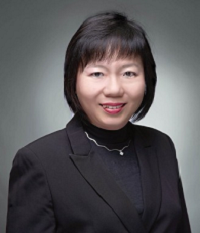 Electronics Maker speaks with

Ms Tan Aik Hoon, Regional President, South Asia Korea and Avnet United

on Avnet's future in India.
Q: Last year was your 100th anniversary, a big achievement. What would you say about your successful 100 years and future roadmap?
Firstly, it speaks a lot on our legacy.
We started as a radio components distributor, and have adapted to wave after wave of technological change by expanding our capabilities to guide our customers through the greatest technology advances of the last century.
Today, we are at the center of the technology value chain. We act as an extension of our customers' teams, and they can leverage our deep technical and supply chain expertise throughout the product lifecycle. This helps maximize their return on investment.
We are humbled to be a trusted partner to our customers and suppliers in accelerating product design and streamlining their supply chain. They can plug in our capabilities to optimize their own for time to market.
Secondly, our product offerings and design solutions are highly relevant in today's market as we help customers transform ideas into reality.
We reduce complexity with innovative ideas. During the product design process, we offer comprehensive design expertise and services for technology selection and prototype guidance.
We strive to extend product longevity throughout the entire lifecycle.
Thirdly, we spare no effort to invest in what makes a business work throughout the years.
We recognize the fact that in order to be profitable in business – we must anticipate and react quickly to disruptions, maintain continuous business operations and safeguard people, assets and brand equity.
The business environment is no doubt challenging, but I am confident about the future of Avnet.
We celebrate the never-ending transformation of technology over time and our customers/suppliers continue to push the boundaries of innovation and test our know-how.
We have a demonstrated track record of adding value and supporting our partners up and down stream and we continue to see clear opportunities to build new relationships and to invest in digital and design tools that further enhance our value proposition.
We've seen technology unfold from every direction—and continue to help customers follow their curiosity into the future with ingenuity.
As for our future roadmap, our goal is always to bring the highest value to our business partners. As a technology distributor, as the market evolves, we will constantly adapt and innovate in our solution offerings both in design and supply chain.
Q: Which technologies accelerated during the time of pandemic and tell us about Avnet innovations during these times?
A global phenomenon was the acceleration of technologies supporting supply chain orchestration and planning that have become increasingly important over the last couple of years – including AI and IoT, which enable ongoing visibility into the supply chain process and inventory management.
A growing number of global enterprises are relying on Avnet's innovative supply chain models to ensure their business has the assurance of supply, the agility to move that supply globally and the appropriate visibility needed to make informed decisions. Our solutions fill the gap between customers' supply chain desired state and what suppliers are capable of providing.
Touchless medical technology has also boomed with the pandemic.
In APAC, we witnessed and were involved in the designs for ventilators, and contact tracing applications that adhered to health authorities' stringent requirements.
Specifically in India, we are humbled to have contributed to the design and wide-use of touchless thermometers, soap / sanitizer dispensers during difficult times.
In addition, connectivity technologies have seen a growing importance as our world becomes increasingly dependent on the benefits of these services.
In India, our areas of focus are on electric vehicles, solar power water pump inverter & 5G connectivity.
Q: How is Avnet helping customers and suppliers build solutions to meet some of the fastest-growing demands in the marketplace, like connected IoT devices and automotive solutions?
Continued innovation within emerging technologies like 5G and IoT are driving significant opportunity, especially within the industrial and communications segments.
However, one of the biggest challenges facing the growing demand for advanced technologies in this segment is the ongoing supply chain constraints. As such, Avnet's primary focus is helping customers with assurance of supply, so they can in turn continue developing solutions to meet these demands.
In addition to supply chain support, we encourage customers to leverage our design capabilities to help ensure their solutions are flexible and adaptable, which in turn allows them to continue innovating despite potential constraints or supply disruptions.
Q: What's your take on the looming global chip crisis?
There is no doubt that shortage of chips is wrecking havoc on prices and lead times.
Our recent survey with engineers in March confirms what many OEMs have been coping with over the past two years: The parts shortage is havinga major impact on engineers in every region of the world and nearly every industry.
It's also driving prices up and resulting in extended lead times to get parts, impacting design and production schedules.
Chip demand is outstripping availability, inventories are falling overall as companies pull from buffer stock to meet immediate production needs and design cycles and production schedules are being pushed out.
Across industries, engineers working in the telecom, consumer electronics, automotive and aerospace sectors express the most concern.
In our region, most OEMs have been able to get through, but I would expect them to concurrently explore the prospects of designs with a wider set of alternative sources, because exact parts may not be available.
There is another concern of counterfeit parts.
Avnet works closely with suppliers and customers as a trusted authorized distributor.
The global chip crisis is forecasted to stick around for some time till next year.
The crisis will continue to pose a risk to new product launches and supply chain management.
As a broadline distributor, we are able to propose alternative solutions with better materials availability.
Q: What is Avnet's strategy for India for the year 2022?
Avnet India has always been very strong in industrial segment, specifically in Smart-Meters, Inverters, Solar-Pumps and automation systems.
The other key driver is Automotive. We have been traditionally strong in the two-wheeler market for Clusters and EFI. Now we are in to EV, specifically BMS, E-mobility and charging stations.
Defense and Telecommunication continues to be the other segment of focus for us. The emphasis of offset program by Govt of India in defense and the roll out of 5G would further consolidate our presence in these segments.
Since the 'Make in India' policy setup by the India Government, Avnet not only focuses on demand creation with our customers in India, we have been providing strong supply chain proposition from our local warehouse and overseas.
Since 2021, we have been ramping up our efforts in business operations and logistical efficiencies in India.
Besides, we are looking into the continued development of local talents to strengthen our business and contribute to the governmental manufacturing initiative in the country.
Q: What trends do you see emerging in the autonomous vehicles industry for 2022?
Automotive is consistently evolving, especially amid the ongoing demand for autonomous and electric vehicle technologies.
It also is unique in that the demand for components in that industry was rising regardless of the pandemic due to increased consumer demand for EVs and other advanced systems such as autonomous vehicles. There are more components in an automobile than ever before for driving systems, computer systems, LiDAR, etc. The pandemic created a situational demand decrease, but as consumer preferences didn't change, the rebound was sharp when recovery began and ongoing demand remains high.
With Avnet's focus on transportation, we are seeing growth in revenue and new designs. The semiconductor content growth in the transportation industry is driving demand in many areas. Sensors and connectivity are being added in factories for factory automation and robotics. We expect these areas to continue to grow in the future. Lead time constraints affect industry growth, so we continue to keep a close eye on customer demand.