3D is talk-of-the-town. Be it 3D movies, 3D gaming or 3D printing, everybody these days likes to visualize, analyse, and appreciate things in 3D.
3D printing is one area which has gained a lot of popularity over past few years. Not only 3D printers have caught the fancy of many tech savy creative people for making interesting 3D shapes, but they are also becoming more & more important part of electronics product design process in big/small design houses, R/D centres and product development centres etc. Owing to the availability of low cost 3D printers + availability of free and easy to use 3D design software suites many designers today prefer to make 3D models of  their product prototypes in house. This saves designers a lot of time in the design process.
One such low cost solution is RepRapPro Ormerod 3D printer+DesignSpark Mechanical, a free 3D model design software from RS Components.  Designers can design using DesignSpark Mechanical and print using RepRapProm Ormerod!
RepRapPro Ormerod – A self replicating, open source 3D printer.
RepRapPro is powered by open source hardware platform The Arduino Duet PCB – 32 bit, ARM core SAM3X8E microprocessor from ATMEL, as found on the Arduino Due.  It is a low cost printer which let designers create 3D models of their product prototypes using thermoplastic (PLA and ABS). It has a build volume of 200mm3 and it prints at a speed of 1800mm/minute. The most fascinating feature of the printer is that, it can print all its thermoplastic parts (parts of printer  you are seeing in ORANGE colour in the picture). It means if you have one printer you can actually print another one (self replicating!).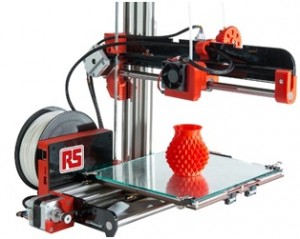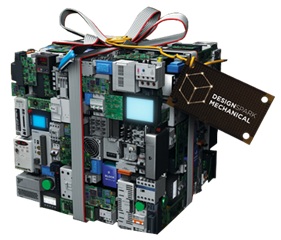 RepRapPro Ormerod – Features and Specifications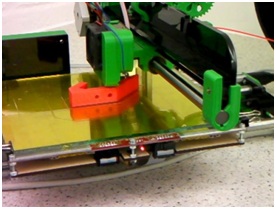 This is a very versatile 3D printer which can print interesting and creative 3D shapes with very good detailing and precision (Accuracy: 0.1mm, Resolution: 0.0125mm).  It is shipped as a kit of parts containing all components required to build it. There are step-by-steps build instructions available online on www.reprappro.com/documentation/ormerod . In addition there are online technical forums for doubts, clarifications. Printing takes place on PCB heated bed with a Lightweight high-power hot end. Printer is supplied with Pre-soldered and programmed electronics (Arduino Duet PCB), MicroSD card + adapter, 100m of 1.75mm diameter PLA filament for printing, Power supply, Software to run the machine and firmware for the electronics. The interface to computer is through USB.
To know complete details about the printer visit DesignSpark.com – An online community sponsored by RS Component. CLICK HERE
Make your 3D Designs using DesignSpark Mechanical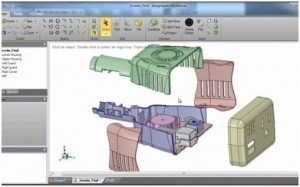 DesignSpark Mechanical is a free-of-charge, professional, powerful and easy to use 3D model design software from RS Components. DesignSpark Mechanical is a gesture based modelling tool with an intuitive user interface which let designers create conceptual 3D designs with ease (no need to be a CAD expert). Once you are done with your conceptual designs you can actually print them using RepRapPro Ormerod.
DesignSpark Mechanical is especially designed for electronic designers with an idea that electronic designers should be able to create conceptual 3D models of their design on their own in very little time and with very little efforts. This will save them considerable amount of time in the design process. To make it further easy for the designers, DesignSpark Mechanical has a 3D library of over 38000 components which designers can import directly in their designs. To know more about DesignSpark Mechanical, visit www.designspark.com/mechanical
Taking 3D printing to a next level
3d printing is becoming a sort of necessity in design houses. Then there is a segment of people who is willing to own a 3D printer for creative non-engineering applications and there is another segment of people who wants to own a 3D printer for fun or for their home use. But high cost of 3D printers plus cost involved in buying a license for 3D design suite somehow restricted people investing in this fascinating device.
With the availability of low cost 3D printers like RepRapPro – Ormerod from RS Components and free and professional 3D design software DesignSpark Mechanical from RS Components you can now bring your 3D ideas into reality.
For more information, please visit the website at www.rsindia.com
Email at – techmarketing@rs-components.co.in
RS Components & Controls (I) Ltd.
B-74 Sec 60, Noida 201301.
Tollfree: 1800 180 7746, Tel: + 91- 120- 4519100, fax: +91-120- 4519198/199