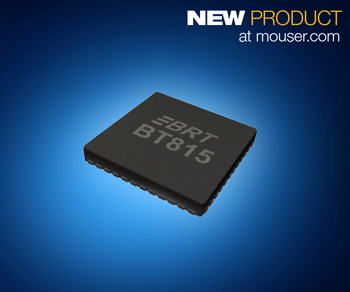 January 3, 2019 – Mouser Electronics, Inc., the industry's leading New Product Introduction (NPI) distributor with the widest selection of semiconductors and electronic components, is now offering the BT815 and BT816 Advanced Embedded Video Engines (EVEs) from Bridgetek. Combining graphic, audio, and touch control in a single IC, the BT81x Advanced EVEs offer a highly efficient solution for developing human machine interfaces (HMIs) in a variety of applications, including home security systems, medical devices, point-of-sale machines, and home appliances.
The Bridgetek BT815/BT816 Advanced EVEs, available from Mouser Electronics, offer high-resolution graphics and video playback, while the devices' improved memory management enables the use of large fonts and data-heavy images. The EVEs support the Adaptive Scalable Texture Compression (ASTC) algorithm, delivering significantly improved image quality without requiring increased bandwidth.
The BT815 Advanced EVE supports capacitive touchscreens with detection of up to five touches, while the BT816 Advanced EVE supports four-wire resistive touchscreens. Both EVEs integrate 1 Mbyte of graphics RAM, with no frame buffer RAM required, and offer an extended operating temperature range of minus 40 to 85 degrees C. The BT81x Advanced EVEs feature a dedicated QSPI host port for attaching an external flash memory, allowing engineers to supplement the devices' on-chip memory to store additional image and audio objects for feature-rich displays.
Mouser also stocks Bridgetek's VM816C development modules, which include an onboard BT816 Advanced EVE. The versatile VM816C modules are available in either an SPI or USB variation, with or without an LCD display.
To learn more, visit www.mouser.com/ftdi-bt815-bt816.
 Mouser / Bridgetek BT81x Advanced EVEs
With its broad product line and unsurpassed customer service, Mouser strives to empower innovation among design engineers and buyers by delivering advanced technologies. Mouser stocks the world's widest selection of the latest semiconductors and electronic components for the newest design projects. Mouser Electronics' website is continually updated and offers advanced search methods to help customers quickly locate inventory. Mouser.com also houses data sheets, supplier-specific reference designs, application notes, technical design information, and engineering tools.