Wearables and sensors linked with smart devices provide new ground for improved communication between patients and providers. The remote health monitoring market has provided innovative solutions for monitoring temperature and glucose levels over time. Maxim Integrated (Now part of Analog Devices recently introduced two new breakthrough products MAX86178 and MAX77659 next generation wearable devices for healthcare applications.
Andrew Baker and Karthi Gopalan from Maxim Integrated (Now part of Analog Devices) spoke about these new products.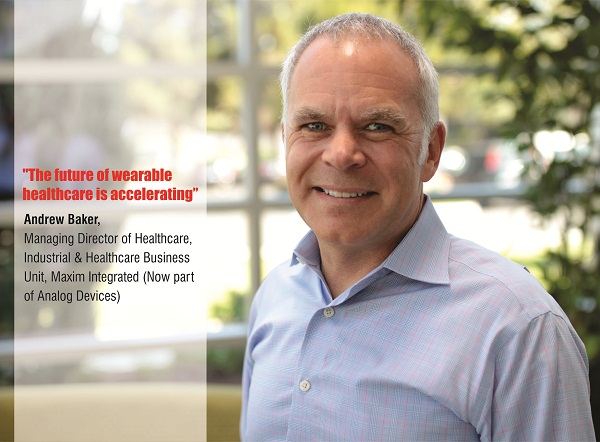 Vital signs are the standard indicators to assess a patient's health status and detect potential medical problems. Body temperature, pulse rate, respiration rate and blood pressure are the four most common vital signs that help determine a patient's status.
With the development of new technologies within the Internet of Things (IoT) in the medical industry, vital signs can now be measured in a medical environment such as a hospital or they can be monitored remotely from the patient's home. Without proper vital sign monitoring, serious health conditions can go unnoticed, or undetected. Early detection is key to timely interventions which lead to patients receiving the proper care needed.
Wearable technologies can be innovative solutions for healthcare problems. The wearable technology market is growing into a vast tech segment due to the developing market for smartwatches. A significant part of the wearable technology is wearable medical tech focused on diagnostics and monitoring of medical data. Initially, patient monitoring devices were used only in the hospital to monitor the patient's vital signs. However, with developments in wireless technology, it can also keep a tab on the patient's various physiological parameters such as heart rate, body temperature, blood pressure, etc.
Wearables and sensors linked with smart devices provide new ground for improved communication between patients and providers. The remote health monitoring market has provided innovative solutions for monitoring temperature and glucose levels over time. This has made wearable sensors an essential component of healthcare. The wearable technology with sensors is based on comfort, flexibility, and low power usage.
Worldwide, healthcare costs continue to grow at a higher rate than inflation, with a total spend currently at $9 trillion worldwide. Increased remote patient monitoring reduces costs as well as improve short- and long-term outcomes, improving overall quality of life.
Healthcare delivery has traditionally been centralized at a care facility. Patients must travel there for any kind of monitoring or treatment. This may consist of long-distance travel, and inconvenience due to work and family care commitments.
Analog Devices (ADI) is addressing this market with advanced healthcare solutions. Andrew explains how the next generation of wearable devices enables a holistic approach to remote patient monitoring, as discussed at the group's recent press conference.
Analog Devices has released the MAX86178 triple-system vital signs analog front end (AFE), which helps simplify the design of wearable remote patient monitoring (RPM) devices by measuring four vital signs. This single-chip AFE integrates three measurement systems—optical, ECG and bio-impedance—to obtain four common vital signs: electrocardiogram (ECG or EKG), heart rate (ECG or optical PPG), blood-oxygen saturation (SpO2) and respiration rate (using BioZ).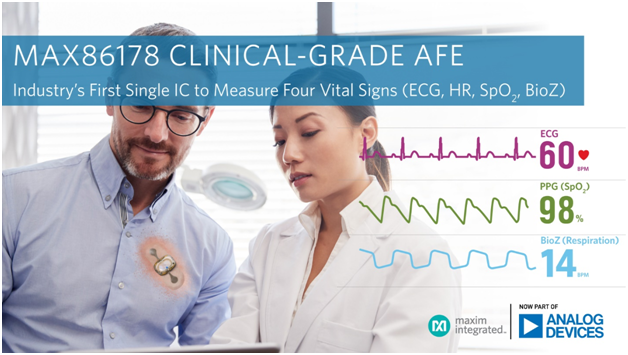 With three clinical-grade subsystems integrated into one IC, the MAX86178 triple system AFE replaces discrete implementations by integrating an optical PPG sub-system to measure heart rate and SpO2, a single lead ECG sub-system, as well as a biopotential and bioimpedance (BioZ) sub-system to measure respiration rate. It permits small vital signs devices by fitting those multiple functions into a 2.6mm x 2.8mm package.
The new AFE chip "gives the opportunity for earlier disease detection and with the advent of AI and analytics, more data driven decisions can be made," said Andrew Baker, managing director of the industry and healthcare business unit for Analog Devices, in an interview.
In addition, next-generation wearable RPMs need to operate at low power to permit smaller batteries or extend battery life to allow more convenient charging requirements. To enable ultra-low power features, the MAX86178 provides each subsystem with configurable options to optimize battery life for specific use cases.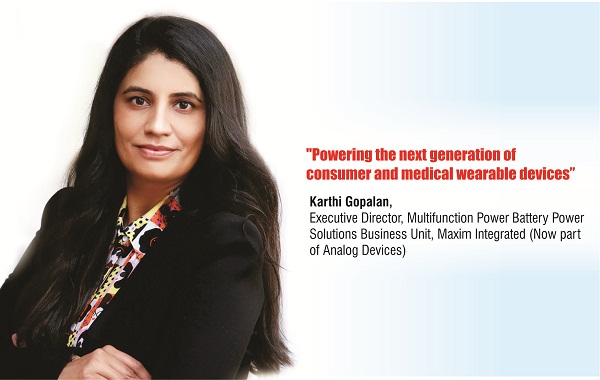 We are witnessing the increasing arrival of diagnostic devices in the market, most are moving to the battery powered world. "What this means for analog power system designers, for companies like Analog Devices, is we need to innovate and create a combination of power management solutions that works very well with Andrew's best-in-class sensor solutions. With this combine solution guarantees the lowest power consumption, smallest form factor and signal quality has to be top notch.
The major trends we are seeing human vital monitoring is now moving from doctors' clinic to people wardrobe. COVID-19 was a major paradigm shift in the world of wellness. Earlier pre 2020, mostly elderly population or people who chronically sick did vital monitoring on daily basis.
But last year, what happened is like healthy people have started buying pulse oximeter, we started measuring our temperatures, because we wanted to protect our family. So, this meant there was a big wellness tracker world, heartrate monitors, and all of that. Now, the second major trend, as most of us have become demanding and discerning about our own healthcare and our family's healthcare, we have noticed that consumer electronics manufacturers, those who made the traditional smartwatches and the hearing devices, more and more of them now are adding very accurate vitals monitoring onto their systems.
As more consumer electronics companies enter the vitals monitoring market, traditional medical device manufacturers—who used to make big, thick gadgets in the past because they are just for typical vitals monitoring—now have to compete.
They are now looking at design—making their devices very sleek and attractive. We are noticing that both the consumer and the medical world, they are merging towards one mission of serving us. The two markets are merging, but at the same time, there's enough volumes for all these companies to thrive.
Now, there are several challenges these wearable device manufacturers need to address. One of which greater comfort.
People like us, we wear it for a long time, so that means the part needs to be very soft on our skin, it cannot burn our skin, it needs to be small. So, comfort plays a major role. Accuracy, obviously, because this is vitals monitoring, so we need precision measurement. And then in general, as consumers, we want a long battery life so that we don't have to keep charging the device frequently.
That means the solutions should have the highest efficiency with the longest battery life. Fast charging is also very important. You don't have time to wait and see if the gadget is charging or not, you are very focused on fast charging. That is something that this market wants right now. And above all, what do you do with all the data that's coming in? It needs to be accurate—but to get accurate data, you have to integrate more features, and you need to have stronger processing power for that particular data processing.
The next-generation solutions require more precision sensors. You will have a lot more of those sensors, and then you will have AI-based processing, because you have to have smart processing. And then on top of it, you need a switching charger, we need GPS tracking, audio feedback, haptic feedback, and so forth.
A new integrated circuit, the MAX77659, is a single inductor multiple output (SIMO) power management chip for use in wearables, hearables and IoT devices. It will charge devices faster while using less space than any comparable device today. This is breakthrough product in the market.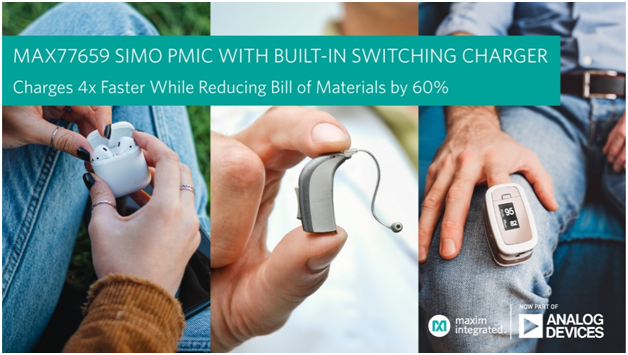 It is rated to deliver more than four hours of play time after a 10-minute charge. It uses a single inductor to power multiple rails, which can reduce the BOM by 60% and reduce device size by half.
The MAX77659 SIMO PMIC integrates a switch-mode buck-boost charger and three independently programmable buck-boost regulators, all sharing a single inductor to minimize total solution size. The regulators extend battery life by operating at 91 percent efficiency during moderate to heavy load conditions while consuming only 5µA of quiescent current during light load conditions. The MAX77659 SIMO PMIC supports autonomous headroom control, which reduces heat dissipation by minimizing the voltage drop while providing enough headroom to regulate the charging current.
MAX77659 SIMO PMIC Features and Benefits
• Fastest Charging: The MAX77659 integrates a switch mode buck-boost charger that charges wearables and hearables four times faster. A short, ten-minute charge delivers over four hours of play time compared with traditional solutions that can deliver just one-and-a-half hours of play time post charge.
• Smallest Size: The MAX77659 is offered in a tiny 30-bump wafer level package (WLP) that measures 2.55 mm x 2.37mm. Use of a single inductor and integration of the charger reduces the bill of materials by 60 percent for a total solution size of just 22mm2, small enough for the most compact wearable and hearable applications.