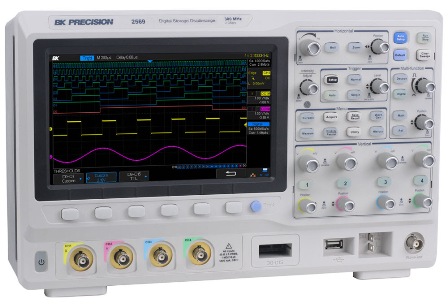 Mixed Signal Oscilloscopes, 1 GSa/s, 2 channel, 200 MHz, 14 Mpts record length, and optional decoding
YORBA LINDA, CA, March 20, 2018 — B&K Precision, a leading designer and manufacturer of reliable, cost-effective test and measurement instruments announced today their latest digital oscilloscope 2560 Series with DSO and MSO models.
The front panel boasts a large 8″ widescreen with 256-level color gradient, 4 analog channels, and logic analyzer. The logic analyzer software and 16-channel logic probe are included in the initial purchase of MSO models or can be upgraded in the field for DSO models.
The 2560 Series consists of features customers have come to expect from modern digital oscilloscopes. These features include FFT, masking, pass/fail testing, waveform history, serial triggering and menu help. The powerful 25 MHz function generator also comes standard in all models. Additionally, these oscilloscopes deliver advanced features and upgradable debug capabilities for a wide range of applications.
Key features of the new 2560 Series
8 inch widescreen color LCD display
Compact footprint and lightweight
70, 100, 200, and 300MHz models
2 GSa/s sample rate interleaved
140 Mpts maximum record length
16 digital channels with logic analyzer (MSO upgrade)
Serial bus decoding supporting I2C, SPI, UART/RS232, CAN, and LIN protocols (Decode upgrade)
Function and Arbitrary Waveform Generator (AWG upgrade)
140,000 wfms/s maximum waveform capture rate
Standard LAN and USBTMC-compliant USB device port

For additional technical specifications, accessories, and support documents, visit:http://www.bkprecision.com/products/oscilloscopes/2563-70-mhz-2-gsa-s-4-channel-dso.html Hi-Resolution Photos