New Delhi: 10 October, 2019: With India having the third largest Start Up ecosystem in the world – the electronics, electronic components, systems & applications market of India is expected to see a huge jump in the coming future with increasing number of Indians adopting new devices and technologies in their day to day lives, distinguished leaders in the digital and mobile space emphasized in unison at the Smarttech Manufacturing & Electronics India Congress 2019 here today.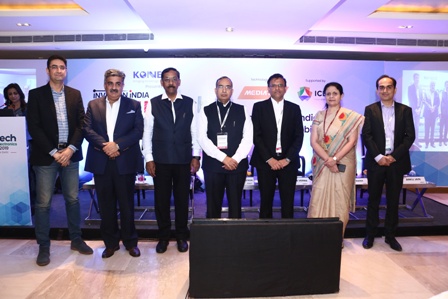 Speaking at the event, Dr. Neeta Verma, Director General – National Informatics Centre, Govt. of India, highlighted the significance of emerging technologies and how it is helping reimagine the service delivery to citizens.  "There is not one aspect left today which is left untouched by mobile devices and computers. Be it government or corporates all are putting special emphasis on going digital. Mobile phones have reached to all leading to a mobile revolution in the country. Now a big wave of growth for digital devices can come from healthcare and public safety sectors where there is a huge potential which needs to be leveraged effectively."
Supported by reputed industry partners MediaTek, Indian Cellular & Electronics Association (ICEA) & Electropreneur Park, this year's edition saw congregation of key decision makers, Govt. of India – Ministry of Electronics & IT, National Informatics Centre, Niti Aayog, Department of Industrial Policy & Promotion and Sr. level leadership from leading mobile & consumer electronics manufacturers to discuss industry challenges and identify opportunities to address them together. The event was organized by Konnect Worldwide Business Media.
Shri Anil Srivastava, Principal Consultant & Mission Director, National Mission on Transformative Mobility & Battery Storage, NITI Aayog, Govt. of India said, "Invest in India can be a big thing if done in the right way – India today is a huge market in aviation, automobiles and smart phones. Almost every sector is a sunrise sector in India and this a great opportunity for all. To get people to invest in India we need to break systems to get things done, we Indians are smart and we should not let anything stop us."
Speaking at the event Mr. Anku Jain, Managing Director, MediaTek India said, It is an honour to be part of  Smart tech Manufacturing & Electronics India Congress 2019 – Invest in India, platform like this is an apt opportunity  for  industry  stakeholders to meet  policy makers and  discuss plan of action in order to achieve the target of $ 5 trillion economy by 2025.  It is time that the major players of the sector should come forward, act as a brand ambassador for the country and make the international fraternity aware about the investment friendly policies of the Indian government and key focus to promote the electronics, electronic components, systems & applications market."
Mr. Rahul Sindhwani CEO, Konnect Worldwide Business Media, added, "Smarttech Manufacturing & Electronics India Congress is a key meeting point & discussion forum for Senior representative decision makers from Consumer Electronic Companies & Govt. Sector. Today we saw just that with great participation by the government as well as industry members giving great knowledge and insights in the way things are shaping up in the mobile and electronics space.  We are happy to  do our bit in supporting Govt. of India's 'Invest in India' initiative among the consumer electronics companies and enable Govt. to attract investments in the country."