June 5, 2014 – Mouser Electronics, Inc., announced the availability of the Ayla IoT Design Kit with a Murata Wireless Wi-Fi connectivity module. This new design and development kit, available exclusively from Mouser Electronics, allows developers to securely connect their devices to the cloud from anywhere in the world with an internet connection.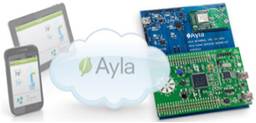 The new Ayla Design Kit with Murata WiFi Connectivity, available exclusively from Mouser Electronics, allows developers to easily connect their projects to Ayla's cloud service. Wireless connectivity is supported by a powerful Murata Type-YD 2.4GHz 802.11b/g/n radio module supporting WEP, WPA-PSK, and WPA2-PSK encryption. The Murata Type-YD module includes a TCP/IP stack, security firmware, and other network application features. Murata's Wi-Fi module mounted on Ayla's design kit allows devices to be securely controlled using OAuth-based authentication from anywhere in the world. Developers can use these technologies to provide interactive control of industrial systems, lighting applications, HVAC, and more, all with minimal modifications to existing systems. Murata also has certified version of this module. The Type YDD (YD module mounted on a daughterboard) enables designers by eliminating regulatory approval. The Ayla platform provides end-to-end connectivity for IoT applications, cloud based data warehousing, rules and analytics, and the ability to do remote diagnostics, performance monitoring and firmware upgrades, from the convenience of a local computer or smartphone.
"The rapidly expanding IoT market offers significant opportunities, particularly when it comes to Cloud connectivity," said Mehul Udani, General Manager Connectivity Solutions, Murata Americas. "This is an essential and driving attribute of newer wireless modules designated for this technology sector. Introduction of Murata's kit into Mouser's global sales channel drastically cuts down on time-to-market by enabling engineers to access and build cloud-connected products in an expedited way."
"The Internet of Things will expand the boundaries of today's business and social systems, changing the way we live, work, and innovate," said Dr. Tom Lee, professor of Electrical Engineering at Stanford University. "Ayla's transformational Agile IoT Platform enables the rapid growth of the IoT ecosystem, and making its Design Kits readily available through a global distribution leader like Mouser Electronics will accelerate connected product developments using the Agile IoT framework."
"Today's internet connects our homes, computers, and mobile devices," remarked Andy Kerr, V.P. of Supplier Management for Mouser Electronics. "Tomorrow's internet has the potential to connect us in ways that will enhance our lives while bringing us closer. That tomorrow will happen sooner with these Murata Design Kits from Ayla Networks. Mouser is proud to be the first to connect these kits to our international audience though our global distribution network, encouraging our customers to make IoT a reality."
To learn more, visit http://www.mouser.com/new/Murata/murata-ayla-design-kit/.
With its broad product line and unsurpassed customer service, Mouser caters to design engineers and buyers by delivering What's Next in advanced technologies. Mouser offers customers 20 global support locations and stocks the world's widest selection of the latest semiconductors and electronic components for the newest design projects. Mouser Electronics' website is updated daily and searches more than 10 million products to locate over 4 million orderable part numbers available for easy online purchase. Mouser.com also houses an industry-first interactive catalog, data sheets, supplier-specific reference designs, application notes, technical design information, and engineering tools.