KEY TRENDS AND NEW ADVANCEMENTS
Worldwide, LED lighting market is growing at accelerated pace. These efficient LEDs need compatible LED drivers. The market expects highly reliable, energy efficient, protective and differentiated LED driver products at competitive prices. Here we present some of the leading company views on LED Drivers trends, advancements and solutions specially in Automotive segment.
LED lighting with its extraordinary visual performance and eyecatching energy savings is an excellent lighting option when compared to traditional lighting options. Today, LEDs have become even more efficient than earlier generations, providing 25-30 per cent energy savings compared to CFLs and up to 80 per cent savings compared to incandescent bulbs. Along with energy savings, the other reason driving the switch to LED based lighting is the significantly longer lifespan of the LEDs.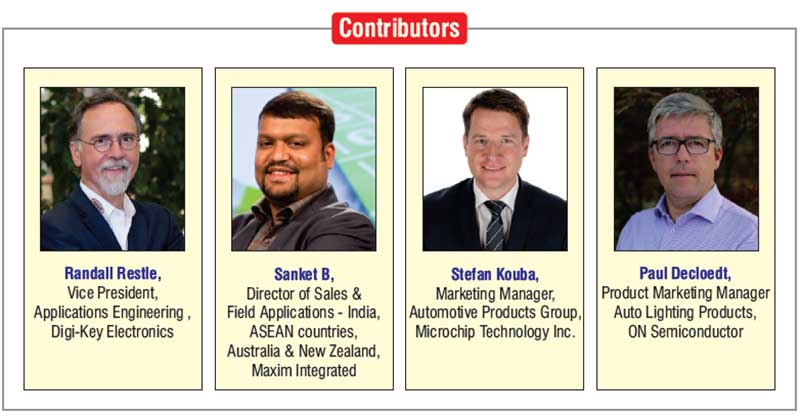 LED Drivers Trends and growing applications
Paul Decloedt, Product Marketing Manager – Auto Lighting Products, ON Semiconductor
For front lighting, in the entry level segment, we see halogen bulbs being replaced by LEDs for Low Beam (LB), High Beam (HB), Position light + daytime running lights (Pos/DRL) and Turn Indicators (TI). Depending on the system integration at the car manufacturer, the LED driver must support a multi-supply topology (one supply per function), or a single supply with bus interface (one supply for all functions. The required function is selected via the BUS interface).
The option levels for mid- to high-end headlights are now increasingly focused on offering matrix beam solutions. Depending how the OEM wants to position the car model on the market, the matrix solution may range from a low-resolution system with 10 to 50 pixels (order of magnitude) up-to systems with 100k pixels.
We also see an interest from the market to offer animation capabilities in front lighting applications, but not to the same level as we see for rear lighting. These are mainly for the TI function, and to a lesser extent the Pos/DRL to give animation capabilities that are mainly focused on sequencing functions.
In the case of rear lighting, car manufacturers are now massively investing to offer any form of animation in the rear light arena. The best-known function is the sequencing turn indicator which is used while driving and is credited with increasing safety as it gives faster recognition of the intended turn direction. The more innovative aspect for rear lighting animation is found in the migration of the rear light unit into a display-like unit offering more complicated 'welcome and goodbye' animations.
We also expect that car manufacturers will offer some level of customisation of the tail light design per function, similar to how you can select between different styles in an electronic cockpit. Of course, the number of pixels will be much lower and not necessarily equal square size for each pixel. Single colour up-to RGB pixels can be expected.
Sanket B, Director of Sales & Field Applications – India, ASEAN countries, Australia & New Zealand, Maxim Integrated
LED lighting technology is changing the way we drive, see and react to the ever-evolving automotive landscape, making cars cleaner, safer and more efficient. More car manufacturers are shifting to LED lighting technology every day to stay compliant with efficiency standards and environmental regulations. With advanced lighting technology paving the way for newer and brighter applications, they also recognize that LED lighting can bring style and elegance to automotive design, while conserving power.
Randall Restle, Vice President, Applications Engineering, Digi-Key Electronics
LEDs are becoming more prevalent both inside and outside the vehicle. Outside, the trends are pretty well known – headlights are now shifting towards an array of LEDs, rather than single lamps. Headlights are also gaining additional functionality with the combination of sensors that signal the LED drivers to illuminate sections of the road around a corner in the direction of the vehicle, or to extinguish LEDs that may blind oncoming traffic.
Inside the vehicle, LED displays are making console displays more sophisticated.  They are becoming standard in many new vehicles. Not only are the LED displays taking over the center console, but they're also moving behind the steering wheel, into the rear-view mirror and even into the backseat in some cases. Drivers are therefore becoming more advanced and able to drive higher density displays. Some LEDs consoles are so-called "retina" displays that include pixels nearly too small to distinguish.
Challenges in Automotive Lighting
Paul Decloedt, Product Marketing Manager – Auto Lighting Products, ON Semiconductor
There are many challenges in automotive lighting. For example, the rapid evolution in exterior lighting has placed significant demands on semiconductor manufacturers in order that they keep pace and follow the trend. In fact, we must be ahead of the trend because the availability of supporting semiconductors is essential to drive and sustain the trend.
On the other hand, even the car manufacturers do not have a crystal ball to tell them what the end-customer will like or want in the future. Once we have decided which trend we believe in, the next challenge will be to understand the system requirements required and translate them into a semiconductor definition that is good enough and that will be cost competitive.
Randall Restle, Vice President, Applications Engineering, Digi-Key Electronics
One of the biggest barriers in the research & development phase of automotive lighting design can be access to a wide variety of part options, and the knowledge in determining what specific parts you may need to solve a problem. Digi-Key offers the world's largest selection of electronic components in stock for immediate shipment, allowing for customers to order from anywhere, and receive 24/7 technical support for help finding specific parts.
On DigiKey.com, customers can use our advanced parametric search capabilities to find the exact, in-stock part they need for immediate shipment, and can receive it in as little as 24-48 hours, with their order likely packed and shipped for distribution in just 20 minutes.
Sanket B, Director of Sales & Field Applications – India, ASEAN countries, Australia & New Zealand, Maxim Integrated
As the automotive industry accelerates its transition to all-LED lighting, designers face new challenges in improving efficiency, simplifying designs and reducing system costs, while passing strict EMI requirements. Traditionally, designers had to employ multiple components in their systems in order to pass EMI specifications. To achieve performance gains, they would often have to compromise on space and system efficiency while also addressing thermal issues and high costs.
LED Drivers in Automotive
The trend of LED lighting has proliferated in the automotive electronics world at a lightening speed. The list of reasons for this change resonated with the list of benefits that includes small size, lower power consumption and longevity. These attributes make it a perfect alternative considering the challenges that are being faced by the ecology today.
Stefan Kouba, Marketing Manager, Automotive Products Group, Microchip Technology Inc.
Automotive interiors have been undergoing a significant evolution over the past decade. Historically, many singular buttons were employed, each serving a dedicated function. Today, interior switches are more complex, offering shared functions, menu usage and interactive displays. Additionally, assisted driving and assistance functions are steering and controlling content via HMI interaction windows, bringing new complexity to modern vehicles. While sophisticated, controllable and ambient lighting has been practically non-existent in the past, other than backlighting functions, today it is becoming a de-facto standard for design relevant implementations in and around the car.
Looking at modern ambient lighting system designs, some distinct manufacturing limitations become visible. The lighting guide is located only where it can be easily placed from cabling companies – from left to right, in the foot room, etc. The lighting guide is difficult to place by the steering wheel, gear shift and overhead console, as they're not connected. To avoid having different color tones, ambient light LEDs of completely different colors are selected (ambient light blue on the light guide and orange on the steering wheel buttons). Nothing can be more confusing than four different color tones of red within four different buttons in the area.
With different suppliers and tiers for the lighting guide, steering wheel, overhead console and door module, this makes it a very sophisticated challenge. In addition, the LEDs will be from different suppliers, manufacturing batches and underly an aging and temperature drift curve. This means that the ambient lighting concept cannot be integrated by a company whose core competency lies in the steering wheel or capacitive touch buttons, but not cabling placement, LED manufacturing binning, compensation or calibration.
Paul Decloedt, Product Marketing Manager – Auto Lighting Products, ON Semiconductor
Before the 1990s, lighting was something functional and aligned purely with legal requirements. The styling of a headlight from one vehicle model to another was not vastly different. At one point in time, all headlights were round, and then, for a time, square designs became very popular. With the emergence of Xenon lamps (with lens) as an option, car manufacturers found that customers were happy to pay extra for an option that visibly differentiated their car from a standard version. Then, car manufacturers developed designs with halogen + lens and xenon + reflector formats.
Since the emergence of LEDs in the automotive sector, the term 'front lighting' is no longer limited to HB and LB, but also includes all light functions in the car. Car manufacturers have realized that front lighting is one of the most important styling and brand recognition elements of a car. While innovations in exterior lighting are still justified by opportunities to increase safety, it is well understood by the market that the visual differentiation is the main reason why customers want to pay for higher end option light systems.
LED drivers must be defined to support the trends in automotive lighting whilst also balancing flexibility and total cost of ownership.
Sanket B, Director of Sales & Field Applications – India, ASEAN countries, Australia & New Zealand, Maxim Integrated
Automotive LEDs have taken the industry by storm thanks to their versatility and efficiency. In automotive lighting applications, LEDs power the car headlights, taillights, and just about anywhere they are needed inside or outside the automobile for style and function. Infrared (IR) LED diodes are used in driver monitoring systems (DMS). GPS navigation and in-cabin entertainment displays utilize strings of LEDs for backlighting.
New concepts in automotive lighting utilize LED driver technology to provide long-lasting, low-power, high-efficiency lighting while meeting higher demands for road safety and improved driver experience. LEDs provide significant advantages over traditional technologies for most automotive lighting applications, including matrix and pixel lighting. With increasing emission standards, LED lighting's lower energy consumption helps reduce carbon dioxide emissions. Not only does LED headlight technology have a much longer lifespan than conventional lighting, LED taillights illuminate up to 10 times faster than traditional bulbs, and they're brighter resulting in shorter stopping distances and increased passenger safety.
LED drivers play an important part in preserving and enhancing the inherent LED qualities of clarity, speed, and efficiency.
Randall Restle, Vice President, Applications Engineering, Digi-Key Electronics
Since electronics advance in automobiles continues unabated, they are becoming an increasingly large expense to automobile manufacturers. Therefore, there is a lot of focus on electronics cost. LED drivers delivering higher currents are larger than lower current drivers, and larger means more expensive, so another area of advancement is size reduction. Some technologies, such as Gallium Nitride (GaN),utilize surface mode conduction. Since currents penetrate less deeply into the semiconductor when using surface mode conduction, GaN technologies generate less heat for the same amount of current, and since they generate less heat, they can be made smaller. I predict we'll see more GaN devices used in automobiles in the future.
Advancements in Automotive LED Drivers
Paul Decloedt, Product Marketing Manager – Auto Lighting Products, ON Semiconductor
In the past, it was sufficient that an LED driver could support the two fundamental status levels of the light function – either ON or OFF. The visible differentiation in exterior lighting is not limited to the optical design – it also includes the 'special effects' capability of the LED driver solution which requires high performance dimming capabilities and individual LED control. In addition, the more complex styling capabilities have required scalability of the total light power.
LEDs are recognised as having a lifetime which is longer than the lifetime of the car, but because LEDs are semiconductors, they are more sensitive to overstressing than conventional bulbs. In the early days, standard DC/DC convertors were used and were not always capable of dealing with challenging automotive operating environments and conditions that can cause overstress of the LEDs leading to a reduced lifetime.
The expectation from the end-customer is that light output is constant and not susceptible tolight dips in combination with start-stop functions.
Last but not least, alignment with ISO26262 functional safety requirements is becoming increasingly important with respect to highly integrated LED driver designs.
Stefan Kouba, Marketing Manager, Automotive Products Group, Microchip Technology Inc.
ISELED is targeting to solve these issues, integrating an intelligent device inside of the LED module. This module will take over the color temperature compensation, binning and calibration. The result is that the LEDs will behave identically from manufacturing batch to manufacturing batch, lot to lot and over time and temperature. Each LED will display the exact same color temperature, solving major issues that car makers have had to overcome in the past. The calibration will be completed at the LED level and major players like OSRAM and DOMINANT Opto are already producing these LEDs.
Another benefit is the daisy chain capability of connecting more than 4,000 nodes with a very high data rate of 2 Mbps. With this specification, new use cases like dynamic light effects of various shading schemes and color mixes will be possible. Other possibilities within matrix rear light applications, exterior lighting and backlight display control include different dynamic dimming stages of the LED backlight to increase contrast and color quality.
ON Semiconductor LED Drivers
ON Semiconductor has focussed and innovated around automotive exterior lighting applications for more than a decade. We have five product lines to support front and rear lighting with the longest expertise in SPI controlled LED drivers for front lighting.
No other semiconductor supplier has comparable knowhow and so many SPI LED driver solutions' on the road. 'ON Semiconductor has built-up an extensive portfolio of products with a proven quality level able to operate reliably in demanding automotive operating environments.
Our product lines for front lighting (DC/DC) comprise: SPI LED drivers for platform LDM, matrix beam controllers/drivers, and single channel LED drivers.
For rear lighting (Linear) we offer: single channel pre-drivers and multichannel current sources (pixelized rear light).
Microchip LED Drivers
In practical application, a microcontroller will be needed to talk to the ISELED LED string. It needs a special protocol with an ISELED capable serial engine. The beauty of Microchip Technology's microcontroller unit (MCU) implementations of Core Independent Peripherals (CIPs) is that these unique block sets can be interconnected with glue logic and other peripheral elements, flip-flops, etc. With these benefits, Microchip can create an ISELED peripheral in hardware exclusively. This takes away the software and CPU burden from the processor. These key features can control ISELED LEDs even with the simplest and smallest 8-bit MCU. Microchip also supports ISELED on all its micros, right up to its 2MB high performance AUTOSAR 32-bit MCU.
In addition, this capability allows the implementation and mix of other major design block sets, further driving innovation. One of the building blocks can be LIN, a bootloader, a capacitive touch slider module or a capacitive proximity sense sensor. With bandwidth left free, these implementations can be completed with CIPs, with minimum software and CPU cycle needs. For example, the PIC18F K42 MCU family has the ISELED module built-in, plus a LIN UART with a specific LIN state machine hardware equipped on top of Sync Break and Autobaud UART features. In addition, the family is manufactured with a hardware CAPTouch module.
A unique candidate from Microchip's 32-bit portfolio is the SAM HA1 family of devices. This family has an integrated Vbat load dump, LDO and LIN transceiver, in addition to ISELED, LIN UART and capacitive touch PTC modules. Therefore, a single chip solution, as a LIN to ISELED, plus a proximity sense interior module is possible to implement in a 5x5mm package. This is the smallest capable ISELED solution in the market today. A list of all current ISELED capable MCUs are presented in the below figure.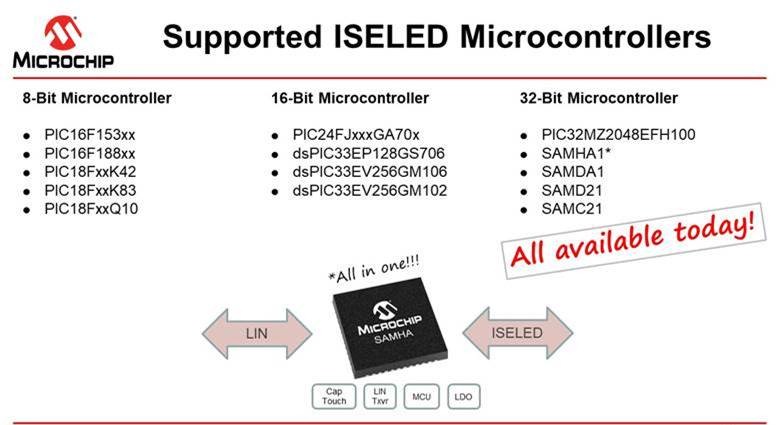 To configure and enable the ISELED peripheral, the module configuration is integrated in a separate downloadable file, called MPLAB® Code Configurator. With this GUI enabled configurator, the peripherals can be set up with a simple click of the mouse. It can be also combined with other peripherals, such as touch and LIN modules.
The code configurator can be downloaded for free on Microchip's website or via a sales representative. Microchip also offers development boards for its MCUs. These boards have simple click-on options for the ISELED plug in hardware (other click on options for the LIN transceiver and Cap Touch sensors are available as well). Then the ISELED strings can be clicked, the code configurator can begin and the development can be completed quickly. The goal is to enable ISELED innovation implementation as quickly and easily as possible.
Maxim Integrated LED Drivers
Maxim offers a wide range of LED drivers and controllers to reliably power LEDs in automotive lighting applications.
In July this year, Maxim announced the MAX25610A and MAX25610B LED drivers, which empower designers of high-performance automotive lighting applications acquiring a simpler, more efficient method for driving high-brightness LEDs (HBLEDs). The synchronous buck, buck-boost LED drivers/DC-DC converters offer a complete solution that features industry-leading EMI performance, without compromising on efficiency and size. These ICs drive up to eight HBLEDs directly from the automotive battery and integrate many external components to save on bill of materials (BOM) costs and space, making them excellent solutions for automotive lighting systems as well as industrial and commercial lighting applications.
The MAX25610A/B LED drivers address all these concerns by combining solution size, high efficiency and EMI performance into a single package. These ICs meet the wide range of voltage requirements and can decrease design complexity, lower bill-of-material (BOM) costs and improve power efficiency. They offer a wide input voltage range from 5V to 36V in buck-boost LED driver applications with up to 90 percent efficiency in buck-boost mode. These LED drivers have an internal current sense option and integrated high- and low-side switching MOSFETs to reduce solution space and cost. They offer programmable on-chip PWM dimming, which allows for fine dimming control without having to use a separate microcontroller. Additionally, the MAX25610B features a 2.2MHz switching frequency option allowing for an even more compact solution.
Maxim also offers the MAX25600, a 60V, synchronous, high-voltage, four-switch buck-boost LED controller that shifts seamlessly between buck, buck-boost and boost modes. This IC is ideal for driving changing LED loads in high-power automotive, commercial and industrial lighting applications.
Digi-Key LED Drivers
Digi-Key offers thousands of automotive LED drivers – if you search "Automotive LED drivers" on DigiKey.com, you receive 1,629 product results. When you search just "automotive," you get 689,400 results. Switching over to the India version of the website, there are 688,261 available automotive products. And the unique benefit of Digi-Key to the automotive market is that we offer millions of devices beyond just LED drivers, so theoretically you should be able to build out more, if not all, of the rest of your design by ordering all your parts from one distributor at DigiKey.com.