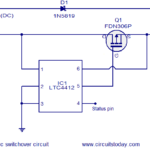 Many electrical and electronic appliances require DC or AC power for their operation. While AC power is made available mostly through AC supply mains, DC power is made available through batteries. However there are circumstances when there is a scarcity of AC power (through power failure) or DC power (due to limited lifetime of batteries). To overcome this problem, we usually come across many alternatives. For example we can use generators or inverters in emergency cases to get AC power when the mains supply is switched off. Similarly in case of DC power, we can use either a battery or an AC to DC power supply in alternative.
The circuit diagram shown here is of an automatic changeover switch using IC LTC4412 from Linear Technologies. This circuit can be used for the automatic switchover of a load between a battery and a wall adapter.LTC4412 controls an external P-channel MOSFET to create a near ideal diode function for power switch over and load sharing. This makes the LT4412 an ideal replacement for power supply ORing diodes. A wide range of MOSFETs can be driven using the IC and this gives much flexibility in terms of load current. The LT4412 also has a bunch of good features like reverse battery protection, manual control input, MOSFET gate protection clamp etc.
The diode D1 prevents the reverse flow of current to the wall adapter when there is no mains supply. Capacitor C1 is the output filter capacitor. Pin 4 of the IC is called the status output. When wall adapter input is present the status output pin will be high and this can be used to enable another auxiliary P-channel MOSFET.
Components
MOSFET Q1 FDN306P
Capacitor -22micro faraday
O-ring diodes – 1N5819
B1 Battery
IC – LTC4412