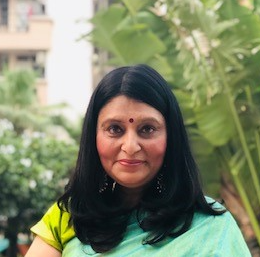 The technology sector is one of the areas where gender diversity has much room for improvement. Semiconductor companies can benefit significantly from having more women in their workforce. Few large semiconductor companies have a woman at their top. STMicroelectronics is one of them. Electronics Maker got the opportunity to interview with Chhavi BAJPAI, Senior Group Manager, STMicroelectronics to share her journey, advice and experience to help put the spotlight on female tech and with the hope to inspire more women into tech and leadership roles.
Have you faced any barriers in your career due to being a woman? If so, how did you overcome them?
Throughout my 30-year career in ST, I've encountered various barriers that have shaped my professional journey. These challenges, while daunting at times, have contributed to my growth and learning, irrespective of gender.
In the first five years of my career, I grappled with a barrier many individuals face: self–doubt and lack of confidence. Overcoming this was a journey that was greatly aided by the presence of exceptional leaders who pushed and mentored me. Moreover, collaborating with colleagues from diverse cultures, such as France and Italy, opened up new perspectives and expanded my horizons.
During the phase spanning my 5th to 10th year in the industry, a significant challenge emerged – taking on leadership roles and leading with conviction. Unfortunately, being a mother seemed to be perceived as a potential hurdle by few.
I seized opportunities to travel and connect with highly skilled professionals to surmount this. In addition, I also leveraged the support of HR, which proved pivotal in addressing the issues that motherhood might bring up in a professional context.
The next leg of my journey, covering a decade from the 10th year onward, was arduous. Striking a balance between work and life was a constant endeavor, and transforming weaknesses into opportunities became an intrinsic part of my approach. Adapting to evolving leadership expectations offered insights into the changing dynamics of the industry and the evolving role of a modern professional. I discovered that cultivating essential skills and dedicating extra time to learning were the cornerstones of my progress.
In my experience, the barriers I've encountered have been both universal and unique, transcending gender. Every stage brought its challenges. But in the end, each barrier was an opportunity for growth. It led me to constantly refine my skills and strategies to navigate the complex landscape of the industry. These barriers fueled my determination to succeed and pushed me to develop a comprehensive understanding of team dynamics, customer engagement, and stakeholder management.
ST ensures that the workplace is supportive and that everyone has the same career opportunities, and this has helped me to increase self-confidence and become more visible and recognized.
What is the most important piece of advice you have been given?
The most profound advice I've received revolved around two essential principles: harnessing strengths and engaging in lifelong learning. This counsel has shaped my professional and personal growth significantly. As a result, I've channeled my efforts into areas where I excel, resulting in increased confidence and impactful contributions. Concurrently, the emphasis on continuous learning has fueled my adaptability in an ever-evolving world. They encouraged me to step out of my comfort zone and experiment, expanding my problem-solving abilities and fostering a curious mindset. Challenging my own self and my limitations was quite rewarding.
At the same time, the concomitant advice to stay "lean and agile," even though I am fat, mentioned playfully, reminded me of the importance of efficiency and flexibility in my professional endeavors and personal development. By internalizing these principles, I've cultivated a dynamic mindset that propels me to face challenges enthusiastically and embrace opportunities with resilience.
What is the most important message you want to send out to young women thinking about their careers?
To young women embarking on their careers, I would emphasize the need to combine dedication, balance, and authenticity. They should strive for excellence in their professional and personal life and simultaneously be "professionally 'OVER' committed." Nothing can substitute Hard work.
Work hard and passionately pursue your ambitions, but do so with a focus on quality rather than quantity. It would help if you understood that genuine commitment involves delivering meaningful results, making a lasting impact, and continuously honing your skills. While aspiring to be the best mother and leader, it's essential to acknowledge that roles are only sometimes neatly compartmentalized.
Authenticity and adaptability are key. Embrace that your roles as a mother and a leader can enrich one another. It is also crucial to strike a balance between work and personal life. Endeavour to create a harmonious synergy between these roles. Seek support, delegate tasks, and practice self-care.
Working with ST, I firmly believe in the company principles of the diversity and inclusiveness of culture, that enhances innovation, engagement, attractiveness and agility, strengthening the employees performance and adding value to our business.
Is there anyone that inspires you in your career?
In my career journey, I've had the privilege of being surrounded by a diverse array of exceptional individuals who have inspired me uniquely. Sharp minds have always captivated my attention. I've been fortunate to work closely with various global leaders who have profoundly impacted me.
What strikes me most is the diversity of leadership styles I've encountered at ST. The company ambition is to recruit and retain a diverse workforce, particularly in terms of gender, age and disability. From the boss's who displayed an unwavering commitment to excellence to the laser-focused leader who exhibited remarkable precision in decision-making and to the extraordinary human being who combined empathy with the strategic vision – each of my supervisors has offered me valuable insights. Observing their approaches and learning from their distinctive qualities has shaped my perspective on leadership. Their dedication, focus, and genuine concern for their teams have shown me that effective leadership is not a one-size-fits-all formula.
Instead, it's a fusion of individual traits guided by a commitment to fostering growth, collaboration, and innovation. By drawing upon the strengths and qualities of various leaders, I've developed a holistic understanding of leadership that goes beyond predefined roles and titles. Each leader has contributed to my growth, influencing my approach to challenges, my interaction with colleagues, and my outlook on personal and professional development.
Why do you think diversity in the workplace is so important?
Diversity in the workplace is a potent catalyst for organizational success, driven by critical factors like productivity, speed to market, and cost optimization. When a team unites individuals with varied skills, experiences, and thinking approaches under a shared mission, the potential for exceptional outcomes is amplified, setting the stage for unparalleled excellence.
Diverse teams bring together a medley of perspectives, which fuels innovation and problem-solving. This rich tapestry of insights challenges conventional thinking, fostering dynamic solutions that may otherwise remain untapped. Diversity isn't just a buzzword; it's an invaluable asset that elevates an organization's potential to achieve remarkable results. By capitalizing on the power of diverse skills, experiences, and perspectives, organizations can fortify their competitive edge, navigate challenges with agility, and steer their trajectory towards enduring success. Furthermore, a diverse workforce often attracts a broader talent pool, fostering a positive employer brand that can lower recruitment and retention costs.
As a global company present in more than 35 countries, ST offers a diverse working environment with 50,000 people and 115 nationalities working together as one team. Diversity is an important message of our employer value proposition. It is prominent in all our employer branding campaigns and is a tracked indicator in all our recruitment worldwide.
How does your company promote diversity, equality and inclusion?
At ST, promoting diversity, equality, and inclusion is woven into the fabric of our ethos. We strongly believe that a diverse workforce and an inclusive work environment increase our performance and bring value to our business through effective innovation, engagement, attractiveness, and agility.
Strengthening the role of women in building ST's future is another of our priorities. Our 'Women in Leadership' (WIL) program, targeted at junior and middle management, aims to prepare the next generation of female leaders. This program has already trained over 600 women. Extended into a full career path, it also includes coaching, mentoring and co-development sessions for women. Local initiatives are also in place to reinforce women's soft skills and support their further growth.
As a former interim leader of the ST Women network, I realized that while equality ensures impartial treatment, equity recognizes the unique challenges and opportunities individuals may face due to their diverse backgrounds. Our approach centers on providing equal opportunities and tailoring support to ensure everyone can thrive. Our company's initiatives are designed to foster an ecosystem where differences are celebrated, ideas are nurtured, and all voices are heard. We offer comprehensive diversity training, encourage open dialogues, and provide resources to cultivate a culture where everyone feels a sense of belonging. Our commitment to diversity, equity, and inclusion isn't just a checkbox exercise but a strategic imperative underpinning our success.