Unveils the Uno range of Switchgears at the venue
Chennai 26th February: Anchor Electricals Pvt. Ltd. a wholly owned subsidiary of Panasonic Corporation, Japan organized its grand meet at the "Hyatt Regency" in Chennai.
The event witnessed attendance from top-trade partners and senior management of Anchor Electricals Pvt. Ltd. including Mr, Ashok Gangar Vice President Sales & Marketing, Mr. Ram Sahani from Product Marketing Group for Switchgear, Mr. Endo Hidetaka General Manager Product Marketing Group for Lighting and Mr. Vishal Patel Regional Head for South II.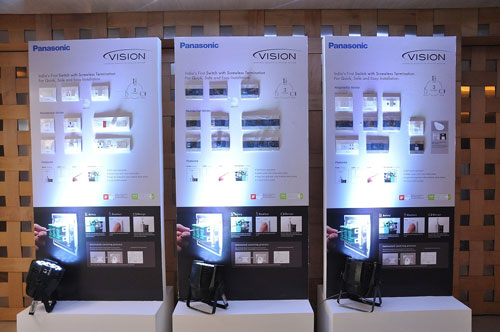 Since its acquisition by Panasonic in 2007 Anchor has strengthened its manufacturing and adopted best-in-the-globe technology for designing and developing products. The event introduced the concept of Ecologically -Aware living with three different solutions from brand Panasonic.
Focussing on optimum operational safety, designer look and environment-friendly features, the basket of Pana-Life products including Panasonic Vision Wiring Devices, Panasonic Switchgear and Panasonic LED was introduced to over 200 trade partners. Additionally, Anchor also unveiled the Uno Switchgear at the said event. The new switchgear represents a unique symbiosis between advanced technology, maximum functionality and exquisite design to match the taste of consumers. The range of products launched under the UNO Switchgear Range comprises of premium Distribution Boards, AC Boxes, Mini- MCBs (Modular & Non Modular), MCBs, RCCBs, and Isolators.
Speaking at the venue Mr. Ashok Gangar Vice President Sales & Marketing said, "The launch of UNO range is part of our strategy to enhance our value-for—money product portfolio, address wide range of customers and further strengthen our market presence. Adhering to our noble vision of manufacturing innovative, eco-friendly products, we are also happy to introduce a new range of energy-efficient solutions from Panasonic. Clubbed together these will certainly aid the Indian premises to be safe and energy-efficient and add new value to modern life-style."
The Panasonic Vision Switches boast of 2 industrial design awards namely IF Product Design awards awarded by International Forum of Design, Germany and Good Design Award awarded by Japanese Institute of Design Promotion, Japan. The product range adheres to stringent requirements of the RoHS as defined by European standards. The Panasonic Switchgear range comprises of MCB, RCCB, Isolators and Distribution Boards that adhere to RoHS norms as well and boasts of some unrivalled features such as MCB with three level indication and fastest trip with RCCB. The new Panasonic LED luminaires range for residential, commercial, retail and hospitality premises delivering best-in-the-class efficiency was highly appreciated by the entire fraternity.