Announces five new products at the 8th annual A&D symposium
April 24, 2014, New Delhi: Agilent Technologies Inc.   the world's premier test and measurement company, concluded the 8th annual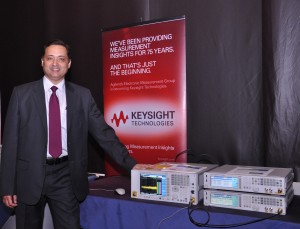 Aerospace and Defense Symposium in New Delhi. The Symposium is an annual property of Agilent Technologies and is India's biggest technical gathering of Aerospace and Defense engineers and scientists working on cutting edge Strategic Electronics. This year the symposium focused on military communications, electronic warfare and radar systems, apart from detailing the challenges in test and measurement.
The symposium, organized by Agilent in partnership with IEEE (Institute of Electrical and Electronics Engineers), Association of Old Crows (AOW)-India Chapter, and IESA (Indian Electronics & Semiconductor Association), spanned across Bangalore, Hyderabad and concluded today in New Delhi. Over 600 delegates participated in various technical sessions on radar, electronic warfare, military communication, avionics, navigation systems, among others, which redefine the design and development of aerospace/defense systems.
Mr. Sudhir Tangri, Country Manager, Agilent Technologies Electronic Measurement Group said, "We see huge potential in the Aerospace & Defense segment, which is occupying more and more space in the country's long term strategic planning. India is an extremely important market for us globally, which is affirmed by our continued focus with the A&D symposium. We will remain focused on delivering industry defining solutions for the sector with the next phase of our evolution, Keysight Technologies."
Agilent Technologies has been providing the Aerospace and Defense industries with products and services for more than 75 years. For Agilent, the Aerospace and Defense segment is a major contributor to their business in India and worldwide. The Aerospace and Defense Symposium 2014 was attended by key influencers from the aerospace and defense sector. The Symposium was enriched by open forums that featured discussions and demonstrations of the latest products and features from Agilent.
The new Agilent products and solutions launched during the Aerospace and Defense Symposium include:
1.16850 Series portable logic analyzers:  The instruments offer the industry's fastest timing capture with deep memory for quickly debugging digital systems. The 16850 Series also offers the industry's only portable logic analyzer with both single-ended and differential probing options to help designers get their high-speed digital devices to market faster.
2.World's fastest, Most Accurate high-performance PXI VSA
Agilent Technologies introduced the M9393A PXIe Performance Vector Signal Analyzer: 9 kHz to 27 GHz. Modular solutions are highly adaptable and Agilent is taking flexibility farther with the M9393A PXIe performance vector signal analyzer. The M9393A is the realization of our microwave measurement expertise in modular form. It integrates core signal-analysis capabilities with hardware speed and accuracy, enabling you to tailor your system to fit specific needs today and tomorrow. Deploy the M9393A—and acquire the performance edge in PXI. The M9393A is comprised of four individual PXIe modules – M9365A PXIe downconverter, M9308A PXIe synthesizer, M9214A PXIe digitizer, and M9300A PXIe frequency reference. The M9300A PXIe frequency reference module can be shared between multiple modular instruments. Delivers performance previously unseen in modular.
3.MXE EMI Receiver: Agilent Technologies announced two new options for its MXE X-Series electromagnetic interference receiver: 44-GHz frequency range and time-domain scans. With the addition of these capabilities, the MXE continues to address current and emerging customer needs in electromagnetic compliance (EMC) testing.
4. Microwave Analog Signal Generators with Industry-Leading Phase Noise, Power and Speed: Agilent Technologies expanded its range of signal generators with two new models that provide unmatched performance in phase noise, output power and frequency-switching speed. Complementing Agilent's flagship E8267D vector PSG and E8257D analog PSG, the new N5183B MXG and N5173B EXG microwave analog signal generators provide important alternatives in size, speed and cost.
5.      Fastest, Highest-Performance PXIe Controller for Complex, Secure Applications: Agilent Technologies introduced the M9037A, the fastest, highest-performance PXIe controller available. The controller's 12 GB/s maximum data bandwidth offers unique capability for complex or multi-chassis systems and secure environments. With best-in-class CPU processing speed and a front-panel removable 240 GB solid-state drive, it provides the performance, reliability and security required for aerospace/defense, RF, semiconductor, wireless communications, general-purpose, electronic functional test, or virtually any PXIe modular test system application