RICHARDSON, TX ― August 2014 ― ACD, a leading supplier to the electronics industry and leader in Package-on-Package (PoP) assembly, will exhibit in Booth #636at SMTA International, scheduled to take place Sep. 30 – Oct. 1, 2014 at the Donald Stephens Convention Center in Rosemont, IL.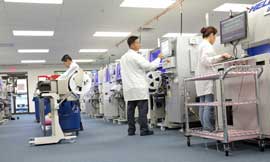 For more than 30 years, ACD has supported the printed circuit board (PCB) industry in a variety of ways; from design to laser photoplotting, to supporting engineering software, to final test. The company offers the support required to get products to market as quickly as possible.ACD's assembly business model is geared toward supporting high-mix, high-technology assembly from prototypes through low-to-mid volume production. With a focus on high-end technology, ACD is staffed with two shifts to respond to a variety of products, markets and deliveries.
With single- and double-sided flying probe testers, ACD offers its customers confidence in receiving quality, defect free assemblies. ACD's functional testing verifies that each of the various product capabilities defined in the design specification or test specification meet customer requirements. This is instrumental to providing ACD's customers with quality, defect free assemblies. ACD works closely with its customers and the Functional Test Department to develop an accurate test for each assembly.
For more information about ACD's design and contract assembly services, or the company's world-class quality management system, meet company representatives in Booth #636 at SMTA International or visit www.ACDUSA.com.