Omron is a global leader in automation segment. OMRON AUTOMATION INDIA caters to over eight industrial segment namely packaging, automotive, material handling, solar, food & beverages, textile and panel handling applications. The product portfolio includes Industrial components, Automation Systems, Sensing & Safety, Motion & Drivers, Robotics and Software.

Packaging solutions is one of Omron fortes worldwide as well as in India. Recently OMRON displayed its key strengths in the packaging automation segment like the pick & place Scara Robot, vision, safety and bottling solutions. The SYSMAC platform was also displayed by giving hands-on experience to the visitors on the SYSMAC software.

Aditi Aggarwal of Electronics Maker spoke to Mr. Gandhi about Omron competency and support to automation industry.
Interview with Mr. Sameer Gandhi, MD, Omron Automation, India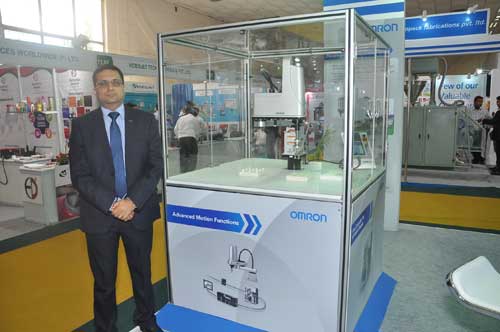 Please start with introducing your company.
OMRON started its journey in 1933 in Japan. The group is 81 years old with gross sales of more than 7 billion USD and over 36,000 employees worldwide. As a part of OMRON Corporation, OMRON Industrial Automation is a global manufacturer of technologically advanced products and a leading provider of application expertise constituting more than 40% of the total group business. The group invests 6.8% of its turnover in R & D, exploring new sensing and control techniques.
OMRON Automation India started operations in 1993 for serving the customers with the entire range of factory automation requirement. Today we have strength of around 160 employees with 5 established offices in Mumbai, Gurgaon, Chennai, Bangalore & Pune and regional engineers based across the country. We have 2 repair centers in Mumbai & Gurgaon, 3 training centers in Mumbai, Gurgaon & Bangalore and logistics support is from Banaglore covering the entire country's requirements.
A major factor in OMRON's progress globally and locally has been the strong commitment towards its customers keeping 'Quality First'.
Please highlight technological core – competencies, that distinguish you from other market players.
We specialize in catering to six Industrial applications encompassing the wide requirements of packaging, automotive, material handling, food and beverage, textile and panel building. In recent years the company has been concentrating on the solution business which solves management problems on diverse production sites.
Taking this initiative further OMRON group has launched Automation Centre's (ATC) worldwide. The 5th ATC has been recently launched in Mumbai, India.
Our automation centreis based on the Sysmac platform which integrates motion, logic and vision together. The unique function of the Sysmac platform is it operates on One controller (the NJ), over One network (the EtherCat) with one software (the Sysmac).
What technologies & support to your customers for up gradations & future customization.
At OMRON we believe in the total solutions approach. For this we have a strong application team all across India who support the customers in real time. As mentioned earlier, we have an Automation Centre (ATC) in Mumbai, where the customers can come and experience the technologies.
The whole idea of ATC is based on the philosophy of "you create the concept and we will help you to make it work". The centre showcases OMRON's expertise in the 'sensing & control' technology so that the customers are able to test their new ideas, experience and understand how they can bring more improvements to their current manufacturing infrastructure and can become more competitive in their respective fields in the industrial automation domain by honing and upgrading their varied needs – primarily focusing on quality, safety and accuracy.
What kind of technical support and after sales-service you provide to your customers.
To provide real time technical support to our customers, we have a strong team of application engineers all across India. Our technical staff consists of team of service engineers & application engineers. We maintain stock of the most commonly used parts & spares, to help customer recover from a breakdown in minimum possible time. In addition, our system provides remote diagnostic assistance as well.
What is your outlook on automation of Indian electronic industry and robotization of industries?
We think that a typical Indian customer demands quality today. Hence, to meet the demand and meet the quality expectations we have to adapt automation and robotics in most of the industries.
What kind of competition you face in India? How do you cater to this competition?
India is a big & open market and all global competition is present here. However we have been sustaining our position in the industry and are growing as our solutions are integrated solutions. OMRON is amongst very few players in the industry having vision sensing, robotics, safety and automation technology together in its portfolio. Our ATC is also a distinction. It has been bringing value to the customers by giving them a state-of-the-art facility to experiment & experience their applications assisted by a team of dedicated experts.
Does OMRON have any kind of educational or training set-up in India?
We believe in continuous development & support, hence we have 3 Training centers in India which caters to all our customers, channel partners and system integrators for updating themselves with the wide range of our product portfolio. The training centers are in Gurgaon, Bangalore and Mumbai covering all the regions in India.
Please put light on social responsibilities of Omron to society?
Our corporate core value is "Working for the benefit of the society"- not only through our products and services but also by playing the role of an active corporate citizen to improve the quality of lives of people where we operate. For example, OMRON was the first company to set up factories for disabled people in Japan. And after this factory was setup, the Govt. of Japan came up with a law for every factory to employ a certain no of disabled employees. Globally every year on Omron day (10th May, the foundation day of OMRON) we all do some of community work. In India, we have set up a digital (audio) library for visually impaired people in association with the National Association of Blind, New Delhi. Every country where OMRON operates has its own string of CSR initiatives. Our production facilities are also very much concerned about environment hazards and many of our products comply with the most stringent environment protection standards.
What are the future plans for Omron Automation Ltd?
Growth and sustainability definitely!!!! We want to more spread out in the country; we want to be more visible. We want to expand our portfolio and come up with a wider variety of solutions.