Together with 350+ global Channel Partners, VIAVI sells an incredibly broad portfolio to network, communications, and electronics technology leaders across the globe.
VIAVI offers solutions designed to test and verify devices, radio, ad hoc network clusters, RAN, transport, core and services for verticals by delivering visibility for 5G end-to-end programmable and dynamic networks.In an interview with Electronics Maker, Monojit Samaddar, country director, VIAVI Solutions – India, talks about 5G technology, testing and company's focus areas for the Indian market.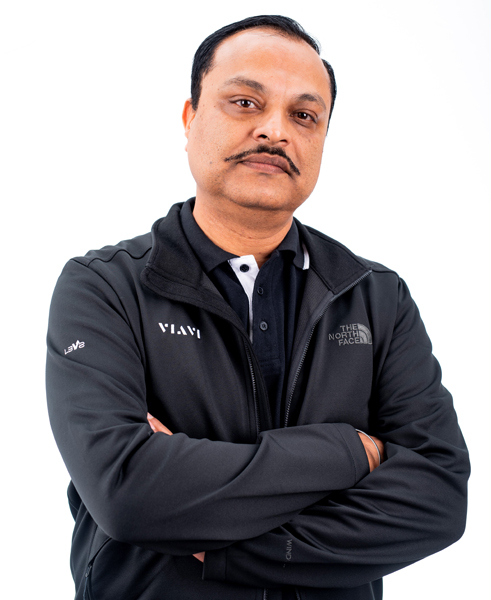 1. As communications service providers (CSPs) deploy and launch 5G services worldwide, what are the key requirements for successful testing, validation and optimisation of 5G networks?
5G installation is driving advances and upgrades that span the entire wireless network ecosystem. The stringent test requirements and unique installation challenges for new 5G cell sites and RAN deployments can only be addressed through versatile and automated 5G test solutions.
As operators build out dense 5G networks, the potential for RF interference will grow exponentially, increasing the importance of optimized spectrum efficiency. Real-time spectrum analysis in the field will be key to identifying and addressing interference sources. In addition, 5G introduces flexible spectrum usage that relies on adaptive antenna system technologies such as massive MIMO and beamforming. The use of these technologies means that evaluating radio performance can no longer be separated from antenna performance, requiring over the air testing and 5G beam analysis techniques in order to validate 5G RAN performance.
2. Optical network data rates are pushing new limits and fiber deployments. How does fiber testing help customers scale and maintain performance of critical fiber infrastructure?
With the emergence of 5G and FTTH, service providers are under pressure to increase their fiber footprint, completing massive deployments – to homes, businesses, data canters, towers and 5G cell sites – while striving to maintain quality of experience and reduce operational expenses. Also, the increasing diversity of fiber optic applications has highlighted the need for technician training and versatile, user-friendly test solutions.
While deploying and activating fiber optic networks, fiber testing, fiber inspection, loss measurements, fiber characterization and physical layer testing help customers scale and maintain performance of critical fiber infrastructure. Once the network is in service, root cause troubleshooting and monitoring practices are key to being able to locate and address problems quickly and efficiently. These testing practices should include service layer test, remote test and fault detection, automated monitoring and strain sensing. As the leading test and measurement supplier for fiber networks, VIAVI offers a range of optimized solutions engineered specifically for all phases of the fiber network lifecycle.
3. There has been a rapid evolution of the O-RAN ecosystem with increased focus on the RAN Intelligent Controller (RIC), what are your views and VIAVI's role?
There is a lot of momentum behind O-RAN as a logical counterpart for 5G RAN disaggregation and CSPs are working with diverse partner ecosystem to test 5G use-cases. While this is encouraging, the reality is that disaggregating RAN infrastructure creates complexities that must be addressed for Open RAN networks to succeed.
Operators and integrators need to validate that the technology all works together before it goes into the live network, which requires more than testing the interoperability of various vendor components. Operators also need to validate how the technology interacts with legacy equipment in the network, as well as how it responds to different user equipment environments. Another challenge that operators face is how to solve network issues after the network has been deployed. Unlike a traditional single-vendor network, it's more difficult to identify product-related network performance issues in a multi-vendor environment.
There has been a rapid evolution of the O-RAN ecosystem with increasing focus on RAN Intelligent Controller (RIC), which is responsible for controlling and optimizing RAN functions. RIC helps operators to optimize and launch new services by allowing them to make the most of network resources, at the same time helps operators ease network congestion.
VIAVI works closely with equipment manufacturers and network operators to help ensure interoperability, manageability, optimization and end-to-end performance of networks based on Open RAN architecture.
4. Private 5G Networks are the catalyst for Industry 4.0 and the smart factories. Pls elaborate. What are the challenges of testing a Private 5G Network?
5G equips communication service providers with the ability to serve a multitude of use-cases with lightning fast connectivity, enhanced mobility, flexibility, reliability and security. From smart phones to smart factories the unique combination of ultra-high speed connectivity and ultra-low latency, 5G is all set and ready to transform the communication landscape and the way we perceive it. As such, private 5G networks can improve performance, security, privacy and safety for the enterprise, while also making it easier for the enterprises to manage availability, maintenance and operations.
Private 5G networks that use coordinated shared spectrum require improvements in RF planning, network design, installation, test, management and operation. The diversity of 5G enterprise private network use cases makes network testing both challenging and essential. VIAVI offers advanced test solutions and expertise to ensure these new 5G networks deliver optimal value and performance, before & after deployment. VIAVI network test and assurance solutions support every scenario from turnkey hardware deployments to network slicing backed by SLAs, along with the growing mix of hybrid models.
5. What are key focus areas for VIAVI in India?
VIAVI is active across many aspects of test and measurement to enable best-in-class networks and services. We see increased demand related to broadband network installation, turn-up and maintenance, requiring stringent test methodology and validation. Also, as data centre footprints and capabilities continue to grow, VIAVI continues to engage with hyperscale data centre operators to reduce testing time, optimize optical networks, reduce latency and ensure 100% reliability.
The growth of 5G and the disaggregated radio access network (RAN) presents challenges with interoperability of various components, and VIAVI is working with network operators to help them address these challenges. The Indian market will likely see the first 5G auctions around mid-2022, making India a 5G country for the first time. To monetize faster, operators have started implementing SDN and NFV in a quest for greater operational flexibility and freedom from vendor lock-in. VIAVI is actively supporting cloudification of networks and working with service providers and hyperscalers to support the traffic flow at the level of fiber connectivity and data centres.