Richmond, Yorkshire, UK – 15th February 2017. Peratech and Humax have co-developed a 3D force touch remote control that utilises Peratech's unique Quantum Tunnelling Composite (QTC®) sensor technology. Peratech's multi-touch sensor module, including driver and embedded software, demonstrates a plug-and-play solution that enables HUMAX to offer the user experience that retail consumers and satellite & cable TV service customers are looking for in next-generation TV, set top box, and OTT (Over The Top) service remote controls.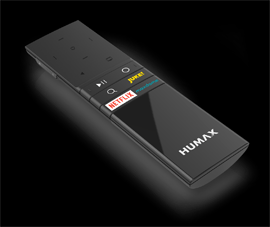 QTC sensors give repeatable, durable force sensing while meeting the design and power constraints of the remote control.  The abundance of network and streaming sources requires a new type of HMI to comprehend and select from the wide assortment of content.  The Aware HMI with Force Touch enables viewers to navigate menus and media quickly, identify and select content with a short press, preview it with a press and hold, or send it to picture in picture with a hard press.  Forward and rewind functions also benefit from force-based speed control.
Jon Stark, CEO of Peratech commented, "We worked with Humax to build a concept prototype for the IBC show last Fall and, based on significant positive customer responses, Humax and Peratech are now collaborating on customer projects that will improve the home entertainment user experience within the next year."
Jeff Kim, President of HUMAX Europe said, "Our recent combinations of both hardware and software innovations to create compelling, engaging interfaces native to today's vast array of content is a game changer for our customers. Peratech's QTC-based force touch solutions are one cornerstone of our Aware Force Touch HMI, a multisensory experience we launched in 2016."
The Aware Force Touch HMI provides an intuitive and enjoyable experience while giving access to all of the features and content. Humax intends to launch two different versions; a standard and a premium model. Both versions highlight a simple control interface. By eliminating most of the single-function buttons from the traditional button layout, the remote restores easy one-handed control to the user's multi-media system. While the standard model incorporates Peratech's single point force sensing solution to eliminate the false button-presses that often happen with touchpads using capacitive sensors, the premium model offers full press and gesture functionality through a Peratech multi-touch force sensor. Peratech's QTC sensor provides both touch location and force while delivering significantly longer battery life compared with a capacitive touchpad solution.