Having radically improved thermal imaging efficiency and safety through the introduction of its polymer infrared windows, IRISS is now addressing the need for wider electrical maintenance safety solutions. Indeed its latest introduction allows the company to add continuous monitoring to the list, both as a stand-alone capability and as an addition to its patented window products.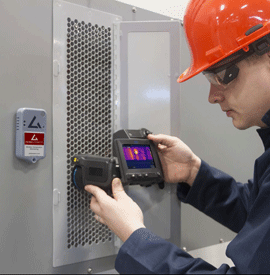 Infrared imaging does a great job of detecting thermal anomalies caused by conditions such as loose connections, overhead circuits and unbalanced loads. It does, however, only provide a snapshot of the faults on the day of inspection, leaving the subject components unmonitored for the balance of the year.
To meet this need the IRISS range of electrical maintenance safety devices (EMSD) includes Delta T Alert™, a self-contained, wireless temperature monitoring system that attaches to an electrical enclosure cover. It bridges the gap between infrared inspections by regularly recording and reporting critical temperatures within electro/mechanical enclosures.
The patented Delta T Alert™ unit is simple to install and comprises two temperature sensors. One monitors the interior temperature within the enclosure and the other, the ambient room temperature. Both are configured to collect data on a daily basis, at specific time intervals.
The data is wirelessly transmitted for analysis and trending and warns the operator if the internal temperature rises above pre-set thresholds. Remedial action can then be taken before the problem becomes serious and warrants unscheduled system shutdown, incurring costly downtime.
This IRISS technology can also be specified as an integral capability of its polymer window products. The combination ensures the problem is verified with no operational disruption. The on-board Delta T Alert™ system sends a remote alarm giving the location of the problem and temperature details. The maintenance engineer can then conduct a thermal scan of the live system, through the IRISS infrared window, in complete safety.
Once the repair is completed and the system re-energised, a second infrared inspection will confirm the fault has been eliminated. The electrical enclosure can then be benchmarked and the system reset with the new baseline temperature delta.
The IRISS Delta T Alert™ monitoring system complements and enhances the safety and effectiveness of any electrical maintenance programme and its application is not restricted to electrical distribution systems, transformers and switchgear. It can also be used to monitor the health of a wide variety of motors and mechanical equipment, isophase and bus bar systems, controls and other enclosed systems.