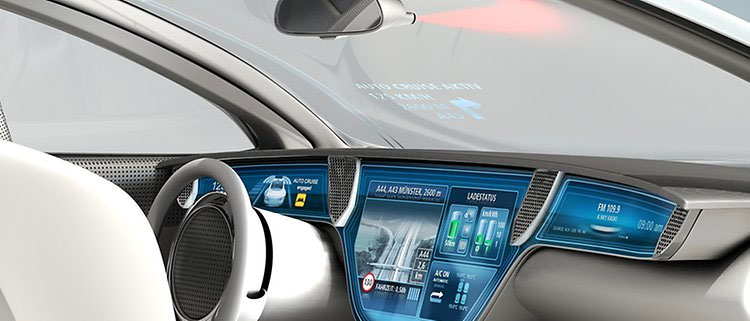 From the Internet of Things to the autonomous drive, from climate protection to new concepts of mobility, technological developments and new political and social requirements have sparked a discussion about the future of cars. There has been a lot of talk about intelligent and sustainable changes, with some experts even speaking of a fundamental transformation. What is this hype surrounding the future of driving really about? We explain the technologies that matter. And we show you why Henkel's know-how plays a central role in car manufacturing – and will continue to do so in the future.
The vision for future cars goes something like this: They will be electric and sustainable, but also intelligent, connected and digitally operated. They will even be able to transport passengers to their chosen destination autonomously in autopilot mode, which will have become a safe and comfortable option. Car manufacturers and component suppliers are now working on new concepts and technologies to develop solutions to the numerous challenges that this vision poses. Many of these technologies are already being used in series production today, and they are gaining ground rapidly. The automotive industry has actually relied on our know-how for many years in this process, because Henkel's Adhesive Technologies business unit has a unique portfolio – geared towards making cars more sustainable, safer and more comfortable.
Electronics drive innovation
In the next five years, 90 percent of all innovations in car manufacturing will be driven by electronics, because vehicles are going to have to process exponentially growing quantities of data. This trend is nothing new: Depending on the model, today's cars already carry anywhere between 20 and 80 miniature computers – so-called electronic control units (ECUs). They currently process about 25 gigabytes of vehicle data per hour. In the future, a standard car will need up to 100 of these computers, because the data volumes will multiply. This is due to the growing number of high-performance driver assistance systems that make driving safer and more comfortable. Increasing communication capabilities and connectivity also require more and more data processing capacity. For example, all new cars sold within the European Union after March 31, 2018 will have to be equipped with an automatic emergency e-call function.
Electromobility on the rise
Increasing electrification also causes data volumes to grow. In addition to its monitoring and control functions, the battery management system also serves as an interface between the vehicle and the electronic components installed in the battery, and transmits current operating states to the car. Today, 3 million cars with hybrid or electric engines are already being built each year. By 2030, one in four new cars will come out of the factory with electrified drive. This growth will in large part be driven by the rapid development of high-performance and cost-efficient lithium-ion batteries that make large ranges possible. However, batteries and electronics add extra weight which then has to be reduced elsewhere. With electric cars, too, the greater the weight, the higher the energy needs and the lower the driving range. That's why manufacturers are increasingly making use of lightweight construction materials like aluminum or synthetic materials.
A new driving experience
Cars will become quiet and dynamic. They will be safe and comfortable, and give people the option to climb in as passengers and let themselves be driven autonomously. They will also be intelligent, communicating with other cars, streets or parking spaces. This experience will be reflected inside the car as well, where the cockpit will become digital. Display innovations will make new infotainment functions possible and revolutionize steering and operating commands.
Henkel makes cars more sustainable, safer and more comfortable with 300 different applications. Thanks to its know-how and extensive portfolio of adhesives, sealants and functional coatings, the company brings key innovations to the streets. How? Click your way through to find out.
Autopilot
From electric power steering through emergency brake assistants to automatic parking aids, electronic helpers today are already responsible for a more comfortable and, most importantly, safer drive. They are based on radar systems, cameras and sensors, which monitor the vehicle's surroundings in real time and transmit information about the car to the driver assistance systems. In critical situations, the systems automatically act on the steering. In the future, cars will be equipped with up to 10 cameras and as many as 200 sensors designed to improve safety and enable autonomous driving.
Henkel offers the broadest technological portfolio for advanced driver assistance systems. This includes solutions for gluing, joining, sealing and coating electronic components and parts, as well as materials for an optimal thermal management. The portfolio ranges from conductive and non-conductive glues and structural adhesives, through protective coatings, encapsulation materials, inks, and all the way to underfill materials and solder pastes. Among other applications, these are used in semiconductors, electric components, cabling and casings. The vehicle camera alone can contain up to 10 of these solutions from Henkel.
Battery technology
Electric cars rely on high-performance, chargeable lithium-ion batteries – a sustainable alternative to the combustion engine. To fulfill this role going forward, these batteries need to make much greater driving ranges possible and become a lot cheaper. Battery technology currently accounts for up to 50 percent of the cost of producing an electric car, which is why today's models are significantly more expensive than equivalent cars with conventional engines.
The performance of car batteries crucially depends on their operating temperature. They must remain within a constant range of 15 to 35 degrees Celsius. Henkel makes this essential thermal management possible with solutions like heat-conductive pastes, heat dissipation materials and gap-filling thermal compounds also known as gap pads. These all protect batteries from overheating. In addition, self-regulating printable inks that transfer heat make sure that batteries already have a temperature of at least 10 degrees Celsius when the car is started, and generally ensure that the batteries don't get too cold, even under extreme conditions.
That is far from being all Henkel does to drive electromobility: Its functional coatings, for example against humidity, also contribute to protecting the batteries. Electroconductive pastes and materials are used in the battery management system to protect the circuit board. Henkel even plays an important role in the integration of the battery packs: We bring our extensive automotive expertise in the field of structural adhesives and sealants to bear very early on as we support our customers during the design phase for their cars. Henkel technology even comes into play in power inverters, which transmit stored energy from the batteries to the electric engine.
Intelligence
With autonomous driving and fully networked communication on the horizon, cars are turning into brains on wheels. They will need increasing numbers of miniature computers, so-called electronic control units (ECUs), to process the momentous quantities of data associated with this in real time. The core component of an ECU is the circuit board, also known as the PC board. Modern cars already optimize every millimeter of available space and cannot become much bigger or heavier, so car manufacturers face a major challenge: Circuit boards need to become smaller, last longer and grow more powerful. That is where Henkel's know-how comes in, with solutions to obtain reliable bonds and afford protection against overheating, mechanical shocks, humidity and electromagnetic interference.
Displays
Voice control, touchscreens, digital cockpit information… In modern cars, analog instruments are increasingly being replaced with new infotainment functions. The number of displays is growing. From the head-up display on the windshield, through the digital cockpit display, the touchscreen in the center console, and all the way to new functions in the interior and exterior rearview mirrors, the digitization of cars is in full swing. The growing number of electric cars and new driver assistance systems is likely to accelerate this trend even further.
Henkel offers a comprehensive portfolio of solutions for displays, such as the structural gluing of casings and parts or the sealing of components. Visually transparent adhesives for LCD or OLED displays not only improve their stability and resistance, but also their image quality. New, three-dimensional shapes and designs are also made possible thanks to Henkel technology.
Lightweight construction
For years, car manufacturers have been struggling with the increasing weight of vehicles, because stricter requirements regarding active and passive safety, the multitude of electronic devices and components, and the batteries in electric cars all have a tendency to tip the scales. The heavier the vehicle, however, the greater its carbon emissions will be. That's why the industry is turning to lightweight construction materials like aluminum or synthetic materials.
Henkel's adhesives and sealants make lightweight automotive construction possible, because gluing is the new welding. It can reduce a car's weight by up to 15 percent. Glued joints can withstand high amounts of stress from oscillations, vibrations and temperature fluctuations, and ensure that different materials remain securely and durably joined together. Among other things, Henkel adhesives are used on car body parts, engines, powertrains, gearboxes, rearview mirrors, seats and steeling wheels. At the same time, they also make cars safer, more resistant to corrosion and more enduring.