Courtesy: Fujitsu Semiconductor 
Overview of Fujitsu's unique semiconductor solutions that realize "Eco & Smart".
Living up to its slogan of "Eco & Smart," Fujitsu Semiconductor Ltd. has been offering semicon­ductor solutions in the global market in a bid to realize energy efficient society and to create more comfortable environment. This article introduces some of the company's unique semi­conductor solutions that realize "Eco & Smart," including the FM Family micro-controllers based on the ARM core, the ferro-electric RAM (FRAM) non-vola­tile memories manufactured from start to finish at Fujitsu Semiconductor's do­mestic factories, and the Power Manage­ment ICs (PMICs) that enable downsiz­ing and reduction in power consumption of electronic devices.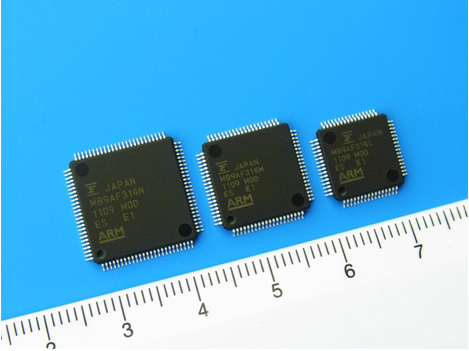 ARM Core-Based Microcontrollers
Fujitsu Semiconductor has been rolling out general-purpose microcontrollers that employ the ARM Cortex-M3 processor core since 2011. Combining the ARM core with peripherals and high-speed, highly reliable built-in flash memory technology developed for the conventional FR Family microcontrollers, which employ Fujitsu's proprietary processor, the FM3 Family realizes higher performance, more functions, and lower power consumption for various devices.
At present, the FM3 Family product line is expanded to reach more than 460 models. They are divided into four groups: a High Performance Group equipped with CPU with up to 144MHz operating frequency to support high level motor control; a Basic Group for white goods (home electronics); a Low Power Group that achieves a good balance between power efficiency and performance; and an Ultra Low Leak Group for battery powered equipment.
Sample shipping of the latest products has begun this fall. Twenty-one products (MB9A150 R Series) in the Low Power Group are power saving model microcontrollers, which are equipped with real time clock, High-Definition Multimedia Interface-Consumer Electronics Control (HDMI-CEC) and so on, and achieve lower power consumption operation and low voltage operation to support battery powered equipment. For the Basic
Group, 72 products have started to be shipped, wherein CPU operating frequency has been increased from the conventional 40 to 72MHz. Each of these products has inverter control function and is equipped with a rich set of peripherals including controller area network (CAN), USB2.0 and real time clock.
The FM3 Family incorporates a highly reliable built-in flash memory. This memory with 100,000 times of program cycles and 20 years of data retention period is also used in automobiles.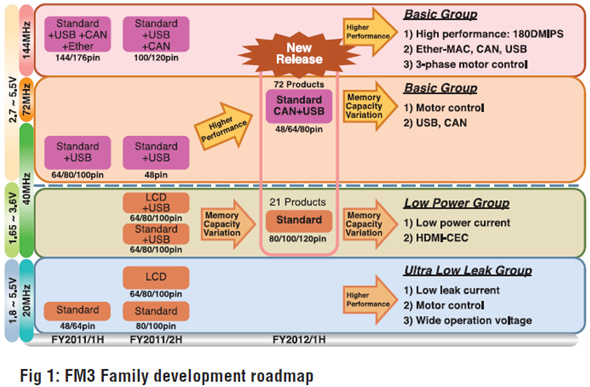 Fujitsu Semiconductor plans to further enhance the FM3 Family product lineup. Shipping of more than 500 models is scheduled by the end of March 2013.
Secure Memory FRAM
Fujitsu Semiconductor is a pioneer of a non-volatile memory FRAM that features high reliability and high performance. The company develops FRAM in house from design to production.
FRAM, which has E2PROM's non-volatility and static RAM's (SRAM) speed, allows stable supply of products and a system to ensure high reliability.
The FRAM product line covers from low capacity to high capacity products supporting both serial and parallel interfaces as a standalone memory. Many FRAMs are used in Smart Meters and other industrial equipment. In addition, the use of FRAMs in tags for medical equipment for radiation sterilization is also increasing due to its advantage of high radiation tolerance.
Fujitsu Semiconductor also manufactures RFID tag ICs equipped with FRAM. For the high frequency band
(13.56MHz), the company has been shipping samples of products with the industry's highest capacity of 9KB since
August 2012.
PMIC Design, Development
PMICs have also been improved to contribute to power saving and size reduction of equipment. For example, the MB39C022 Series offers a 2ch IC that combines one DC/DC converter and one low dropout (LDO) regulator.
By incorporating radio frequency (RF), phased-locked loop (PLL), and a low-noise LDO for analog functions within the small size SON10 package, the MB39C022 Series is popular as easy-to use power management IC for analog/digital mixed equipment.
Easy DesignSim, a free online design simulator, is available to complete the design of a power circuit that uses the MB39C022 or other Power Management IC of Fujitsu Semiconductor more easily over a short period. Just select a power management IC to use and enter the operating conditions for the power circuit, and the Easy DesignSim simulator will create a circuit diagram.
Fig 4: Easy DsignSim operation screen
Equipped with a wide variety of high-speed simulation functions, such as load response characteristics and AC analysis, the design simulator can evaluate the power circuit over a short period and redesign it when necessary. It also offers search function for external parts besides the power management IC, with which users are able to check availability of products at five parts sales companies along with sample prices and to order a product as well.
The Easy DesignSim simulator is already available in English, Chinese, and Japanese. It will be improved to support an even wider variety of power management IC products as well as design of circuits that use a battery charger IC, among others.