Optimal for applications in industrial machinery that require high reliability in extremely cold environments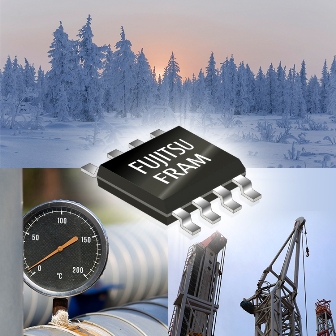 Singapore, Jun 13, 2018 –Fujitsu Electronics Pacific Asia Ltd. today announced that it has developed the MB85RS64TU, a 64-Kbit FRAM*. This memory is capable of operating at temperatures as low as -55°C, a first for the Fujitsu's family of FRAM non-volatile memories. Mass-produced products are currently available.
This product features a wide power-supply voltage range from 1.8V to 3.6V, and lower operating temperature as low as -55°C – lower than that of competitive memories. Because it guarantees 10 trillion read/write cycles across the full temperature range, the product is optimal for industrial machinery such as equipment or machinery used to excavate natural gas and oil in extremely cold regions. The MB85RS64TU is suited for general industrial applications such as measurement equipment, flow meters, and robots.
For approximately 20 years, Fujitsu Semiconductor has mass-produced FRAM non-volatile memory products featuring high-speed write operation, high read/write endurance, and low power consumption. Especially, the guaranteed read/write cycles of the FRAM product is 10 trillion cycles, which is about 10 million times that of competitor non-volatile memory EEPROM. Therefore, Fujitsu FRAM products have been adopted for industrial applications requiring frequent data re-writing such as real-time data logging and 3D positioning data log.
Today, Fujitsu has launched a new 64K-bit FRAM product MB85RS64TU that operates at temperatures as low as -55°C, extending the lower limit on the operating temperature of existing products from -40°C. The product was developed to meet the requirements of customers who need memory devices for industrial machinery that operate in extremely cold environments.
The MB85RS64TU operates with a wide power-supply voltage range from 1.8V to 3.6V, at a maximum frequency of 10MHz through an SPI interface, in temperature environments from -55°C to 85°C.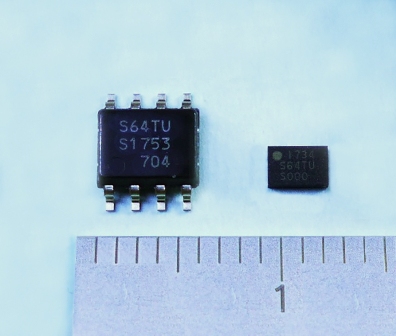 The FRAM product is already available in the industry-standard 8-pin SOP package, making it easy to replace EEPROM in 8-pin SOP. In addition, 8-pin SON (Small Outline Non-lead) packages with very small dimensions of 2.00 x 3.00 x 0.75 mm are also available. The mounted surface area for SON is only 30% of that of the SOP, and mounting volume is only 13% of that of the SOP.
Last year, Fujitsu announced FRAM products operating at 125°C which expanded the high-temperature side of its operating temperature. This time, Fujitsu has developed a -55°C operating product that expands the low-temperature side.
In this way, Fujitsu believes it is their responsibility to develop memory products that are optimally suited for all customer applications. For that reason, they will continue to offer products and solutions to improve the value and convenience of customer applications.
Key Specifications
Part Number: MB85RS64TU
Density (configuration): 64Kbit (8K x 8 bit)
Interface: SPI (Serial Peripheral Interface)
Operating frequency: 10MHz max
Operating voltage: 1.8V to 3.6V
Operating temperature range: -55°C to +85°C
Read/Write endurance: 10 trillion times(1013times)
Package: 8-pin SOP, 8-pin SON
Glossary and Notes
* FRAM:
Ferroelectric random-access memory. A type of memory that uses a ferroelectric file as capacitors that store data. Retains contents even when power is removed. Combines benefits of both ROM and RAM, with fast write speed, low-power consumption, and high read/write cycle endurance. Also known as FeRAM. Produced by Fujitsu Semiconductor since 1999.
For more information:
Fujitsu Semiconductor Top page
FRAM Top page
MB85RS64TU datasheet