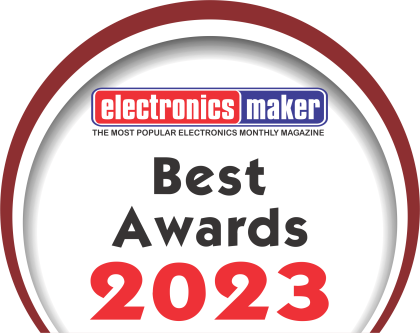 12th September 2023 – The winners of EM Media's prestigious annual Best of Industry Awards recognising outstanding achievements in electronics design and technology industry are announced virtually on 12th September.
Over the years, the EM Best Awards have established themselves as the industry standard for honoring contributions to electronics industry. EM Awards selection criteria are based on the nominees having demonstrated leadership, product innovation, excellence in their field and effectiveness in addressing a need or defining a new market. The awards reflect organisation's particular focus and ensure the company with the core values of business success and innovation.
EM Best Awards 2023 includes key electronics categories as Semiconductor, Test and Measurement, Electronics Components, Automation, Lighting, SMT, EMS.
The complete list of winners as follows:
| | | |
| --- | --- | --- |
| | Award Name | Winner |
| LEADERSHIP AWARDS | | |
| 1 | Lifetime Achievement Award | Mr. Bhaskar M R Director, Southern Electronics |
| 2 | Most Inspiring Business Person of the Year Award | D.R. Subramanyam and M. Anil Kumar Muniswamy, Founding Directors, SLN Technologies Pvt. Ltd. |
| 3 | Most Sustainable Semiconductor Company of the Year Award | STMicroelectronics Pvt Ltd. |
| 4 | Most Ethical Company of the Year Award | Analog Devices Inc. |
| 5 | Most Innovative Company of the Year Award | Murata Electronics (India) Private Limited |
| 6 | Global Electronics Manufacturer of the Year | OMRON Electronic Components Pte Ltd |
| 7 | Start-Up of the Year Award | Ceremorphic Inc. |
| 8 | Smart Automation Solutions Company of the Year Award | ASMPT SMT Singapore Pte. Ltd. |
| 9 | Electronics Components Manufacturer of the Year Award | Vishay Intertechnology |
| 10 | Outstanding Semiconductor Manufacturer of the Year | Infineon Technologies India Pvt. Ltd. |
| 11 | Most Innovative Semiconductor Company of the Year Award | STMicroelectronics Pvt Ltd. |
| 12 | Electronics Component Distributor of the Year Award | Mouser Electronics India Pvt Ltd. |
| 13 | Outstanding Semiconductor Partner of the Year Award | Avnet |
| 14 | Outstanding Global Components Brands Distributor of the Year Award | DigiKey |
| 15 | Global Achiever Distributor of the Year Award | Transfer Multisort Elektronik Sp. z o.o. |
| 16 | Interconnect and Electromechanical Products Distributor of the Year Award | Heilind Asia Pacific (SG) Pte. Ltd. |
| 17 | Best Performing Distributor of the Year | element14 |
| TECHNOLOGY/ PRODUCT INNOVATION AWARDS | | |
| 18 | Most Innovative Product of the Year Award | STMicroelectronics STM32H5 |
| 19 | Automotive Product of the Year Award | Microchip Technology AUTOSAR-ready dsPIC33C DSCs |
| 20 | Best Sensor ICs Manufacturer of the Year Award | Allegro Microsystems |
| 21 | Best Software Development Kit | Renesas Quick-Connect Studio |
| 22 | IoT Semiconductor Company of the Year Award | Nordic Semiconductor India Pvt Ltd |
| 23 | Best Software Design Company of the Year | MathWorks |
| 24 | Best Power Supply Manufacturer of the Year Award | RECOM Asia Pte Ltd |
| 25 | Best Converter Manufacturer of the Year Award | MORNSUN Guangzhou Science & Technology Co., Ltd. |
| 26 | Best Lighting Manufacturer of the Year | Signify |
| 27 | Best Connector Product of the Year Award | Harwin's BBi |
| 28 | Best Electronics Housings Manufacturer of the Year | Phoenix Contact (India) Pvt. Ltd. |
| 29 | Most Innovative Smart Factory Software Solutions | ASMPT WORKS |
| 30 | Best SMT Rework Product of the Year Award | Metcal HCT-910 |
| 31 | Best Resin Manufacturer of the Year Award | Electrolube (part of MacDermid Alpha Electronics Solutions) |
| 32 | Best Soldering Product of the Year Award | Indium Corporation InFORMS® solder preform |
| 33 | Best Circuit Protection Solutions Award | Littelfuse, Inc. |
| 34 | SMT Equipments – National Partner of the Year Award | Kyoritsu Electric India Pvt. Ltd |
| 35 | Best Oscilloscope Product of the Year award | Picoscope 9400 SXRTO |
| 36 | Best Network Analyser Manufacturer of the Year award | Anritsu India Pvt. Ltd |
| 37 | Best Innovation in Future Test Solutions | Keysight Technologies sub-terahertz testbed for 6G research |
| 38 | Best Wireless Test Equipments Manufacturer of the Year Award | Viavi |
| 39 | Best Multimeter Manufacturer of the Year award | Kusam Electrical Industries Ltd. |
| 40 | Best Overseas Manufacturer's Representative in India of the Year Award | Saison Components & Solutions |