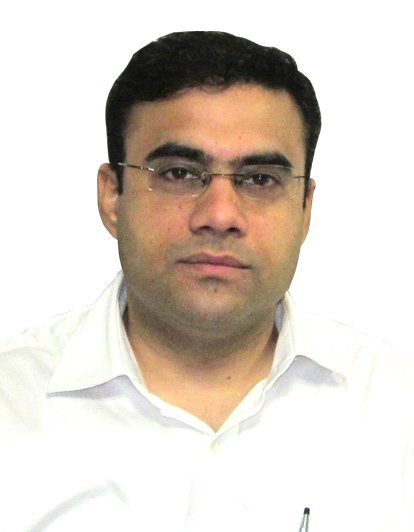 Vehant Technologies- a pioneer in artificial intelligence/ machine learning based security surveillance and traffic monitoring & junction enforcement solutions. In this interview with Co Founder & CEO of Vehant Technologies, Mr. Kapil Bardeja spoke to Electronics Maker about innovative products and solutions.
What is core business of Vehant, what is the vision of the company?
Vehant Technologies, is committed to the idea of making world a safer place. We are a pioneer in Design, Development and Manufacturing of Intelligent Security & Surveillance systems and Traffic enforcement & Management solution, using Artificial Intelligence and Machine Learning Technology. Our product lines including NuvoScan® – Under Vehicle scanning system (UVSS), KritiScan® – X-ray Baggage Scanners (XBS), NanoSnifferTM – Explosives Trace Detector (ETD) and TrafficMon® and TrafScan – Traffic Enforcement and Management Solutions (Speed Violation, Red Light Violation, No Helmet Violation, Tripple Riding Violation etc.).
Our vision is "Using Technology for creating a safe and secure tomorrow" Using Technology r
How do you see AI/ML adding value to your products in the future?
Artificial intelligence (AI) is clearly a growing force in the technology industry. AI is taking center stage at conferences and showing potential across a wide variety of industries. Our product, TrafficMon® suite helps in detecting various traffic violations like – Red light violation, Over-speeding, Illegal parking in 'No Parking' area, Wrong way driving, No helmet riding, Triple riding etc. leverages several Artificial Intelligence techniques including Deep Learning, Machine Learning etc. to further enhance system's capabilities and performance.
KritiScan® Range of X-ray Baggage Scanner uses AI/ML based shape detection technology to automatically identify possible threats like bottles (at airports), lighters, guns, knives, battery bank etc which was extremely hard to detect by manual image check technology.
Most of our future product additions are also driven by AI/ML techniques. Artificial Intelligence is helping us add more value to our system in terms of performance/time/accuracy etc.
How the company does see itself in medium (2 years) and long term (5 years)?
In medium term we intend to continue our position as a market leader in our UVSS range of products, grow our market share to around 30% in X-Ray business, also adding new xray scanning use cases for people and vehicles. We also intend to add expand to South East Asia for smart city business, add new use cases on smart city and private AI based analytics space and retain 60% market share in smart city portfolio. We also intend to geographically expand for our security portfolio to Africa, South East Asia and Middle Eastern market.
In long term we intend to be a 800-1000 crore, India MNC with diversified portfolio of Indian made products in Security, surveillance and Traffic management space across the world.
What is the culture of the company, ethos?
At Vehant we are committed to excellence. Our main assets are our people and our commitment to our customers and shareholders. We endeavour to make working at Vehant an experience in itself by providing the right balance of personal growth (mental and professional) and organizational growth.
We value and respect the aspiration of every employee in the organization and believe that the growth of the organization is interdependent with the growth of the employee. We have tried to imbibe some of the best practices to ensure that an individual with the right attitude, competence and potential are on the fast-growth track. We believe in transparent culture wherein clarity on expectations, visions and missions are shared with all.
How do you see industry changes in security/surveillance and smart cities in times to come?
Technology has taken giant strides over the last few years, paving way for new innovations in every field. 3D and Artificial Intelligence are some of the new technologies which are rapidly driving changes in many domains like health-care, defense, architecture, entertainment (VR) etc. Security domain is still in its nascent phases of adopting these new technologies. In this domain, a few players have tried to explore the 3D technology for building next-generation products. X-ray scanners have shown promising advances for enhanced inspection by providing extra visibility using 3D technology.
Similarly, UVSS industry is also moving in the direction of 3D technology. Powered by dual view 3D technology these systems provide enhanced visibility and security, and have already started to displace previous generation composite image systems.
In smart cities we have been noticing new, specific and demanding requirements from different customers as they look for higher order technology solving India specific problems using Technology. It has been observed that every city has its own set of issues to be addressed. Therefore customization in solutions offered need to be highlighted to the customers in order to help them achieve desired discipline for people and traffic in the cities.
Are there any products or solutions Vehant is building or customizing for helping govts. across the country to fight the COVID crisis?
Due to COVID-19 Pandemic, Government of Telengana had also announced state-wide lockdown to prevent wider spread of the deadly virus. We had in past supplied and installed (along with our partner, L&T) AI based automated number plate reading system in Hyderabad (Traffic Enforcement System (TES)), and we modified the existing system to extend additional features to overcome the pain areas of police department for implementation of COVID related restrictions of Vehicles.
We implemented a Geo-fencing in existing TES system to capture number plates of vehicles who have travelled more than 3 KMs from origin point, enforced and flagged all vehicles violating night curfew by customizing our application for automatic challaning of such vehicles. The proposed solution can facilitate multiple purposes now-
The Artificial Intelligence-powered automatic number plate reading (ANPR) system will track the movements of the vehicles from a point close to location from where it began the trip. Once the vehicle crosses the three-km radius, cameras at the next junction will read the number plate and generate a challan for violating the "3 Km rule".
Any vehicle moving during the night time (7PM- 6AM) will also be captured by the system and alert will be generated against violation.
Any vehicle movement in the CORONA HOTSPOTS as identified by the authority/ police will be captured and alert will be generated.
Owner of the vehicle will be identified by fetching data from RTO database. Appropriate actions would be taken by police department against owners of vehicles involved in such indiscipline and rule-breaking.
What are Vehant Technologies growth plans for international expansion, if any?
We are already exporting our products to over 12 countries and are planning to widen our reach. We are focusing on expanding our business globally. Recently we have established an R&D centre and manufacturing facility under our European subsidiary Vehant Technologies BV in the Netherlands. This will help us to tap and cater to the Middle -east and European market more efficiently. Also, we have opened a new office in Jakarta, Indonesia to have better coverage in South Eastern Asian market . We do intend to expand geographically in next 1-2 years.