Peland Koh, Managing Director, ASM Assembly Systems Singapore

ASM Pacific Technology (ASM PT) Singapore has revealed the company's second building and state-of-the-art Innovation Centre in Singapore on 17 January. The new facilities will consolidate both the SMT Solutions business and the Back-end Equipment business segment under one roof. With the consolidated business units, ASM promotes better synergies and exchange of knowledge and ideas. Peland Koh, Managing Director, ASM Assembly Systems Singapore shares here more about this concept and sheds light on automation and SMT industry growth.
First congratulations for the opening of new innovation centre at Singapore. What is the idea behind?
Thank you. The ASM Innovation Center was built to allow our ASM experts to showcase and demonstrate to our customers the latest ASM technologies and solutions from wafer chip assembly to SMT placement gearing towards 'smart factory' and Industry 4.0. This will be done by holding extensive in-house seminars, workshops and various events in order to share ASM's know-how. The Innovation Center also showcases the latest suite of back-end semiconductor equipment and SMT solutions that help the industry to develop advanced process improvements by collaborating with various industry partners.
What does the Innovation Center offer, and how is it different from the other concepts?
Most other centers demonstrate what the particular company is capable of, mostly in abstract terms and not with real-life production lines. At the ASM Innovation Center, we do a lot more than that. It is also a place where customers can get together with our process experts and developers to find out everything there is to know about our solutions.  We understand that each production environment is different, and each factory must master its own specific set of challenges, which is why we provide our customers with custom-tailored solutions. In addition, we show them how 'going digital' actually affects industrial processes and how they can implement the Smart #1 SMT Factory step-by-step with ASM. We collect knowledge about the latest manufacturing methods and test new processes and technologies with our experts before making this know-how available to our customers.
What are the important benefits it offers to your industry partners?
With the new Innovation Center we are now able to set new standards for the industry as the technology leader. Our comprehensive portfolio of hardware and software solutions supports and optimizes all relevant process steps in modern electronics production. To offer complete solutions for the latest industry trend, Industry 4.0, we have identified four central ASM innovation drivers (Advanced Production Capabilities, Automation, Process Integration and Material Logistics) and made them the focus areas of development activities. Based on these, we are working closely with our customers as we move towards the Smart #1 SMT Factory.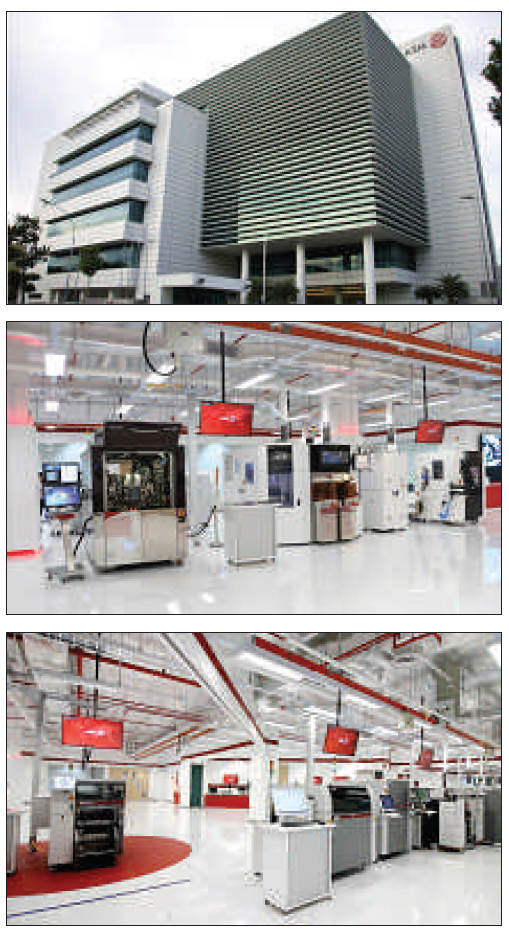 How is Industry 4.0 reshaping the automation industry?
By manufacturing products more intelligently, more flexibly and with fewer resources.To achieve this, ASM has set up a roadmap with four central innovation drivers. The first innovation driver, Best-in-Class Equipment, sets industry-wide standards in terms of speed, precision and quality.  Next, we have Automation, which minimizes manual production steps for our customers by turning traditional operators into smart operations. This is followed by the innovation driver, Process Integration, where we network and synchronize all workflows to optimize the production processes through self-learning systems. Lastly, we have the Material Logistics, where we automate material replenishments and synchronize manufacturing processes and material flows. With these innovation drivers, we work with our customers to take concrete steps to be "on the smart move" to the smart factory.
What will be your key focus for 2017?
We develop our solutions by listening to and working closely with our customers. We support small, mid-sized and large customers all over the world with their different applications and business models. That's why our portfolio of machines, software and systems is so broad and why our products can be deployed in such a flexible manner. Innovative and excellent solutions paired with close cooperation with our customers are the strengths we will continue to build on in 2017. At this time, we are working with customers on a series of smart factory reference sites where we will demonstrate and prove what is actually possible and what a huge impact intelligent process integration has on productivity, quality and delivery reliability. In addition, let's not forget that 2017 is a Productronica year again. At this event, the most important trade fair for our industry this fall, we will once again roll out many innovations that will further expand our technological leadership position.
What does the future hold for ASM as the world's leading SMT equipment provider?
As the technology leader, we always make sure that we are a step ahead of the competition by taking on the technological and organizational challenges of our time – always with an eye on the future.  We are the only provider that can offer technologically leading solutions for all phases of electronics production. Based on our interactions with customers, research experts, users and partners, we have accumulated a unique treasure trove of process experience which provides the foundation on which we implement the Smart #1 SMT Factory for our customers.
What is your outlook on future SMT industry growth?
Contrary to what many experts had forecast, the SMT market grew in 2016. China and the rest of Asia in particular saw rising demand. Since this positive trend is continuing in the first months of 2017, we expect to see a stable market for SMT equipment this year, maybe even some growth. Changes in U.S. economic policy may create some uncertainty, however.