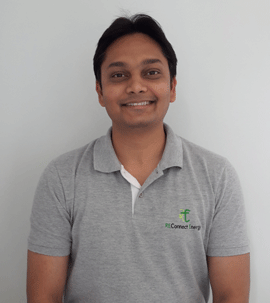 REConnect Energy solutions whose new initiative is an online electricity marketplace named clickpower.in. This platform connects both buyers and sellers of power on internet, according to the requirements of both parties. The main objective of clickpower.in is to help consumer procure greener and cheaper power through a most transparent and cost-effective way. In the interview with Mr.Vishal Pandya of Reconnect Energy throw more light on this initiative.
What are your insights on energy consumption in India?
As per CEA Report on Electricity Stats in India http://www.cea.nic.in/reports/planning/dmlf/growth.pdf   following are the key numbers that can give an estimate of energy consumption in India. Total consumption of electricity in India in FY 14 has been about 900 Billion Units (BU). This is an extrapolated number w.r.t pg#43 data.  As per pg#43, Industrial and Commercial consumer segment itself share about 53% of the total consumption in the country.
What are the key problems to maintain energy consumption in India? 
Energy consumption has a direct dependence on the economic and industrial growth of the country. While improvement in the economic growth leads to factors such as faster urbanization and quicker improvement in living standards of the population leading to increased per capita consumption of energy, faster industrial growth leads to increased industrial consumption. The per capita average annual domestic electricity consumption in India in 2009 was 96 kWh in rural areas and 288 kWh in urban areas for those with access to electricity in contrast to the worldwide per capita annual average of 2,600 kWh and 6,200 kWh in the European Union. Thus there is a large gap yet to be filled. The current installed generation capacity in the country is about 235 GW and is projected to cross 350 GW in the coming 4-5 years.
What is the concept of online electricity marketplace? 
Clickpower is an online marketplace designed to organize the OTC market for power purchase. As per the Electricity act 2003, bulk consumers in India can opt to tie up directly with Generators for purchasing power, rather than relying on Distribution companies. The potential to save on power costs is a major motivator for consumers to sign power purchase agreements directly with Generators. Clickpower follows an on Online discovery – offline closure based model. Validated generators and Consumers, participate in the marketplace to know and understand the market, the prevailing prices and the terms of sale. If they find the market potentially interesting, Consumers and Generators raise term sheets on the basis of which basic negotiations can happen online. Once a comfort is built, our customer management team will set up face to face meetings and follow up discussions leading to the PPA. While the discovery of power generators and users takes place online, we offer hand holding in the offline space, once the two parties are willing to negotiate and enter into an agreement. We are there with them right up to the execution of the agreement.
Tell us about 'clickpower', its features and its goal?
Clickpower.in as an idea we started working somewhere in 2012 where we could foresee that more and more number of private generators would opt for private power purchase agreements with bulk electricity consumers than signing up the capacity with state owned distribution licensees where either the tariffs are not remunerative or payments are delayed sometimes. The market design of clickpower.in is heavily customized for helping bulk electricity generators and consumers to discover available deals, negotiate online and carry out large scale screening through a web-based platform. The concept of clickpower.in is very novel as there is no other marketplace like this in India. There are power exchanges which offer standardized contracts. Clickpower.in compliments power exchanges in a way where it aims to organize the over the counter contracts (OTC) market which otherwise was being operated by so many local brokers as in the real-estate business.
With clickpower.in going live, we are aiming to map every bulk electricity consumer in the country. This consumer could be representing a textile industry, cement industry, paper & pulp industry, manufacturing, steel/metal industry or large commercial establishments like office spaces, private hospitals, hotels, private educational campuses etc.
How it saves power and cost?
The platform will help them discover cheaper source of power in a far more convenient and cost effective way. Our goal is to tap at least 20% of the OTC market for Industrial and Commercial transactions of about 450BU per annum. In terms of monitory savings for a consumer, even if we aim to achieve 20 Paisa/kWh of saving for each of these 90 BU, the electricity cost saving potential is about 1800 Crore/Annum.
How the customer can access the platform?
Access is online. A simple validation check is needed to be given access. Consumers need to submit their electricity bill to get access to the platform, which is free
Tell us more about your other initiatives and business area?
REConnect Energy got incorporated in 2010. We would be completing 5 years this Sept. The founders Vishal Pandya and Vibhav Nuwal met through linkedIn and decided to work together in the Renewable energy certificates trading space. REConnect worked, for first three years only in Renewable Energy Certificate Market and we became the largest REC trading company in India. Currently, we service about 2 GW of Renewable Energy portfolio in REC market. In 2013, we also started working in wind power forecasting and scheduling where we help wind farms across India to forecast next day generation and coordinate the dispatch of energy with the Grid Operator. Like REC, here too we have achieved No.1 spot and are managing about 1.3 GW of wind generation under forecasting and scheduling.
What is your future envision about India power needs and its fulfillment?
The power market is a fast evolving space. With new commitments from the central government, we envision a future where 24 x 7 power is accessible to all Indians and where we have a environment friendly generation mix comprising a good amount of renewable energy