The Wireless Charging Market deals with the development, manufacture and distribution of various types of wireless charging technology like the powermat wireless charging and electronic charging pad. Wireless recharge or wireless charging enables transmission of power to electronic devices through magnetic induction, resonance, microwave, etc.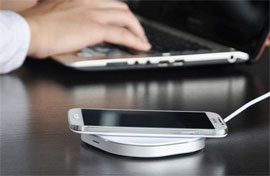 The Wireless Charging Market specializes in wireless power transfer for devices like smartphones, smartwatches, and wireless headphones like the Apple AirPods. A wireless charger transmits electrical energy to a consuming device without using a wire or some other device made by humans as an intermediary. An electronic charging pad or powermat wireless charging transmits power, in the form of field energy across a small distance to receivers which convert it into an electrical current for use.
Scope & Regional Forecast of the Wireless Charging Market
The Wireless Charging Market has several opportunities for growth looming on the horizon with its valuation predicted to cross $15.2 Billion in 2020. Production of wireless chargers for the wearables market will increase rapidly over the next decade thanks to smartwatches and other fitness devices.
Make an Inquiry @ http://industryarc.com/inquiry-before-buying.php?id=7384
In-car wireless cell phone charging and wireless recharge of electrical vehicles are key trends and are set to boost demand from the automotive industry. Climate change has hastened the R&D investment in electrical vehicles and the Wireless Charging Market is eager to match the rapid pace of innovation and requirements.
The Wireless Charging Market is focused on developing advanced wireless charging technology which enables the wireless phone charger to power transmission over long distances, which would likely result in a rapid expansion of applications as well. The key to the success of wireless cell phone charging is to keep the production costs of equipment low.
The Wireless Charging Market is currently dominated by demand from the North America region while Asia-Pacific exhibits the largest amount of promise for future growth. The CAGR for this market is predicted to be 48.68% till 2020.
Segmentations & Key Players Involved in the Wireless Charging Market
According to IndustryARC findings, the Wireless Charging Market can be broken down into various segmentations on the basis of –
Standards: Wireless Power Consortium (QI Data Protocol, QI Specifications), Power Matters Alliance (PMA) + Alliance for Wireless Power (A4WP) and Open dots Alliance.
Type: Inductive Coupling Charging, Resonant Charging, Radio Wave Charging, Microwave Charging and Laser Beam Charging.
Range: Short range (<50mm), Medium range (<4M) and Long range (>4M).
Application: Consumer electronics (Smartphones, Tablets, Wearable Devices, Laptops), Automobile, Healthcare and Industrial (Cordless Power Tools, RFID Tags).
Some of the key players involved in the Wireless Charging Market according to IndustryARC are as follows:
Kube Systems
MediaTek Inc.
Humavox Ltd.
WiTricity Corporation
ConvenientPower HK Limited
ChargeSpot Wireless Power Inc.
Request Sample Brochure @ http://industryarc.com/pdfdownload.php?id=7384