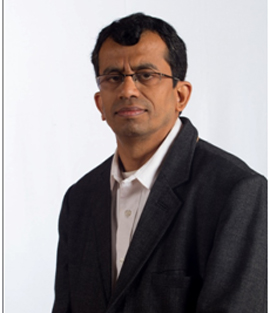 Sasken is a leader in providing Product Engineering and Digital Transformation services. Sasken has been enabling customers in various industries to build wearable devices equipped with cloud based analytics along with industry best low power technologies such as sensors, connectivity, and tracking solutions. Mr. Srinivas Prasad, VP and Head, Communication and Devices shares with EM more about wearable technology and its growth.

Srinivas has worked in a variety of roles in the last 20 years that he has been with Sasken. Most recently, Srinivas was responsible for the software accounts in the semiconductor business line. Prior to that, he was an integral part of the team that delivered the Isat Phone Pro for Inmarsat, making Sasken the first Indian company to deliver a global satellite mobile phone.
 1. Give us an outlook on smart wearables industry and how this industry is growing in India?
Consumer demands have grown exponentially in the past several years. This has been caused mainly due to factors such as the need to ease a busy lifestyle, to have knowledge about social issues through media, to be more conscious of health & fitness aspects, and the need to be safe and secure. Smart wearables have started to play a significant role in addressing these needs.
Market reports suggested that Smart Wearables will have a growth of 18 percent in sales in 2016. While companies like Goqii, Xiaomi and Fitbit continue to increase their market share, the Indian market continues to see a robust growth. The smart watch market in India is going through a similar phase that the smartphone went through several years ago and this year it will probably grow faster. People are more and more aware of the wearables and the various applications it brings in to make their day to day lives easier. Companies like Intex have made a positive impact in the growth of the domestic market and have been one of the key drivers for growth.

How wearable technology is taking in pace in humans life?
Wearable technology can be categorized into various aspects that benefit our daily lives. Wearables are becoming a key element in today's wellness aspects. It monitors various aspects of our health which provides lot of valuable data for us to continue to be healthy. The sports segment is using wearables for online coaching, tracking, performance measuring etc. Wearables are getting embedded into shoes/jackets/socks etc. In the medical world, the acceptance of wearables has seen a huge growth. Wearables now virtually act as a nurse for vital signs monitoring and various disease management. Security and Safety aspects are one of the top aspects where wearables have started to play a key role. Its relevance today in the defense/military world, rescue operations and home safety cannot be under estimated. Adjectives such as 'connected' or 'smart' have become hygiene factors for any product. Today, devices are getting smarter with sophisticated secure applications to help consumers.Right from waking up in the morning to going to bed at night, the consumer is becoming dependent on smart devices and wearables and its changing the way we manage our calendar and our lifestyle.
What are the key drivers for wearable growth?
Wearables are everywhere and a key enabler for the success of IoT world. Key drivers for this would include Human factors like the need and urge to be connected and the Social motivation aspects. The cost and Design will play a key role in the growth of this segment. People use wearables as a fashionable device and not just as a connectivity product. The broader eco system, more use case applications will be a driving factor for the growth.
But still Wearables did not take off as was anticipated. Where do you see the industry missed the bus?
Wearables will take more time to scale than what we all thought. Some of the reasons are
High power consumption of wearable devices reduces the battery life and this is one important reason for the less stickiness.
Design aspects: Lot of wearables are developed more from a technology product stand point. Manufacturers focus is towards technology than design.
Cost aspects: While it will take some more years for the prices to drop, lot of the products in this segment are launched in the premium category and people would want to wait for some more time either due to affordability or for the segment to mature. Both lead to delay in takeoff.
Wearables do bring in issues related to privacy as lot of data on every aspectis tracked, monitored and uploaded in servers where there are chances of misuse and misplacement.
What is Sasken offering in wearable space and your market for this segment?
Sasken has embarked on a mission to make communications and connectivity as the core focus by building various end-to-end solutions including embedded devices, high-end secure applications, cloud infrastructure, and analytics for all kinds of smart devices of varying form factors. We are extremely excited on this segment and we will continue to focus on investing in these segments by partnering with key platform players and bring in unique solutions to our customers in the areas like Connected home, Connected vehicles, Industrial applications and the overall Consumer IoT segment.

How do you see the adoption of the internet of things, both globally as well as in India?
Couple of years ago there were predictions that by 2020, the market for connected devices would be in the range of 75 Billion units to close to 100 billion devices. These numbers have been brought down significantly in the current forecasts in line with the realities of the time it takes for adoption of new technologies. Segments like Connected Home, Healthcare, Connected Vehicles, and Industrial Applications will see a huge influx of products coming in making it take off more successfully. While the infrastructures are getting built around the world for IoT, the next steps of serviceability, value added user friendly mobility applications, security of data and cost optimizations elements will play a key role in mass adoption. When it comes to India, IoT is emerging at a much faster pace. India being one of the fastest growing economies is embracing 4G and this would help IoT in a big way. According to NASSCOM, the IoT market in India is expected to reach to about $15Bn by 2020. The smart cities initiatives by the government are going to play a key role in the success of IoT in India.
What are your predictions for 2017 growth for wearable and smart devices and future outlook?
2017 will be an exciting year with lot of things already started to unravel. Hearables and smart clothing are going to take off more rapidly. People are predicting Kids and pet wearables to scale big time. Baby Monitor products by various companies in CES was very interesting and its getting lot of traction. Smart glasses will make a comeback. Connected Cameras in the area of security and defense will go up. Smart Watches will continue to struggle unless the price points are down and people find real use beyond what's present currently. Investments by large and startups on Augmented reality and AI will further increase to make things exciting to the wearable world. There could be some consolidation that can happen further in the fragmented wearable market.
Visit: http://www.sasken.com/