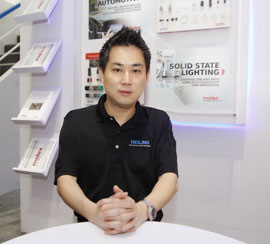 Interview with Jason Siau, Senior Regional Sales Manager of Heilind Asia Pacific
Tell us little bit about your company?
Founded in 1974, Heilind Electronics, Inc. is one of the world's leading authorized distributors of connectors, relays, switches, thermal management & circuit protection products, terminal blocks, wire & cable, wiring accessories and insulation & identification products.
Heilind Asia Pacific commenced operations in Dec 2012.Besides being headquartered in Hong Kong, where it also has a distribution center and a value-added center, we now have 19 sales locations & 3 warehouses throughout Asia. In order to provide better service in India, Heilind has local support in Bangalore and New Delhi. Our industry leading service offering to customers in Asia Pacific is the result of a commitment to the belief of "Distribution As It Should Be".
Which products and markets you cover? What are the latest additions?
Heilind supports both original equipment and contract manufacturers in all market segments of the electronics industry, stocking products from the world leading manufacturers in 25 component categories, with a particular focus on interconnect and electromechanical products.
Interconnect and electromechanical products are used in all market segments and applications. Being an Interconnect specialist, Heilind addresses all market segments and all customers irrespective of size. We deliberately seek to have a broad product portfolio in order to address all markets. However, we will work closely with suppliers to identify market segments which need more focus and resources.
What is your key focus in distribution business?
Heilind's key focus in our distribution business is in the interconnect space and electromechanical products. We represent/distribute for major interconnect players such as TE Connectivity , Molex, Amphenol, 3M, JST and JAE just to name a few. Interconnect products or commonly known as connectors represent about 85% of our total business. One of our key strengths/focus is in the investment of inventory management systems. We have high product focus with deep inventory to cater for all markets/segments. We also have the ability to address the Whole Spectrum of The Distribution Channel from the Smallest to the largest customers.
What keeps you ahead of the competition?
Being the late comer in the market for Asia and only having established our presence since mid-2012, we bring a proven North American business model as our differentiator to the Asian market. We also continue to invest in resources and adding footprints/offices across major Asian cities to cater for our customers' and suppliers' requirement. We have expanded aggressively over the last 5 years and fine-tuned our strategies to continue to outgrow the markets and staying ahead of the competition.  We started only with 4 franchised suppliers in 2012 and today we have more than 46 franchised suppliers to support our customers & growth. Our business mission of "Distribution As It Should Be" is to cater to our customers' needs. We do not impose MOQ and/or MOV on our key customers' and we support them on the quantities that they need unlike other distributors which would almost certainly impose the MOQ/MOV on them.
How is your business shaping from last 2 years? Can you discuss your region wise growth?
Over the last 2 years we have continue to invest into human resources as well as expanding into more cities. We have added one office in Penang-Malaysia, another in Taipei-Taiwan and lastly one more office in Shenzhen-China to continue to shape ourselves into becoming one of Asia top distributors for both our customers and suppliers. We have also expanded our warehouse space In Hong Kong and added one in Suzhou-China.  South Asia Pacific which includes India continues to be the magnet of growth and we expect another strong year of double digit growth in 2017. We are also seeing the trend of customers moving their production from China into South Asia. One our key customers, well known for its vacuum cleaners are also investing more than $20M to expand their production lines in the Philippines.
What is the next generation of technology you are most excited about?
I would probably think Internet of Things or IoT Devices & Products would be the technology that I am most excited about. With this technology I believe that the IoT would help transform every aspect of our lives; in the area of healthcare, offices, factory automation, consumer applications and many more. There would be endless applications and usage from smart factory automation, self-drive cars, supply chain, sales tracking and other areas derived from this technology as long as in some way or another product/device connects to the internet. We can harness this technology to take full advantage of the IoT devices/platforms to build a more productive work place/homes etc. in this connected world.
What is your opinion about the future trends of the electromechanical components industry?
I personally feel that electronics components would continue to co-exist with electromechanical components such as relays and switches for a while before eventually being replaced by electronics relays and switches. One of the reasons being that there are currently many legacy and existing products such as automobiles that uses lots of relays and switches, it would be difficult to change the mindset of design engineer overnight to replace them with electronically operated ones. The other aspect would be cost and the easy interchangeability of electromechanical components versus that of electronics components.
Tell us about your distribution and marketing services?
Heilind's forte is the distribution of Interconnect & Electromechanical Products. We pride ourselves as a stocking distributor and we stock up inventory to cater for our customers' future needs. We have 3 warehouses (Hong Kong, Singapore and Suzhou) to cater to our customers' needs, shorten supplier's lead-times and to ensure on time delivery to them in different parts of Asia. We also provide value added services such as kitting, reeling & de-reeling and connector modifications as a service to customers. We are able to trade not just in US$ but also in the customer's currency of choice. Customers can also order/check inventory online via our Estore for greater convenience.
What kind of challenges and opportunities you will encounter in the future?
As a distributor there would always be challenges in providing better services and pricing plus delivery to our customers. Heilind would continue to innovate on its core strength as a stocking distributor and turn those challenges to opportunities for us. We would also leverage on our core strength as an Interconnect distributor to provide a One Stop Service Solution for our customers on their interconnect needs. As we continue our growth in Asia, we would continue to work with new customers and suppliers on new opportunities in all segments of the market.