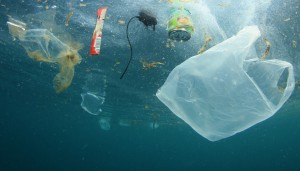 Volvo is typically known for their sleek cars and loyal drivers, but now the car company is building a technology to make a positive impact on the world's oceans. Automotive World reports that part of the proceeds of the V90 Cross Country will go toward the Volvo Ocean Race's Science Program. This will add up to about 300,000 Euros, or $348,000, to the program.
MarketingDaily reports that Volvo will use the money to equip a series of boats with special electronic sensors. As the boats cruise around isolated areas of the world's oceans, these sensors will measure currents, wind speed, barometric pressure, salinity, and other data points.
The ultimate goal of the project is to measure plastic content in the water, according to Marketing Daily. Plastic use has become an environmental crisis in recent years, with Americans using 2.5 million plastic bottles every hour. This consumption, along with plastic use all over the world, results in 8 million tons of plastic ending up in the earth's oceans every year.
Volvo's new technology will collect data on salinity, dissolved CO2, and algae, comparing it to microplastic research, to broaden our understanding of plastic's impact on ocean life. They will partner with the National Oceanic and Atmospheric Administration to complete this project.
"As a company, we work to minimize our impact on the world around us, so this project's innovative approach to tackling a major environmental problem was a great fit for us — not least as we head towards an electric future," Stuart Templar, director of sustainability at Volvo Cars, said in a press release.
As for the V90 Cross Country itself, the vehicle include eco-friendly technology to lower the company's footprint. While the average car on the road in the U.S. is 10.8 years old, these European vehicles are getting a unique update. According to MarketingDaily, the car's carpets are made of Econyl, a material made of recycled nylon. And some of this nylon was produced from fishing nets found on the seabed.
According to Automotive World, Volvo will be producing 3,000 cars to sell in 30 international markets. This includes countries in Europe, the Middle East, Africa, Japan, China, and the United States. For more information on the Volvo Ocean Race, read the resources on the company's website.