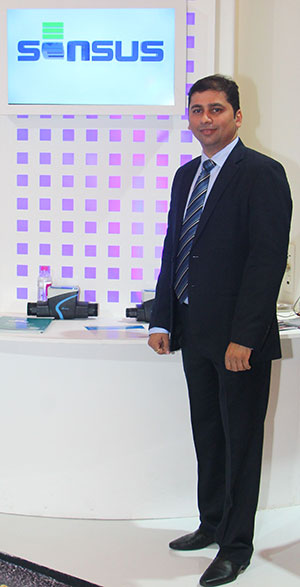 Sensus, a Xylem brand, helps a wide range of public service providers – from utilities to cities to industrial complexes and campuses – do more with their infrastructure to improve quality of life in their communities. Sensus enable customers to reach farther through the application of technology and data-driven insights that deliver efficiency and responsiveness. Mr. Amit Vaidya, Director Strategic Customer Team, India, Sensus shares more about company products, services and focus in an exclusive meeting with Electronics Maker at India Smart Grid Week.
Can you give a brief introduction about Sensus?
Sensus, a Xylem brand, helps water utilities to reach further through the application of technology and data-driven insights that deliver efficiency and responsiveness– enabling them do more with their infrastructure to improve quality of life in their communities. Headquartered in North Carolina in the US, Sensus has more than 80 million metering devices installed globally and also provides the dedicated and secure two-way FlexNet™ communications network.
What is your focus here in India Smart Grid forum?
We have been participating in India Smart Grid Forum for the past 3 years. As part of ISGW, the preliminary focus is to create awareness among Indian electricity, water and gas utilities around the next generation available technologies that are bringing intelligence into the network and grid.  As part of Xylem, whose core strength lies in water technologies, one of our main focuses is on smart water meters – essentially smart technologies that will help Indian utilities to manage the network more efficiently. We will bring more reliability in terms of collecting data from end points, for example, smart meters will help Indian utilities control Non-Revenue Water (NRW).
Can you talk about water utilities and their important schemes?
Water utilities are managed by local urban bodies or municipal corporations. Amrut is the most active scheme where the central government is funding the corporations to grow the existing water network, in order to ensure clean water 24/7. To achieve the target given by central government, Sensus can help with NRW solutions; i.e. smart water meter technology that monitors the losses in the network.
How can Sensus products reduce the losses of water utilities and how is it related to IoT?
Sensus has the iPERL™ solid state smart water meter with integrated bidirectional communications capability that uses technology providing unrivalled, sustained accuracy over their expected 15-year service life. The meters calculate the accurate water flow with an inbuilt IoT functionality which enables corporations to monitor data even for the individual customer for 50 minutes consumption profile. It will also help monitor the leakage; the water flow has date and time stamps to manage the network. The data collected gets stored in smart meters which can be transferred through IoT solutions to the control servers.
Sensus also has its own dedicated communication network called FlexNet, which brings data from smart meters to the data center of municipal corporations avoiding manual readings. It works with smart meters and sensors to securely transmit and receive customer usage and network data that can be used to proactively manage smart networks providing end to end solutions unlike the old mechanical meters which has an issue with accuracy. Other benefits include diverse geographical footprint, real-time data, increased operational efficiency, increased network management and control, guaranteed service level agreements (SLAs) and more than 99.5% connectivity.
After Xylem's collaboration with Sensus, alongside other leading water technology brands, Sensus helps to build end-to-end intelligent infrastructure systems for water utilities, with the ability to provide solutions, which can be scaled up seamlessly regardless of the physical size of the network or information complexity.
Will your primary customers be only government bodies or will you be targeting private bodies as well in India?
Though our primary customers in the water sector will be government bodies, there are some operators who are working on PPP model or as private bodies and we can partner with them as well – for example OCW in Nagpur.
What are your current challenges in terms of customer acquisition or creating awareness for water technology solutions as it is an initial stage in India?
As per our observation, the government utilities and private operators are at a stage where they are thinking about implementing water technologies. Some of the leading corporations have already opened tenders for smart working networks.
The initial challenge of convincing them of the benefits of smart water technologies is no longer a challenge now. Utilities have suffered a lot due to the use of old mechanical meters and old infrastructure, and Sensus can play a major role in providing industry wide popular end to end solutions during the updating and improvement process.
When you talk about IoT and data analytics, the major concern is that there are inbuilt sensors and data is getting transferred from one to another, so what steps is Sensus taking for the security?
As soon as we get into the discussion with utilities about moving data from one point to another, storing data or making it available to different resources, security is the first thing that comes across. Our FlexNet radio technology is a network dedicated solely to utilities. This is a key differentiator to IIT based focused communication. So the utility market falls underneath the IIT bracket, but we understand the differing and range of requirements for water utilities / utilities in general.  FlexNet carries information which is only accessible by our technology and is fully encrypted end to end -we do not share our network with other applications. We are not able to go and buy off the shelf components that allow you to build a network alongside ours and we create very secure and best in practice networks for utilities. The information being transported is fundamental for the business transformation of the utilities and that is why we invest so heavily in ensuring the best type of solution for them.
Any challenges that you would like to talk about in terms of smart city perspective?
Smart city is an incredibly broad concept, so from Xylem or Sensus' perspective there are key parts in the market where we are focusing as a company i.e. water, gas and electricity. There is no one technology which will fulfil every aspect of a smart city but the utilities sector is a major part in enabling smart cities. When it comes to enabling a smart city it's a case of prioritisation from the beginning and accepting the technology decisions that are dedicated to water applications. For example, monitoring vending machines requires different technology from the one to monitor the utilities and household applications; this is why it is so important to have technology that is tailored to the utility industry.