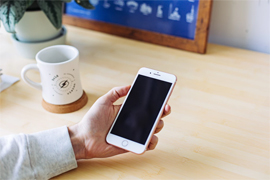 The holidays can be a stressful time of the year. You have to finish all of your shopping, prepare your home for your family, and worry about the temperature dropping. However, modern technology can help make your life a little easier this season. Check out these things that your phone can help you control so that you can reduce some of the holiday stress and remove a load off your shoulders.
Your Car
Picture this – you drive to the store for some holiday shopping and there's only one parking spot left. You really need to get your shopping done, but the spot is extremely tight, and you don't know if you'll be able to fit your car. Well now, you can get in and out of tight spots with your phone. Some cars such as Mercedes and BMW have launched carefree parking apps that allow you to remotely park your car using your smartphone. You will never have to worry about getting the last parking spot, ever again.
Your Fireplace
With the winter season rushing in, all you'll want to do is cozy up next to a warm fireplace. To eliminate the time needed to gather wood or wait for the gas to turn on, modern technology has allowed fireplaces to be controlled by your smartphone. All you have to do is press a button on your phone and your home will be warm in no time. The fireplace is so safe that you can even grab the s'mores and have a wonderful campfire right in your own home.
Your Front Door
Most people nowadays do a lot of their holiday shopping online. But what if you're not going to be home to receive your package and you don't want to leave the package outside? Well, now you can use your smartphone to open your front door from wherever you want. You can unlock the door for your mailman, or for one of your family friends or neighbors. Some of these apps even allow you to set up a camera and remotely watch your front door. You will never have to worry about leaving packages outside, being locked out of your home, or wondering if your children are safe.
Modern technology is making our lives a whole lot easier. With a universal remote in the palm of your hands, you have one less thing to stress about this holiday season.