Photovoltaic systems are an important contribution to the energy transition, and to a sustainable handling of resources. In recent years, they have been one of the greatest sources of power and electricity.
But with great results there are some serious threats that tend to jeopardize the power output of the system. This makes the maintenance of the plants a significant aspect to tackle such threats concerning the functioning of a solar set up.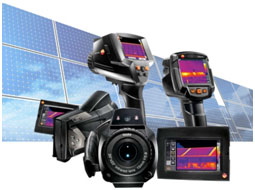 Potential threats to photovoltaic plants
Even a small technical defect is sufficient to have a considerably negative effect on the solar yield – and therefore the economic viability of a photovoltaic plant. The causes could be like; Carelessness during installation, degeneration of the laminates or slow damage due to years of UV radiation and weathering.
Some of the biggest problems that could be witnessed are
Hotspots: Shadowed or defective module cells form an internal electrical resistance which can lead to undesired warming hotspot. Also, faulty or unsuitable bypass diodes (where shade is minimal) continue to lead to uncontrollable hotspots.
Delamination: The EVA protective layer may come away due to external influences. Any moisture getting in may lead to cell corrosion and to a performance loss.
Modules run at open circuit: This may be caused by incorrectly connected modules or cables that have worn through.
Overheating of connection sockets: This can lead to poor operation of modules & typical faulty images for defective individual cells and substrings.
Micro-cracking & cell ruptures: It can occur during transport and installation or due to any external mechanical influences.
Corrosions & loose connections: Aside from the individual cells and modules, electrical components can also have corrosions on electrical components or have loose cables.

Thermal defects on solar panel

These threats consequently lead to decrease in the electricity yield. In few cases, individual cells or the entire module starts consuming electricity instead of generating it. This unwanted electricity consumption heats up the modules & can also lead to a real fire risk.

Revolutionary Tool for easy assistance – Testo Thermal Imagers

Checking photovoltaic plants using thermography places very high requirements on the use of a thermal imager. Several criteria must be taken into account when choosing a thermal imager suitable for this purpose:

Infrared resolution of the detector: The geometric resolution describes a thermal imager's capability of recognizing objects (e.g. individual faulty modules) from a certain distance. An IR resolution of at least 320 X 240 pixels (76,800 measurement points) are recommended in the case of large PV systems and for measurements from a long distance.

Thermal resolution (NETD): The thermal resolution describes the capability of a thermal imager to detect temperature differences on an object surface. The lower the thermal resolution, the better the IR image generated.

Exchangeable lenses: In order to be able save time measuring large areas, e.g. from a elevated platform, imagers with exchangeable telephoto lenses should be selected that have suitable opening angles.

Camera functions: Includes various features and properties that enable the camera for easy handling and friendly usage such as; Rotating lenses for accurate positioning of imager, solar mode for ambient adjustment, radiometric video measurement etc.

Software: The analysis software (e.g. testo IR Soft) enables the optimization and analysis of the thermal images, and ensures that the findings in the images are clearly presented and documented.

Bluetooth connectivity with other devices: Interfacing of thermal imagers with temperature, humidity probes & clamp-meter for solar power analysis.

Bluetooth connectivity with other devices

Needs & Benefits of thermography

Using thermography, it is possible to check whether the quality of the module cells fulfils the requirements or not.
Incorrectly fitted or inadequately cooled electrical components that can quickly pose a fire risk can be easily traced.
Corroded or loose electrical cables indicating thermal irregularities can be easy detected and eliminated by thermography.
Thermography is a very safe inspection method as it reduces the considerable risk of electric shock to personnel.
Thermography is a non-contact, visual measurement method. Large-surface solar modules can be scanned very quickly thus saving a lot of time and money as well.

Step ahead in solar thermography with Testo Thermal Imagers

Thermal imagers from Testo are specially designed for solar thermography requirements. They allow solar engineers to offer their customers a valuable after-sales service, while plant operators obtain a reliable statement on the status of their solar plants.

Thermography of Solar Panel with Testo

Solar thermography: Overview of applications and benefits

Early identification of faults, avoidance of yield loss
Increasing operational safety, prevention of fire danger
Fast, safe inspections
Detecting cell rupture, corroded and loose contacts & overheated connection sockets.
Identification of hotspots, modules at open circuit, short circuits, delamination etc.
Creation of added value for solar engineers and plant operators.

 Practical application tips

Measure in sunshine and at low outdoor temperatures
Point the thermal imager correctly, bear reflections in mind
If possible, measure on the rear
Carefully analyse the causes of temperature deviations

 Selecting the right thermal imager

Observe suitable geometric and thermal resolution for the application
Imagers with exchangeable lenses and rotating display provide more flexibility
Useful functions such as solar mode and video sequence recording, as well as versatile analysis software, simplify measurement and analysis.For more details login to www.testo.in or write back to us on info@testoindia.com