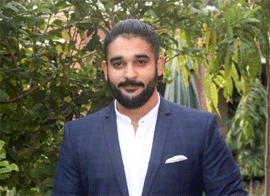 AnG India is a leader in Electronic Security Solutions. They provide a host of security products and services such as Central Monitoring Systems(CMS), Access control, CCTV camera and Fire alarm systems.
The company believes in providing sophisticated Hi-Tech Security solutions to its clients, utilizing its international tie ups with Q-SEE International it has succeeded in securing esteemed corporate clients like TATA Motors Finance, PVR cinemas, AXIS Bank, HDFC and more. Electronics Maker spoke to Mr. Pulkit Punj, Director, AnG India Ltd about the company security solutions, market growth, security trends and compnay future plans and investment.
What was the idea behind starting a security solution company?
We wanted to introduce the concept of electronic security solutions in India and to meet the security concerns of the customers. Security is essential to deter potential risks and threats through preventive, monitored and reactive security measures.
Another idea was to replace manual security guards and other obsolete security technology with advanced electronic equipment's which exceedingly overcomes any possibility of human errors.
How do you see the growth of surveillance market in India?
The surveillance market in India has tremendous growth prospects. It has grown multifold on itself in the recent past. Increasing terror threats, growing public and private infrastructures and the increase crime rates have resulted in the demand of the surveillance market in India. Some of the market verticals which hold a significant share in the surveillance industry are Government and transport, banking and financial verticals and other commercial offices. The rising incidents of crime, theft, bank robbery and the growing awareness about benefits of the electronic security devices among the people have primarily driven the electronic security market.
The technological fields in the security industry experiences innovation every couple of months.
What is your current revenue and market share?
We have closed our books at 52 Crore for the financial year 2015-2016.
We have a sizeable market share in the banking sector of electronic security.
What are the unique security solutions you provide to your customers to retain them?  Please name some of your larger and Existing customers?
Our products are unique in terms of quality which is fused with high end Technology. The security solutions are tailored as per the needs and requirements of the customers such as Vehicle monitoring system services which are customized as per the needs of our customers for schools, cash management, transport and cargo companies.
We provide CMS command centre services specifically designed for the banking sector providing security solutions to various brank branches and ATM's to secure them from any type of robbery or crime.
Some of our larger and existing customers are HDFC,ICICI Bank, SBI.
What are the upcoming technologies in the security solutions market? Is your company adapting the same solutions to attract the customers?
There are many emerging technological upgradations in the security market and we are certainly one of the early adopters of technology. We keep launching new series of CCTV cameras, DVR's and NVR's as per the market developments and innovations such as AHD systems which have high definition cameras which zoom in options to give facial recognition, and Analytical cameras which provide automatic image analysis and intelligent detection technology.
What are your future plans? Any specific upcoming projects which contribute to the security market?
The most recent upcoming project for AnG is getting into safe city surveillance projects, which will enable surveillance technologies majorly CCTV camera installations across all the smart cities in India. The safe city projects will ensure establishing CCTV camera coverage in critical areas of the city for centralized surveillance to deter potential threat and crime.
How do you see the role of CCTV cameras and Central Monitoring System(CMS) solutions for your business?
The role of CCTV cameras and Central monitoring system (CMS) is very vital, they complete the functions of other verticals providing better ways to counter acts of threats, thefts or unwanted incidents besides providing significant evidence for the same.
What all investment we can see for Indian market?
There is a heavy investment in the Indian surveillance market. Multinational companies are cannibalizing the security industry. There are also tremendous investments in Government projects such as safe city surveillance. And for AnG's growth and development profits are endowed into the company.
How do you plan to boost your global presence in coming days?
AnG plans to boost its global presence by maintaining a competitive differentiation in the security market, investing in new geographies and new customer segments. Alongside, indulging in PR and advertisement activities.
On our national presence, we are focusing on our PR and advertisement attempts to retain the current market share.